The Top Ten Low-Carb Zucchini Recipes
Here are The Top Ten Low-Carb Zucchini Recipes from Kalyn's Kitchen in case you're lucky enough to get some zucchini on your porch! Look at the collage below to see the winners starting with number two; then scroll down to see which zucchini recipe was number one!
PIN The Top Ten Low-Carb Zucchini Recipes to try some later!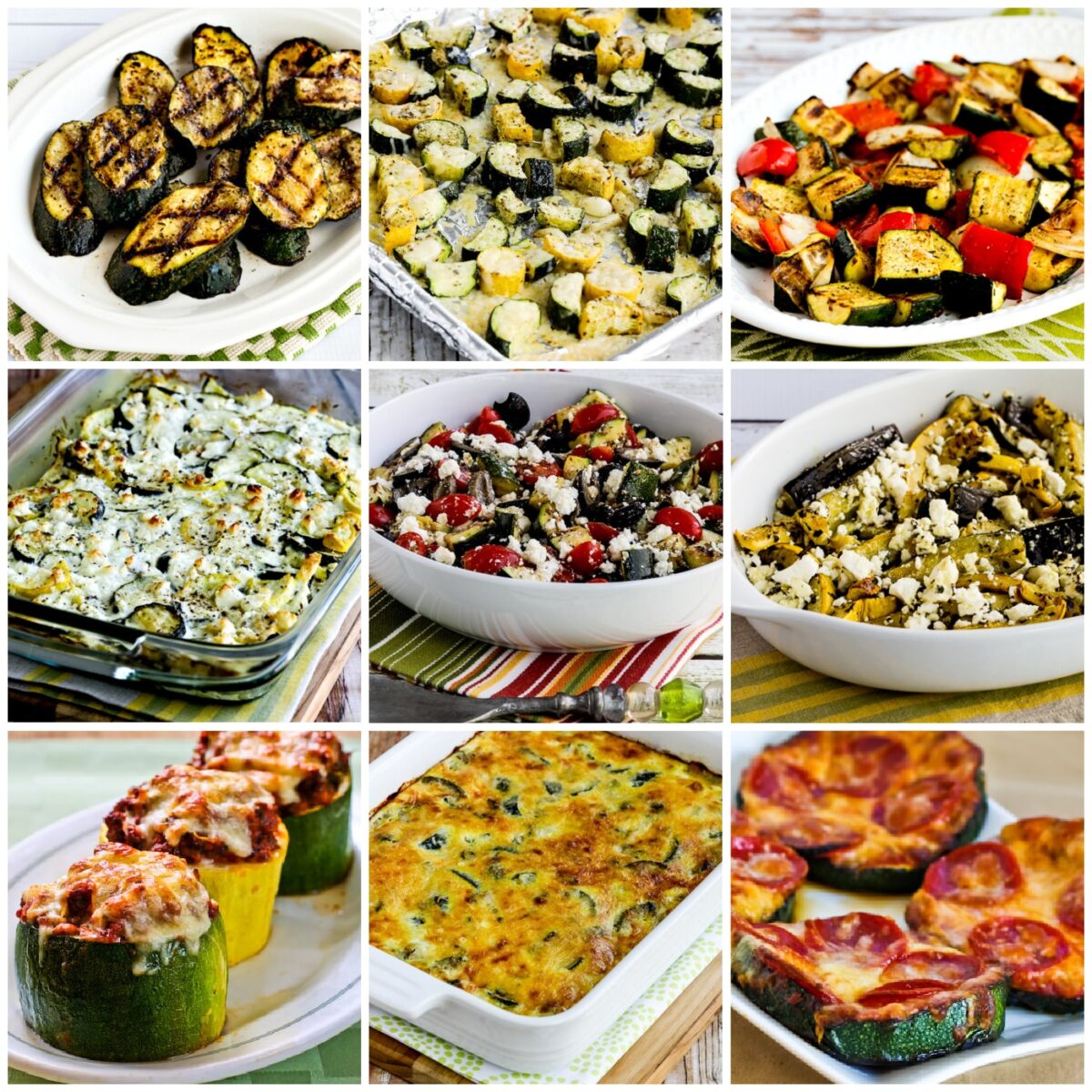 Did you know August 8 is national Sneak Some Zucchini on to Your Neighbor's Porch Day? This zucchini holiday was started by a gardener who noticed how zucchini takes over the garden this time of year! I celebrate this special zucchini day by updating my post with 50 Amazing Zucchini Recipes, and there are now more than fifty great low-carb recipes there for zucchini.
But I also like to follow which zucchini recipes are the very most popular out of more than 100 that I've posted on Kalyn's Kitchen. And this year there are some new winners; here are The Top Ten Low-Carb Zucchini Recipes!
How do I pick the Top Ten Low-Carb Zucchini Recipes?
I calculate the winners by checking recipe stats from the beginning of June the year before and going through the current date this year. There are some perennial winners, but this year some of the low-carb zucchini recipes that made the list were a real surprise, plus a few of my own personal favorites didn't make the cut.
What's your favorite Low-Carb Zucchini Recipe?
I'd love to know which of these is your personal favorite, or maybe you'll find a new idea in this collection of popular zucchini recipes that you haven't tried yet!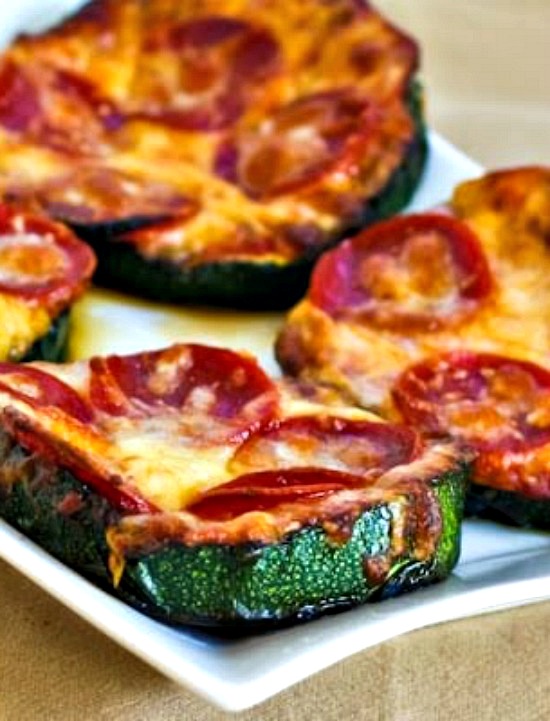 Low-Carb Zucchini Recipe #10
The number ten recipe is this very old recipe for Grilled Zucchini Pizza Slices, another fabulous way to use those monster zucchinis that you end up with if you don't keep the zucchini picked! I can tell a lot of you want something low-carb that tastes like pizza because this favorite recipe has has millions of views!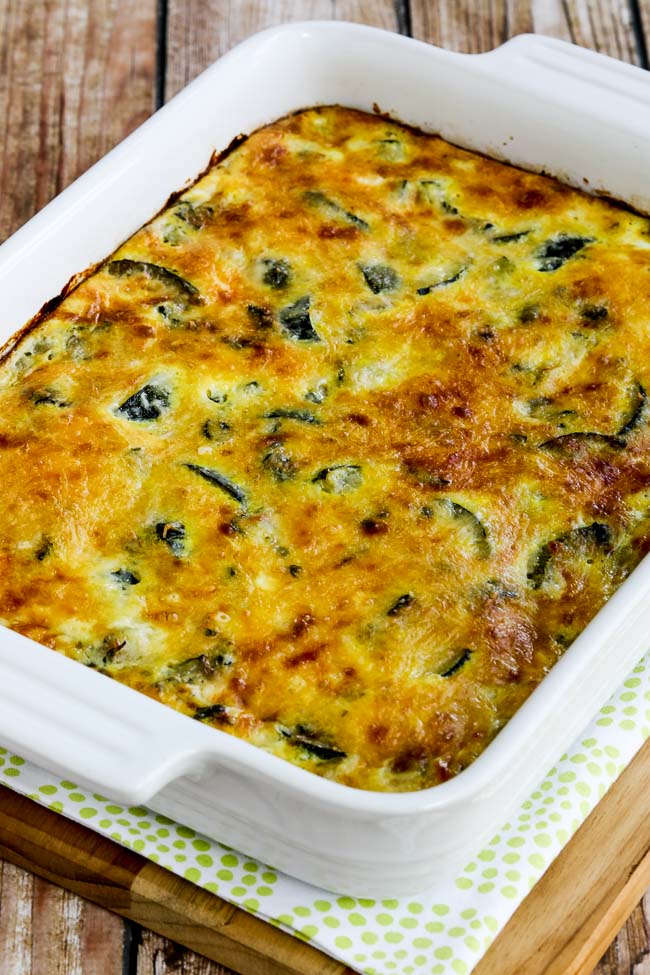 Low-Carb Zucchini Recipe #9
Number nine is this Cheesy Zucchini and Basil Strata, and this is a recipe that I love to make on the weekends and reheat for breakfast for a few days! And if you have some fresh basil in the garden, this recipe is a perfect way to use it.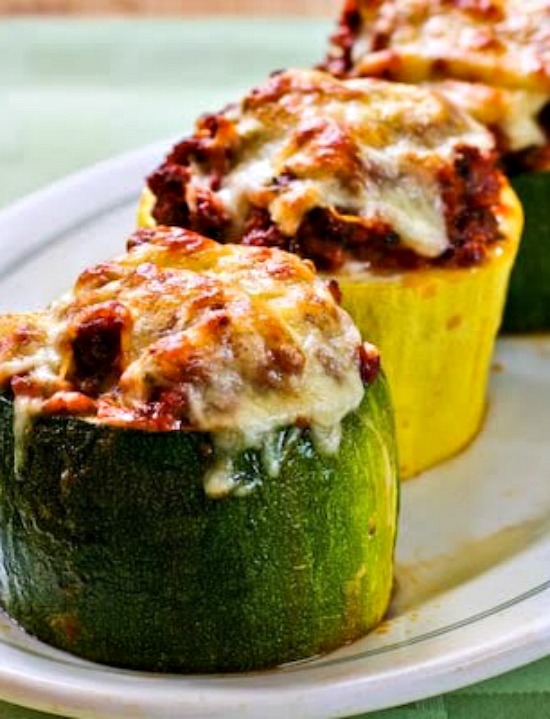 Low-Carb Zucchini Recipe #8
Number eight is these Meat, Tomato, and Mozzarella Stuffed Zucchini Cups, and I think this has made it on the list nearly every year despite the messy plating in the very old photo! But these are absolutely delicious so I'm not surprised, and this is another way to use those too-big zucchinis that pop up every so often.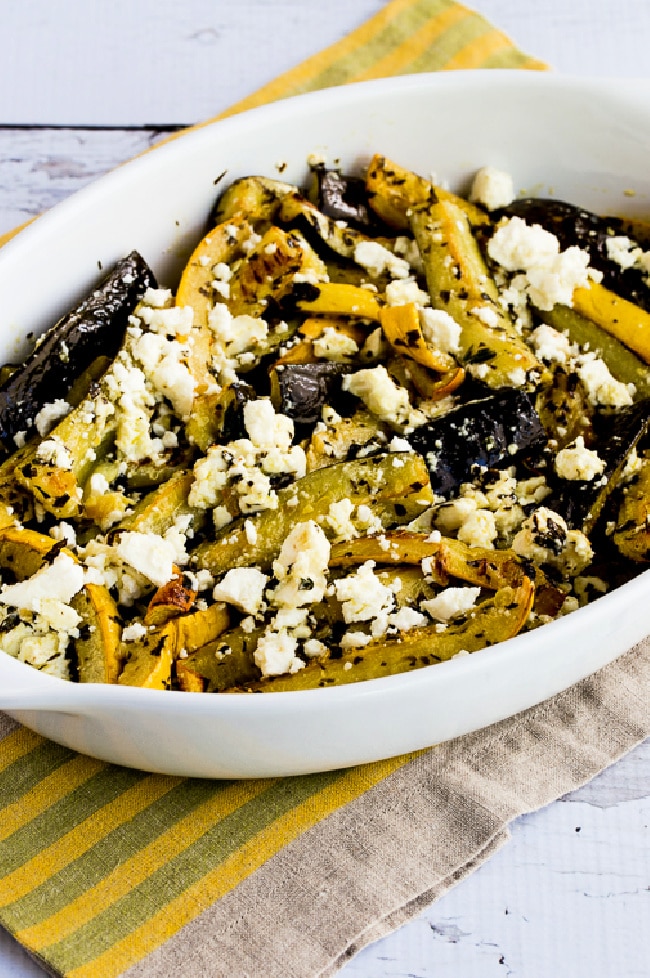 Low-Carb Zucchini Recipe #7
Number seven is Baked Summer Squash with Lemon, Mint, and Feta, and this such a unique recipe because the zucchini is roasted with the lemon and chopped mint which puts the flavor over the top, and then it's tossed with Feta for even more flavor. Obviously a lot of people who have tried this are going back to make it again!
Low-Carb Zucchini Recipe #6
New on the list and coming in a number six is this amazing Grilled Zucchini Greek Salad, a recipe that has just gotten more and more popular since I updated the photos and then had a video made for the recipe. This has all the flavors of Greek Salad but uses grilled zucchini instead of cucumbers!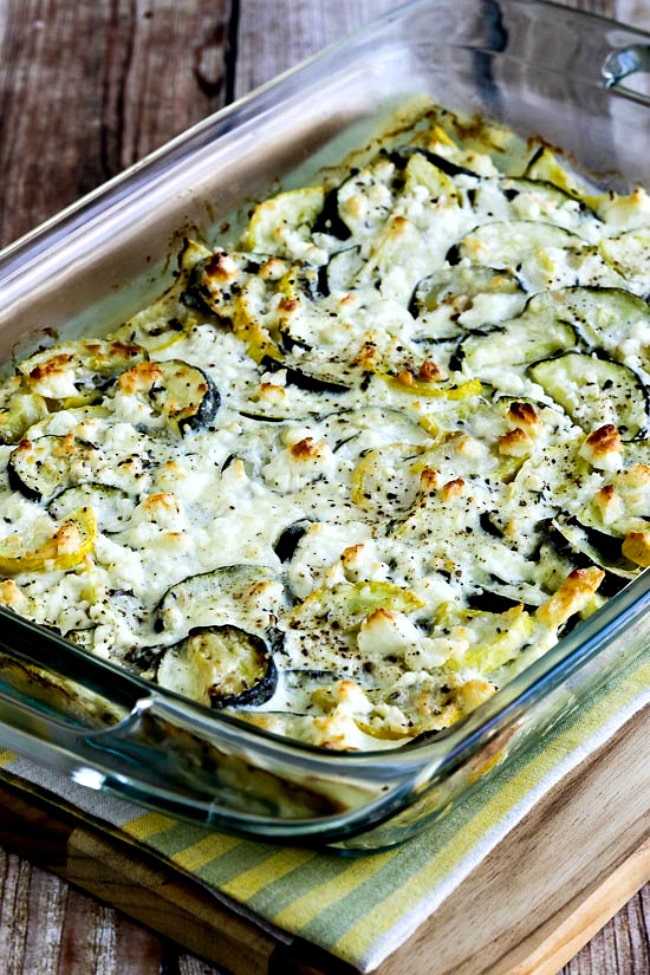 Low-Carb Zucchini Recipe #5
At number five is this Zucchini Feta bake with Thyme that I've made pretty much every year since I first posted the recipe! And I think this has made the top ten list pretty much every year!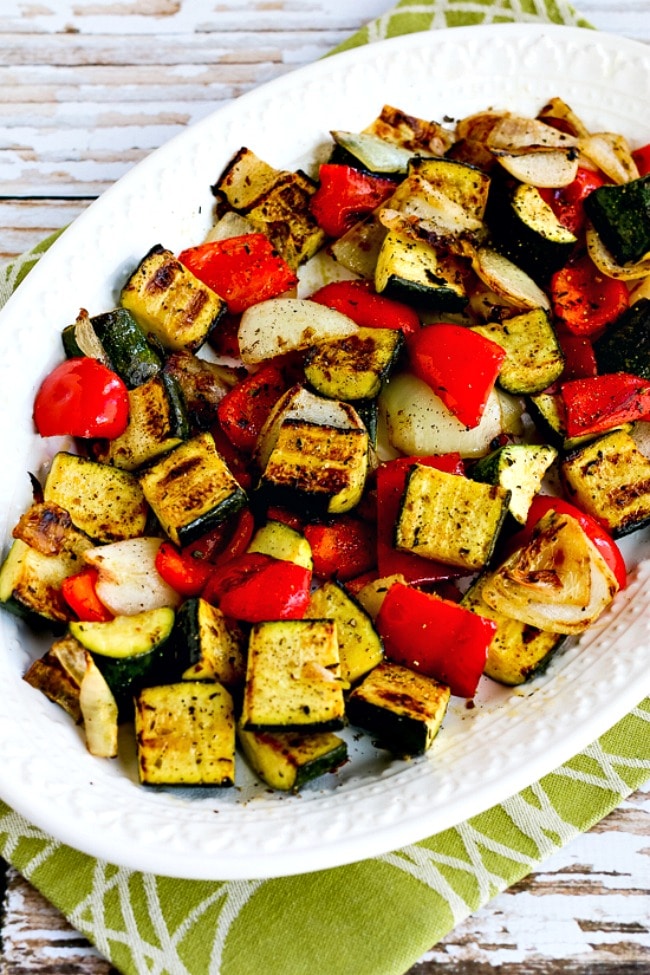 Low-Carb Zucchini Recipe #4
Recipe number four is this recipe for the Easy Grilled Vegetables, with zucchini taking a starring role. I make this over and over all summer long!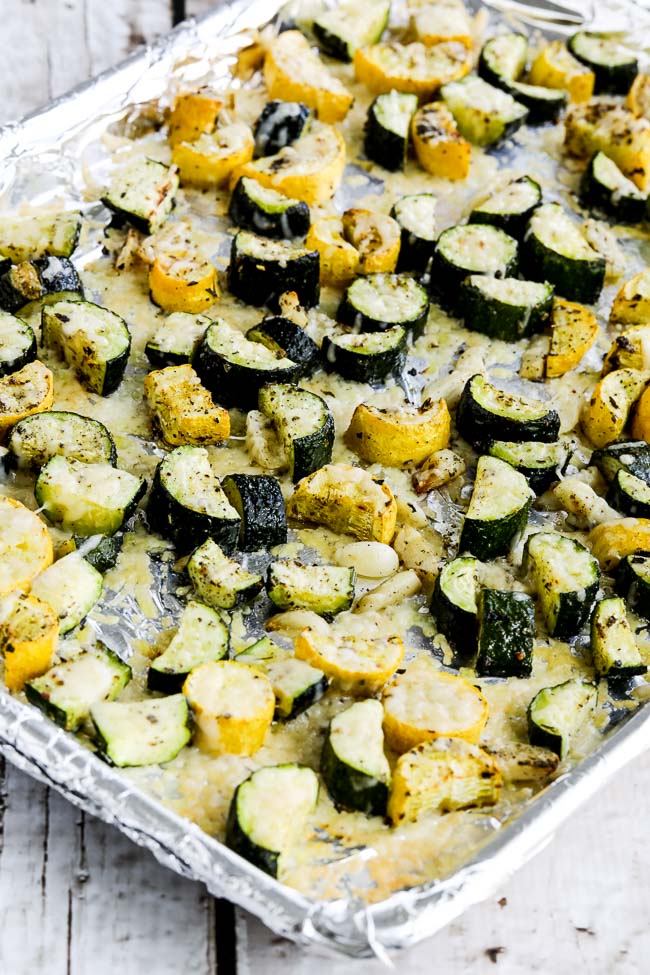 Low-Carb Zucchini Recipe #3
Recipe number three is this Roasted Summer Squash with Garlic and Parmesan which is an absolutely spectacular way to cook zucchini and yellow summer squash! If you haven't tried this, you should!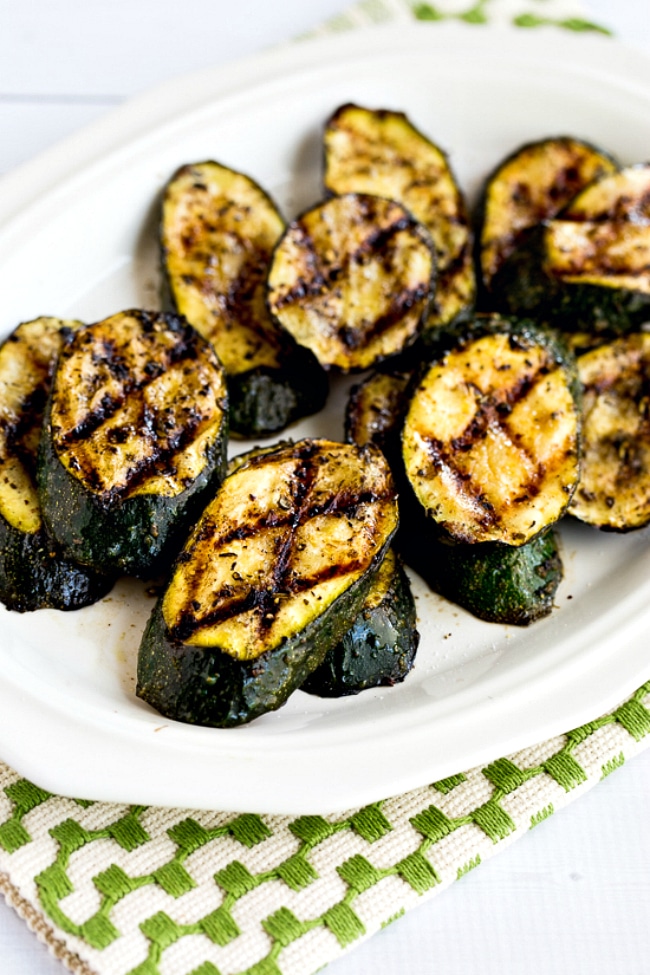 Low-Carb Zucchini Recipe #2
Number two on the list is this hugely popular post on How to Grill Zucchini. I use this way of cooking zucchini all summer long, and only stop making it when my deck is covered with snow!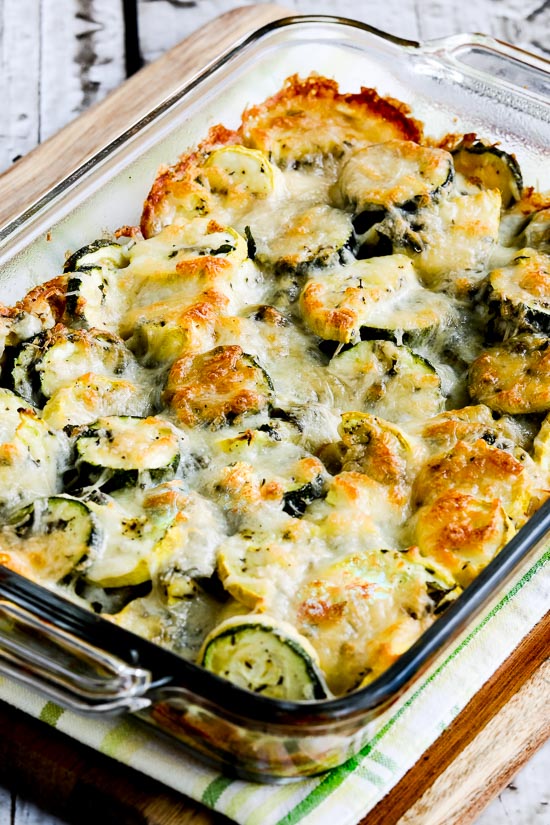 Low-Carb Zucchini Recipe #1
And the big winner in our countdown of Low-Carb Zucchini Recipes is (once again; every year!) this Easy Cheesy Zucchini Bake with millions of views on the blog and millions of pins. And it's not hard to tell why this is popular, because doesn't everyone love recipes that are easy + cheesy?
Low-Carb Zucchini Winners from Years Gone By:
Personal Favorites of Kalyn that didn't make the List!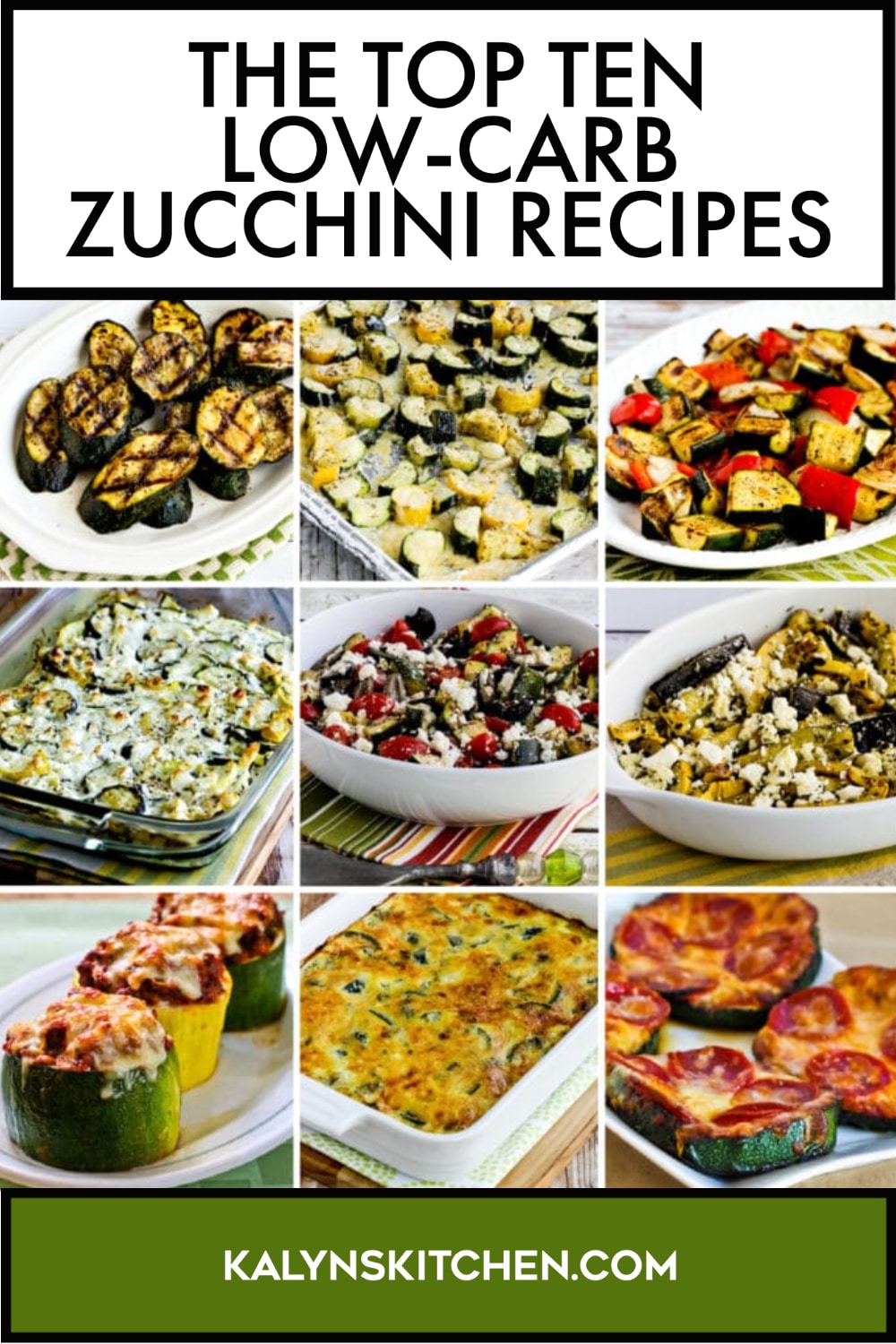 We are a participant in the Amazon Services LLC Associates Program, an affiliate advertising program designed to provide a means for us to earn fees by linking to Amazon.com and affiliated sites. As an Amazon Associate, I earn from qualifying purchases.