Sauteed Greek Chicken with Tomato, Olive, and Feta Topping (Video)
Sauteed Greek Chicken with Tomato, Olive, and Feta Topping is easy enough for a work-night meal, and this recipe has all those greek flavors you love. Use Chicken Recipes to find more recipes like this one.
Click here to PIN this easy Sauteed Greek Chicken!
Watch the video to see if you might like to make
Sauteed Greek Chicken with Tomato, Olive, and Feta Topping!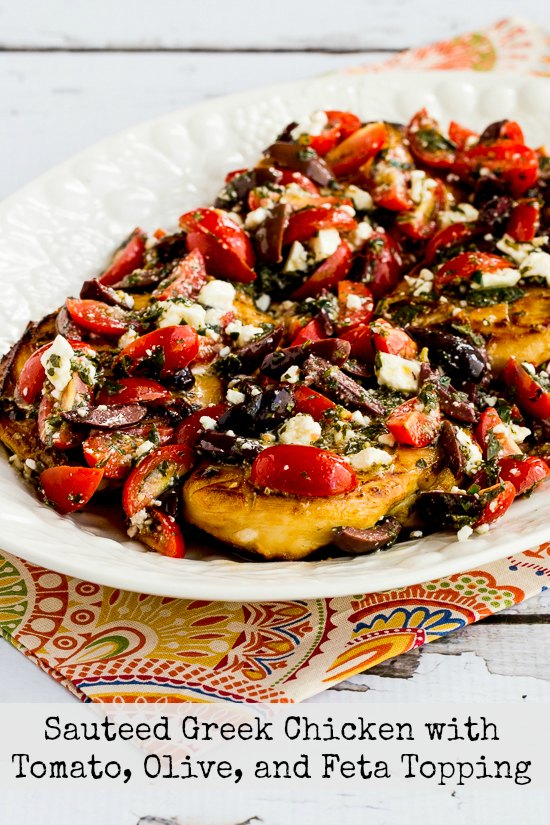 I love Greek flavors any time of year, and this easy Sauteed Greek Chicken with Tomato, Olive, and Feta Topping is a delicious chicken dinner that you'll probably make over and over if you like these ingredients. The chicken has the same flavors that have made Very Greek Grilled Chicken one of the most popular recipes on my blog, and the tomato, olive, and Feta topping has the ingredients I love so much in Greek Salad. And sweet grape tomatoes are something I buy all year long and they're perfect for this recipe.
Even if you don't plan ahead you can still make this chicken, letting it marinate for just an hour in the fridge. You can also start marinating the chicken early in the day (or even when you go to work in the morning) and then cook it that night. After the marinating time it's a quick meal; the chicken cooks in a few minutes, and chopping tomatoes and olives and crumbling Feta for the topping won't take long at all, making this perfect for dinner when you need something quick.
I adapted this recipe just a little from Sauteed Chicken with Tomatoes, Olives, and Feta that I found in Bon Appetit Fast Easy Fresh. The technique I loved was scoring the top of the chicken to give more surface for the marinade to coat, very similar to my own trick for Juicy Grilled Chicken Breasts! If you're also a fan of Greek flavors, I hope you'll give this easy chicken a try, and if you'd like more easy dinners, check out My Favorite Quick and Easy Low-Carb Dinners!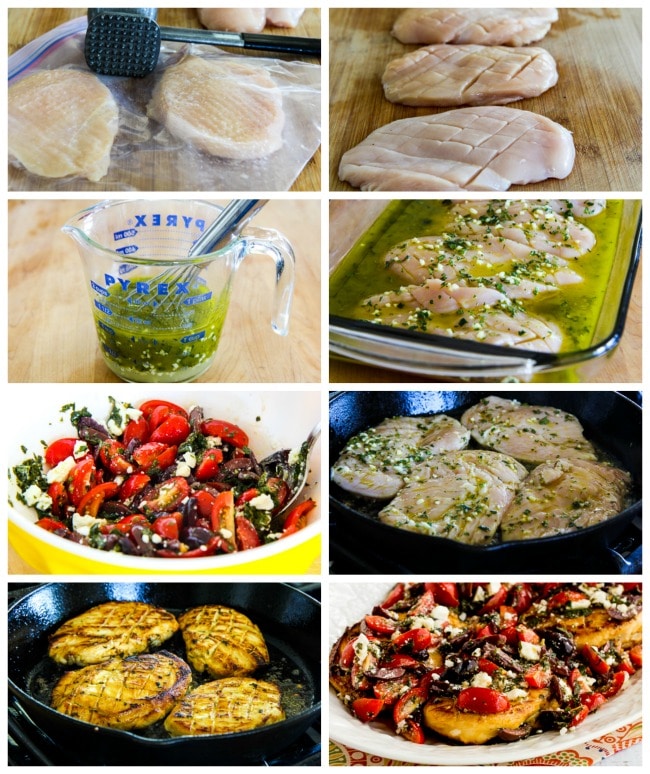 How to Make Sauteed Greek Chicken with Tomato, Olive, and Feta Topping:
(Scroll down for complete printable recipe.)
Trim chicken breasts and pound them so they're the same thickness, about 1/2 inch.
Make small cuts to score the top of the chicken breasts in a criss-cross pattern.
Mix together olive oil, lemon juice, chopped fresh oregano, and minced fresh garlic.
Reserve 1/4 cup of the mixture for the topping, pour the rest over the chicken and marinate in the refrigerator for at least one hour and as long as all day.
Before you cook the chicken breasts, chop tomatoes, slice Kalamata olives, and crumble Feta and stir it together with the reserved marinade.
Heat a little olive oil in heavy pan.
Cook chicken 3-4 minutes on each side, seasoning to to taste with salt and fresh-ground black pepper.
Then serve chicken with some of the topping spooned over. Serve hot and enjoy!
Make it a Low-Carb Meal:
This would taste great with Lemony Green Beans for a low-carb meal.
More Tasty Dinners with Chicken:
Chicken Recipes Photo Index ~ Slow Cooker or Pressure Cooker
Low-Carb Baked Chicken Stuffed with Pesto and Cheese ~ Kalyn's Kitchen
Tuscan Chicken Skillet ~ The Wanderlust Kitchen
Cheesy Creamy Low-Carb Chicken Cordon Bleu Bake ~ Kalyn's Kitchen
Chicken with Sofrito ~ Belly Full
Rosemary-Mustard Grilled Chicken ~ Kalyn's Kitchen
Ingredients
4 boneless, skinless chicken breasts, trimmed and scored on top
1/2 cup olive oil (plus a little more for cooking chicken)
1/2 cup fresh-squeezed lemon juice (I used my fresh-frozen lemon juice)
2 T chopped fresh oregano (or in a pinch, use 1 tsp. dried oregano)
2 tsp. finely chopped fresh garlic
1 cup chopped grape or cherry tomatoes (I cut them in fourths lengthwise)
1/3 cup sliced Kalamata olives (I cut them in fourths lengthwise)
1/2 cup crumbled Feta cheese
salt and fresh-ground black pepper to taste
Instructions
Trim any visible fat or undesirable parts from each chicken breast, then score the top with small diagonal cuts that criss-cross, being careful not to cut too far into the chicken so you can still turn them when you cook.
Mix together the olive oil, lemon juice, oregano, and minced garlic.
Remove 1/4 cup of that mixture and set aside for the topping later.
Put scored chicken pieces into a glass baking dish or a Ziploc bag and marinate in the refrigerator at least one hour or as long as all day.
When you're ready to cook, take the chicken out of the fridge and let it come to room temperature while you cut up the olives and tomatoes.
Gently mix together the cut tomatoes, olives, crumbled Feta and reserved marinade.
Heat about 1 tsp. additional olive oil in a large heavy frying pan over medium-high heat. (I used a 12-inch cast-iron skillet (affiliate link) which is great for stovetop browning of meat.)
Remove chicken from the marinade and arrange in frying pan so they aren't crowded, scored side down.
Cook 3-4 minutes on the top side, or until nicely brown, then turn and cook another 3-4 minutes on the second side. Chicken should feel firm (but not hard) to the touch when it's done.
Season chicken to taste with salt and fresh-ground black pepper. (Remember the Feta is salty, so I wouldn't use too much salt.)
Arrange chicken on a platter or on individual serving plates and spoon over the tomato, olive, and Feta topping. Serve hot.
Nutrition Information:
Yield:
4
Serving Size:
1
Amount Per Serving:
Calories:

552
Total Fat:

38g
Saturated Fat:

8g
Unsaturated Fat:

28g
Cholesterol:

119mg
Sodium:

477mg
Carbohydrates:

3.1g
Fiber:

2g
Sugar:

8g
Protein:

41g
Nutrition information is automatically calculated by the Recipe Plug-In I am using. I am not a nutritionist and cannot guarantee 100% accuracy, since many variables affect those calculations. Total fat in this recipe shows higher than actual amount, because olive oil used to marinate is discarded.
Low-Carb Diet / Low-Glycemic Diet / South Beach Diet Suggestions:
This low-carb Sauteed Greek Chicken has with Tomato, Olive, and Feta Topping is perfect for low-carb and low-glycemic eating plans, including all phases of the South Beach Diet. You can be a little moderate on the tomatoes for less carbs if you prefer. If you omit the Feta, this could also be Paleo or Whole 30 approved.
Find More Recipes Like This One:
Use the Recipes by Diet Type photo index pages to find more recipes suitable for a specific eating plan. You might also like to Follow Kalyn's Kitchen on Pinterest to see all the good recipes I'm sharing there.