Roasted Asparagus with Gremolata
If you like asparagus, lemon, garlic, and parsley, this Roasted Asparagus with Gremolata is one of those simple recipes you'll make over and over. And you can eat as much as you'd like of this healthy dish that's low-carb, gluten-free, dairy-free, and vegan!
PIN Roasted Asparagus with Gremolata to try it later!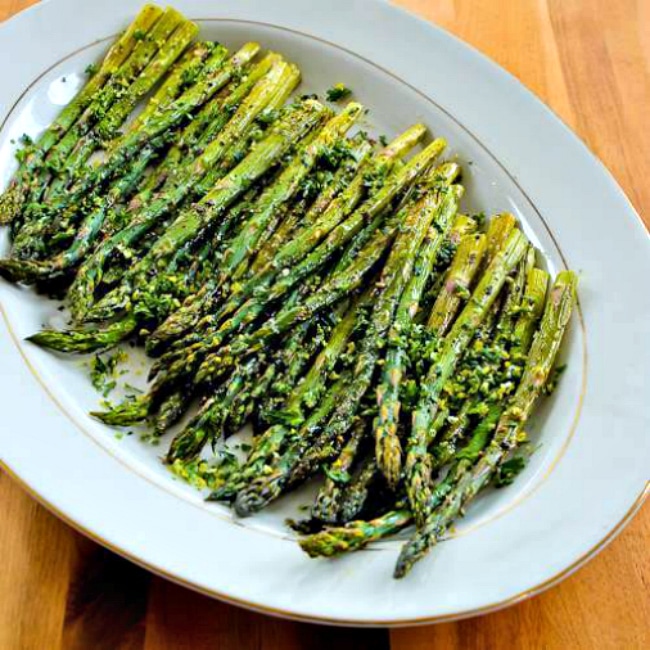 There are a lot of reasons I think you should add Gremolata to your cooking repertoire, and if you like asparagus this recipe for Roasted Asparagus with Gremolata is one of the first ways I'd suggest using that Gremolata once you've made it.
This recipe is so good that I'm confident in saying that if you try it, this will become one of those simple-but-amazing recipes you'll make over and over. And if you keep the asparagus in whole spears the way we did, it looks so impressive that your friends or family will never guess how easy this way to get to the table.
I know some people have strong preferences about their asparagus, but I love both thick and thin spears equally. However, if you can find spears that are on the thin side for this recipe the timing will be closer to what we did. If you only find thicker asparagus at your store, just roast it a few minutes longer.
How to Make Roasted Asparagus with Gremolata:
(Scroll down for complete recipe with nutritional information.)
Preheat oven to 400F/200C.
Trim asparagus and then lay it in a single layer on a baking sheet you've sprayed with olive oil or non-stick spray.
Drizzle a little olive oil over the asparagus and season with lots of salt and fresh-ground black pepper.
Roast until the asparagus spears are barely tender, with a tiny bit of crispness left.
Timing will depend on the thickness of the asparagus, but ours was perfect in exactly 15 minutes.
While the asparagus roasts, get those knife skills going and make the Gremolata.
Arrange the hot asparagus on a serving dish, sprinkle with Gremolata, and serve.
More Ideas for Easy Roasted Asparagus:
Roasted Asparagus with Gruyere and Smoked Paprika ~ Family Fresh Cooking
Roasted Asparagus with Garlic ~ Kalyn's Kitchen
Sesame-Garlic Roasted Asparagus ~ Ambitious Kitchen
Roasted Asparagus and Mushrooms with Spike Seasoning ~ Kalyn's Kitchen
Roasted Asparagus with Parmesan ~ Nami Nami
Ingredients
Ingredients:
1 lb. fresh asparagus, thinner spears preferred for this recipe
2 T olive oil, for drizzling over asparagus
salt and fresh-ground black pepper to taste
Gremolata Ingredients:
1 lemon, preferably organic
1/2 bunch fresh parsley
3 cloves fresh garlic
Instructions
Preheat oven to 400F/200C.
Spray a large roasting pan or baking sheet with olive oil or non-stick spray.
Hold one piece of asparagus by both ends and break to show where the woody part starts; then trim all the pieces to that size.
Lay out asparagus in a single layer on the baking sheet, drizzle with olive oil and season generously with salt and fresh-ground black pepper.
Roast asparagus about 15 minutes, or until the asparagus is tender but still has a little crispness to it.
(Very thin spears will take slightly less time and very thick ones will need a little longer.)
While asparagus roasts, peel and mince the lemon peel, and finely mince the parsley and garlic, then mix the minced lemon peel, parsley, and garlic together to make the Gremolata. (Gremolata is made to taste, but here is How to Make Gremolata which has my recommendations for the proportions I prefer, plus other ideas for using Gremolata.)
Arrange cooked asparagus on a serving dish and sprinkle with a Gremolata.
Serve hot.
Notes
Recipe inspired by many sources, but perfected by Kalyn and Jake.
Nutrition Information:
Yield:
4
Serving Size:
1
Amount Per Serving:
Calories:

102
Total Fat:

7g
Saturated Fat:

1g
Trans Fat:

0g
Unsaturated Fat:

6g
Cholesterol:

0mg
Sodium:

169mg
Carbohydrates:

9g
Fiber:

4g
Sugar:

2g
Protein:

4g
Nutrition information is automatically calculated by the Recipe Plug-In I am using. I am not a nutritionist and cannot guarantee 100% accuracy, since many variables affect those calculations.
Low-Carb Diet / Low-Glycemic Diet / South Beach Diet Suggestions:
One of the things I love most about Gremolata is how it adds amazing flavor with minimal calories, and this Roasted Asparagus with Gremolata is a perfect choice for any phase of the original South Beach Diet or any type of low-glycemic or low-carb eating plan.
Find More Recipes Like This One:
Use Side Dishes to find more recipes like this one. Use the Recipes by Diet Type photo index pages to find more recipes suitable for a specific eating plan. You might also like to Follow Kalyn's Kitchen on Pinterest to see all the good recipes I'm sharing there.