Family Favorite Shrimp and Macaroni Salad (Video)
Family Favorite Shrimp and Macaroni Salad was always my father's choice whenever I asked him what I should make for a family party. It's a diet splurge, but this salad is pure comfort food.
PIN Family Favorite Shrimp and Macaroni Salad to try it later!
Watch the video to see if you'd like to make
Family Favorite Shrimp and Macaroni Salad!
This Shrimp and Macaroni Salad is a dish I've made for family parties for more than 20 years, and definitely my father's all-time favorite dish. I made some Shrimp and Macaroni Salad this week as we gathered to talk about our dad, and I'll be making it again in a few weeks when my brother Mark hosts his annual Superbowl party.
What makes the salad so full of flavor is the idea of using a little of the shrimp "juice" saved from draining the frozen shrimp and adding it to the mayo-based dressing, plus the flavor boost of celery seeds.
Notice that the title of this recipe is Shrimp and Macaroni Salad, not Macaroni and Shrimp Salad. I use Dreamfield's Macaroni and much less macaroni in proportion to the other ingredients to make this salad a more carb-conscious salad. There's still a significant amount of mayo, but in my family this is a "once in a while treat" that's perfect for parties.
(This recipe is dedicated to the memory of my wonderful father, and it's something I made over and over for him during his life.)
How to Make Shrimp and Macaroni Salad:
(Scroll down for complete recipe with nutritional information.)
I make this with medium-sized or large frozen shrimp, thawed in the fridge overnight. After you thaw them be sure to catch the "juice" when you drain the shrimp. If you're using larger shrimp, cut them in bite-sized pieces. (These photos are twice the amount of the recipe, when I made a big batch of the salad for a family gathering.)
Put the shrimp "juice" in a small pan and cook until it's slightly reduced. Don't worry if the liquid isn't completely clear; the small bits of shrimp add a lot of flavor to the dressing.
Cook the macaroni according to package direction and drain well.
Whisk together the mayo, concentrated shrimp "juice", lemon juice, and celery seed to make the dressing.
Chop celery and slice green onions. (Forgot to take a photo of that step I guess.)
When the pasta is cool, mix together the shrimp, chopped celery, and sliced green onions. (Remember, this is twice the amount of the recipe.) Mix the desired amount of dressing into the salad. You may not need all the dressing if you prefer your salads more dry. Chill for a few hours to develop the flavors.
This keeps in the refrigerator for a few days, but it probably won't last that long!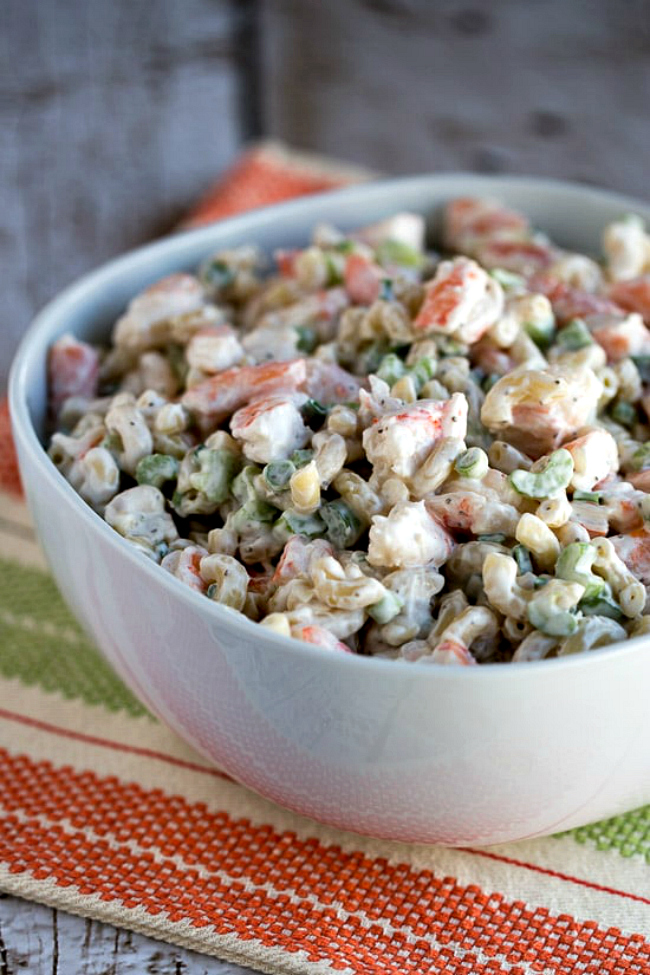 More Ideas for Salads with Shrimp:
Lemony Shrimp Salad with Avocado, Heart of Palm, and Feta ~ Kalyn's Kitchen
10-Minute Thai Shrimp, Cucumber, and Avocado Salad ~ Cookin' Canuck
Easy Paleo Shrimp and Avocado Salad ~ Kalyn's Kitchen
Picnic-Perfect Tortellini and Shrimp Salad ~ The Perfect Pantry
Ingredients
Salad Ingredients
1 cup (dry) macaroni or whole wheat macaroni
2 cups thawed frozen precooked shrimp, cut in 1/2″ pieces (save some of the juice)
1 cup diced celery
1/4 cup sliced green onions
salt and pepper to taste
Dressing Ingredients
2/3 cup mayo
1 T reduced shrimp "juice" (Liquid saved when draining shrimp which has been boiled to concentrate the flavor)
1 tsp. fresh lemon juice
1/2 tsp. whole celery seed
Instructions
Thaw shrimp overnight in refrigerator, keeping it in the bag so you can catch the "juice" when you open it. (In a pinch you can also thaw it inside the bag in a bowl of barely warm water.)
Drain shrimp well, reserving the liquid that accumulates in bag. (I usually dry shrimp with a paper towel if they're quite wet.)
Put liquid drained from shrimp in small saucepan and simmer until reduced by at least half. (This will concentrate the shrimp flavor and evaporate the water. Watch carefully, this doesn't take long!)
Cook macaroni in large pot of salted, boiling water for about 9-10 minutes, or until soft but still slightly chewy. Be careful not to overcook.
Drain macaroni and cool, but don't rinse.
While macaroni cooks, dice shrimp, celery, and green onions and put in bowl with a snap-on lid.
Mix dressing ingredients together.
When macaroni is cool, mix it into shrimp mixture in bowl, then gently fold in dressing. (You may not need all the dressing if you prefer your salads to be more dry.)
Season to taste with salt and pepper.
This is best if chilled a few hours before serving. Will keep in the refrigerator for a few days.
Notes
I have made this with small "salad " shrimp or larger medium shrimp, but I greatly prefer the flavor and texture of the larger shrimp. I cut each medium shrimp into about 4 pieces.

Recipe created by Kalyn and made for many years for Denny family parties.
Nutrition Information:
Yield:
6
Serving Size:
1
Amount Per Serving: Calories: 391Total Fat: 20gSaturated Fat: 3gTrans Fat: 0gUnsaturated Fat: 16gCholesterol: 115mgSodium: 726mgCarbohydrates: 36gFiber: 5gSugar: 6gProtein: 18g

Nutrition information is automatically calculated by the Recipe Plug-In I am using. I am not a nutritionist and cannot guarantee 100% accuracy, since many variables affect those calculations.
Low-Carb Diet / Low-Glycemic Diet / South Beach Diet Suggestions:
Family Favorite Shrimp and Macaroni Salad would be more carb-conscious than most Macaroni and Shrimp Salad if made with a moderate amount of pasta like I make it, but in my family this is definitely a "once in a while treat."
Find More Recipes Like This One:
Use Seafood Recipes to find more recipes with shrimp! Use the Recipes by Diet Type photo index pages to find more recipes suitable for a specific eating plan. You might also like to Follow Kalyn's Kitchen on Pinterest to see all the good recipes I'm sharing there.