Marinated Fresh Mozzarella with Herbs
Marinated Fresh Mozzarella with Herbs is easy to make ahead, and will get gobbled up quickly whether you serve it as an appetizer or a salad! And if you can find the little balls of fresh Mozzarella, that will make this even easier to put together!
PIN Marinated Fresh Mozzarella with Herbs to try it later!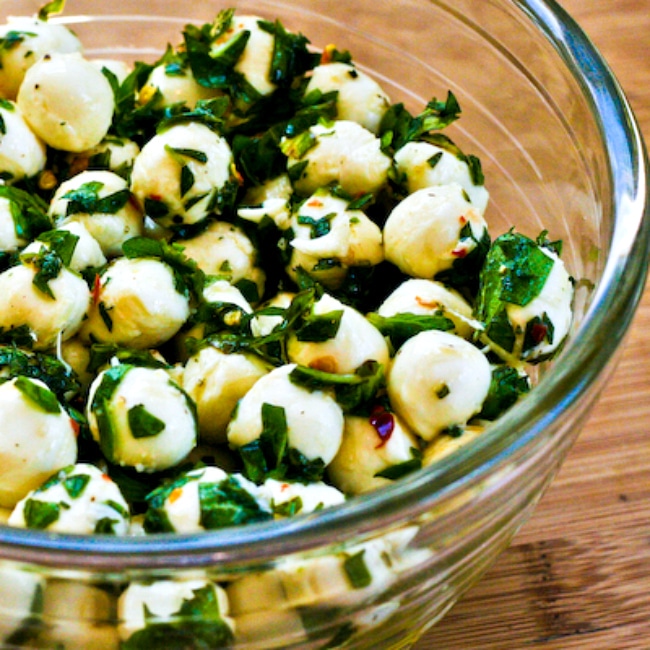 Marinated Fresh Mozzarella with Herbs might be the easiest salad or appetizer you've ever whipped up, and I'm guessing it will impress your friends. After I discovered mozzarella pearls at Costco and loved it in Tomato, Olive, and Fresh Mozzarella Salad, I heard from a lot of readers who loved the little balls of fresh mozzarella, and I thought it might be fun to try another way of using them. And it's fresh herb season, so I'm reminding you about this recipe for Friday Favorites this week.
And we absolutely loved this simple preparation where the little Mozzarella balls are simply marinated for a short time with fresh herbs, olive oil, and a bit of red pepper flakes! This is about as easy as it gets for a summer treat, and it's a perfect way to use fresh herbs if you're lucky enough to have some in your garden! But even if you have to buy herbs at the store, this is so tasty it's worth the splurge.
And thanks to Joanne from Eats Well with Others who tells me these small balls of Mozzarella are called Bocconcini which means "little balls" in Italian, and a reader named Estelle who has informed me that the really small mozzarella I used are called Ciliegine mozzarella and are about the size of a cherry. But if you can't find little balls of Mozzarella like I used, just slice up fresh Mozzarella and cut it into small cubes.
What ingredients do you need for this recipe?
fresh mozzarella pearls, or cut fresh mozzarella into small cubes
olive oil
chopped fresh herbs of your choice
salt and fresh ground black pepper to taste
red pepper flakes
What if you can't find Mozzarella Pearls?
For years I happily bought the mozzarella pearls at Costco, but now neither of the Costcos near me carries them. I can usually find them in the deli department at my favorite grocery store, but if you can't find little balls of Mozzarella like I used, just slice up fresh Mozzarella and cut it into small cubes. It will still taste great!
What fresh herbs did I use?
I used mostly basil for the herbs, with just a tiny bit of oregano, but I'm thinking mint or parsley would be also great in this, and in fact you could probably use any type of fresh herbs that appeal to you.
Can this be made ahead?
One of the best things about this as a party salad or an impressive appetizer is that you can make it ahead and let it marinate at room temperature for a few hours while you're preparing other parts of the meal!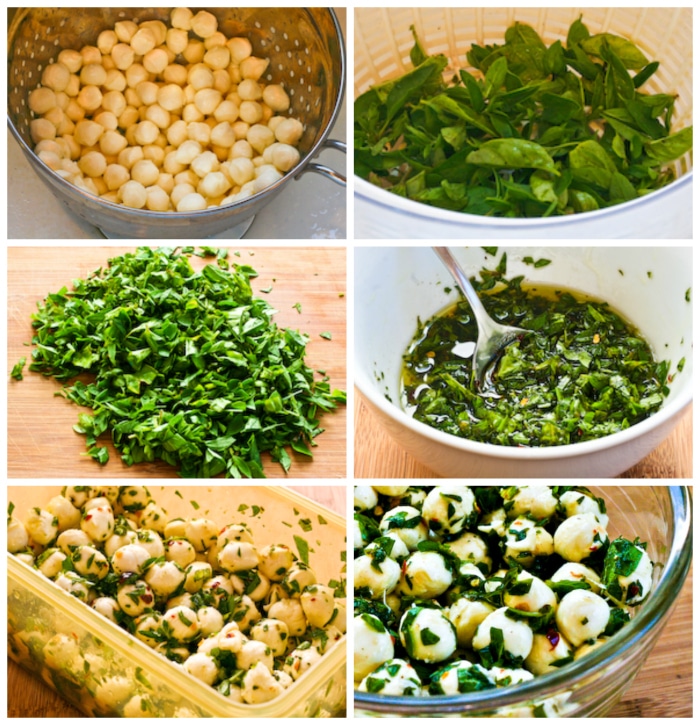 How to make Marinated Fresh Mozzarella with Herbs:
(Scroll down for complete recipe with nutritional information.)
Drain the mozzarella pearls, or if you're using larger pieces of fresh mozzarella, slice and then cut them into bite-sized pieces.
Wash the herbs and spin dry with salad spinner (affiliate link) or dry with a paper towel.
Finely chop herbs with a chef's knife.
Mix olive oil, chopped herbs, salt, fresh ground black pepper, and red pepper flakes.
I used just 1/2 tsp. red pepper flakes, but you can bump it up a bit more if you'd like it spicy.
Mix together the pieces of Mozzarella and herb mixture and marinate for 30-60 minutes at room temperature.
Serve and wait for raves from your family or guests!
More Recipes Using Use Fresh Basil:
Summer Tomato Salad with Goat Cheese
Crustless Three-Cheese Tomato Basil Quiche
Cauliflower Rice with Basil, Parmesan, and Pine Nuts
Cheesy Zucchini and Basil Strata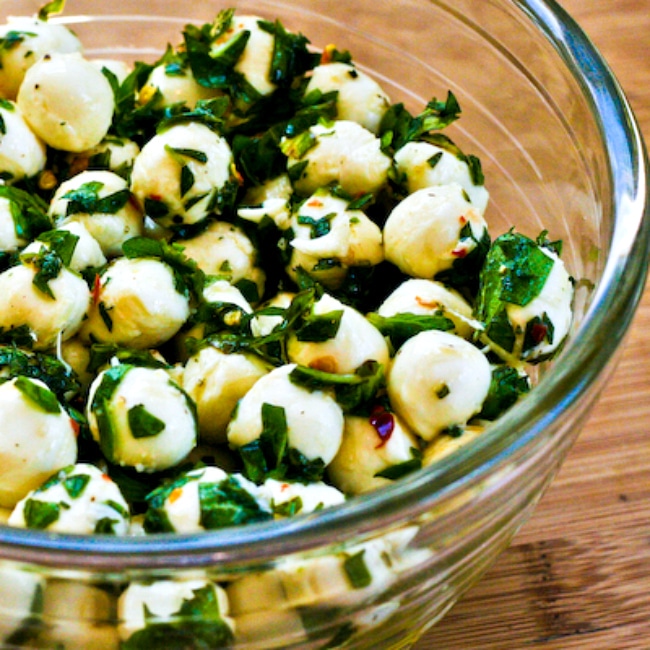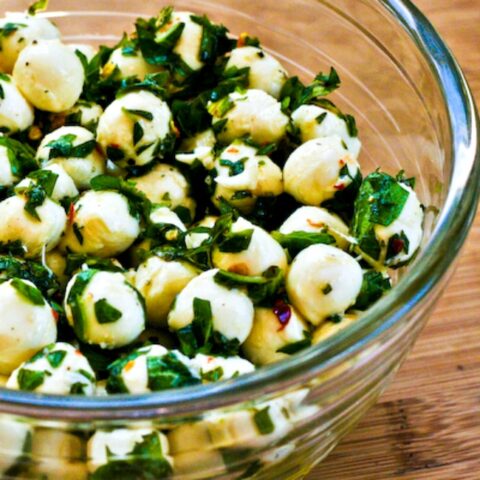 Yield: 4 servings
Marinated Fresh Mozzarella with Herbs
Prep Time 15 minutes
Additional Time 1 hour
Total Time 1 hour 15 minutes
Marinated Fresh Mozzarella with Herbs is an easy-to-make salad or appetizer that will get gobbled up quickly!
Ingredients
1 lb. fresh mozzarella pearls (see notes)
1/2 cup olive oil
1/2 cup chopped fresh herbs (see notes)
salt and fresh ground black pepper to taste
1/2 tsp. fresh red pepper flakes (more or less to taste)
Instructions
Drain mozzarella in a strainer placed in the sink while you wash and chop herbs.
Be sure mozzarella is drained well, and pat dry with paper towels if needed.
Wash herbs, spin dry in salad spinner or blot dry with paper towels, then finely chop enough fresh herbs to make 1/2 cup.
Mix chopped herbs with olive oil and red pepper flakes, and season with a generous amount of salt and fresh ground black pepper.
Put mozzarella pieces into a plastic or glass container with a tight-fitting lid, add olive oil mixture, and stir to combine.
Put lid on container and marinate mozzarella at room temperature for 30-60 minutes, turning container over a few times so the mozzarella stays covered with the olive oil-herb mixture.
Serve at room temperature.
Notes
Nutritional information is for four servings, when this is served as a side-dish salad. This would make about 8 servings if serving as an appetizer.
I used fresh mozzarella pearls for this recipe, but you can cup up mozzarella into small cubes if you don't find the pearls. Measure the 1/2 cup herbs after chopping; I used mostly basil with just a few tablespoons of chopped oregano but use any herbs you have on hand.
Recipe adapted from an idea in How to Cook Everything (affiliate link). 
Nutrition Information:
Yield:
4
Serving Size:
1
Amount Per Serving:
Calories: 518
Total Fat: 48g
Saturated Fat: 16g
Trans Fat: 0g
Unsaturated Fat: 29g
Cholesterol: 73mg
Sodium: 724mg
Carbohydrates: 3g
Fiber: 0g
Sugar: 1g
Protein: 21g
Nutrition information is automatically calculated by the Recipe Plug-In I am using. I am not a nutritionist and cannot guarantee 100% accuracy, since many variables affect those calculations.
Low-Carb Diet / Low-Glycemic Diet / South Beach Diet Suggestions:
This marinated fresh Mozzarella is a great appetizer or salad for low-carb eating plans, including Keto. It's also great for any phase of the original South Beach Diet. South Beach would recommend low-fat mozzarella, while other diets will prefer full fat cheese.
Find More Recipes Like This One:
Use Appetizer Recipes or Salad Recipes to find more recipes like this one. Use the Diet Type Index to find more recipes suitable for a specific eating plan. You might also like to follow Kalyn's Kitchen on Pinterest, on Facebook, on Instagram, or on YouTube to see all the good recipes I'm sharing there.
Historical Notes for this recipe:
This recipe was first posted in 2009. I've made it so many times since then, and it was last updated with more information in 2022.
We are a participant in the Amazon Services LLC Associates Program, an affiliate advertising program designed to provide a means for us to earn fees by linking to Amazon.com and affiliated sites. As an Amazon Associate, I earn from qualifying purchases.