Low-Sugar Strawberry Frozen Yogurt
Low-Sugar Strawberry Frozen Yogurt is so delicious you'll never dream it has no added sugar; use full-fat or fat-free Greek yogurt, whichever you prefer.
PIN Low-Sugar Strawberry Frozen Yogurt to try it later!
A couple of weeks ago I was at Costco and they had a special on the Cuisinart 1-1/2-Quart Ice Cream Maker (affiliate link) and before you could say Low-Sugar Strawberry Frozen Yogurt, one of the ice cream makers was in my cart. I'm not a big ice cream eater, but for a few years now I've been thinking it might be fun to experiment with sugar-free or low-sugar frozen yogurt.
My first experiment with the new ice cream maker was not a keeper, but this time the frozen yogurt was so good that even my young nephews who were visiting gobbled it up. Ethan (age 11) told me quite seriously, "You can even say on your blog that it's kid approved, and kids don't usually like ice cream that doesn't have sugar."
How Can Strawberry Frozen Yogurt be Low in Sugar?
Strawberries have natural sugar, so strawberry frozen yogurt can't ever be sugar free. But I used a couple of strategies to make this recipe lower in sugar without sacrificing flavor. I started with a base of fresh strawberries, pureed in the food processor. Then I added some sugar-free strawberry preserves to bump up the strawberry flavor and a small amount of Monkfruit Sweetener (affiliate link) for a little more sweetness. Use your favorite sweetener if you don't have Monkfruit. (If you don't want to use preserves that have artificial sweetener, look for ones labeled "all fruit" or "simply fruit.")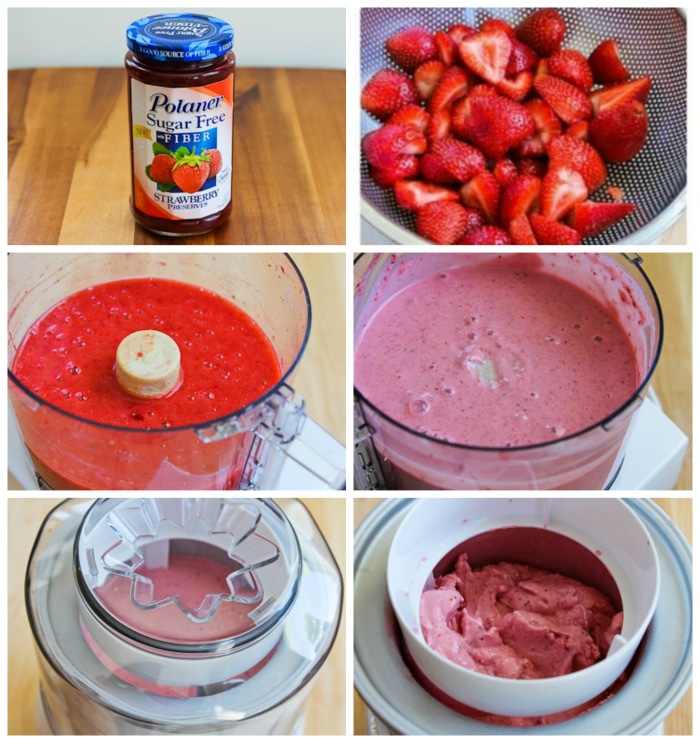 How to Make Low-Sugar Strawberry Frozen Yogurt:
(Scroll down for complete recipe with nutritional information.)
I started with 2 cups of cleaned and washed strawberries, which I pureed in the food processor. Then I added 1/2 cup sugar free strawberry preserves and the same amount of Monkfruit Sweetener (affiliate link).
Here's how it looked after I had buzzed together the strawberry puree, strawberry preserves, and granulated Stevia.
Then I added the 2 cups of Greek Yogurt and processed just enough to get it blended with the strawberry mixture.

Pour the mixture into the ice cream freezer and start it turning. (Stopping to take a photo at this point was NOT a good idea, and next time I won't be doing that!)

I probably should have let the frozen yogurt freeze for about 5 more minutes, but here's how it looked after 25 minutes.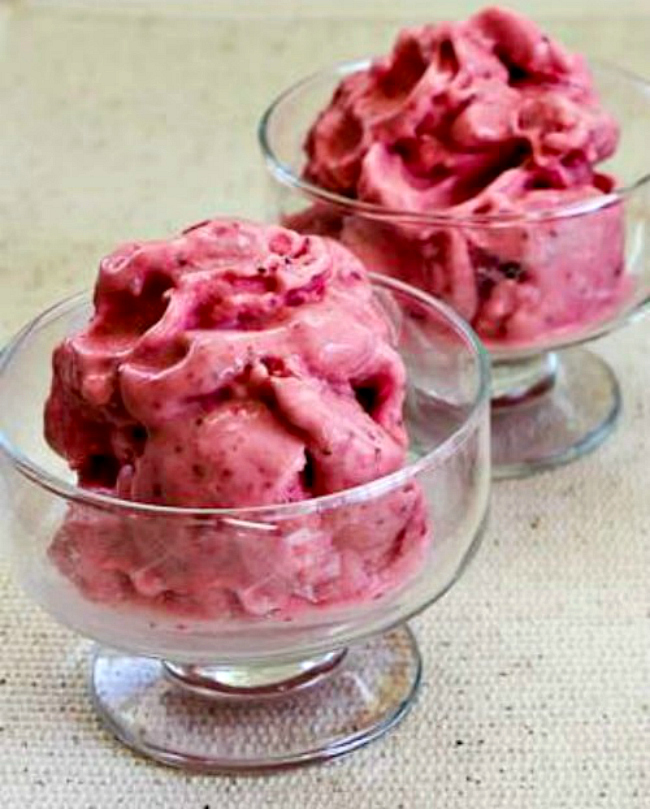 More Low-Sugar Frozen Treats:
Low-Sugar Mango Sorbet
Low-Sugar Fresh Peach Frozen Yogurt
Low-Sugar Strawberry Frozen Yogurt Pops
Ingredients
2 cups of fresh strawberries, cleaned, cut in half or fourths
1/2 cup sugar-free Strawberry preserves
1/2 cup sweetener of your choice (see notes)
2 cups plain Greek Yogurt
Instructions
For the ice cream maker I have, the container must be well-frozen before you mix the ice cream. Follow instructions for the model you have.
Wash strawberries if needed; then cut away stem end and cut the strawberries into halves or fourths.
Put strawberries into food processor fitted with a steel blade and process until they are pureed.
Add sugar-free (or low-sugar) strawberry preserves and sweetener and process about 30 seconds more.
The, add the Greek yogurt and process just until the mixture is fully combined.
Put the container into the ice cream maker and sit the scraper blade in place.
Put lid on and pour the strawberry-yogurt mixture in with the motor running.
Let the yogurt freeze with the blade running for 25-30 minutes.
If you don't eat all the frozen yogurt right away it can be frozen to eat later, but allow about 20 minutes at room temperature for the yogurt to soften after it comes out of the freezer.
Notes
I originally made this recipe with granulated Stevia, but now I'd use Monkfruit Sweetener (affiliate link); use the sweetener you prefer. Use reduced-fat or full-fat Greek Yogurt, whichever you prefer. 

I used a Cuisinart 1-1/2-Quart Ice Cream Maker (affiliate link) to make this frozen yogurt. You may need to adapt the recipe if you're using a different size or make of ice cream freezer.

Recipe created by Kalyn.
Nutrition Information:
Yield:
5
Serving Size:
1
Amount Per Serving: Calories: 172Total Fat: 1gSaturated Fat: 0gTrans Fat: 0gUnsaturated Fat: 0gCholesterol: 5mgSodium: 35mgCarbohydrates: 34gFiber: 1gSugar: 30gProtein: 10g

Nutrition information is automatically calculated by the Recipe Plug-In I am using. I am not a nutritionist and cannot guarantee 100% accuracy, since many variables affect those calculations.
Low-Carb Diet / Low-Glycemic Diet / South Beach Diet Suggestions:
Made with sugar-free strawberry preserves, and Stevia in the Raw Granulated Sweetener or your favorite sweetener, this Low-Sugar Strawberry Frozen Yogurt would be a good treat for phase 2 or 3 of the original South Beach Diet. South Beach would prefer fat-free yogurt; other carb conscious diets might prefer full-fat yogurt.
Frozen Yogurt with fruit can't ever be sugar free since there is still some natural sugar in the strawberries, so this can never be a completely low-carb dessert, but strawberries are lower in carbs than many other fruits. (If you didn't want to use the sugar-free preserves which contain Splenda and used all-fruit preserves, that would increase the sugar a little, but I still think this would be pretty low in sugar with that change.)
Find More Recipes Like This One:
Use Dessert Recipes for more tasty ideas like this one. Use the Recipes by Diet Type photo index pages to find more recipes suitable for a specific eating plan. You might also like to Follow Kalyn's Kitchen on Pinterest to see all the good recipes I'm sharing there.