Effie's Cottage Cheese Salad with Za'atar
This Cottage Cheese Salad with Za'atar is a recipe that was sent to me by a reader, and this was one of those must-make-again recipes from the first bite. If you don't have the middle eastern spice mix called Za'atar, use any blend of dried spices that you like on tomatoes.
PIN the Cottage Cheese Salad to try it later!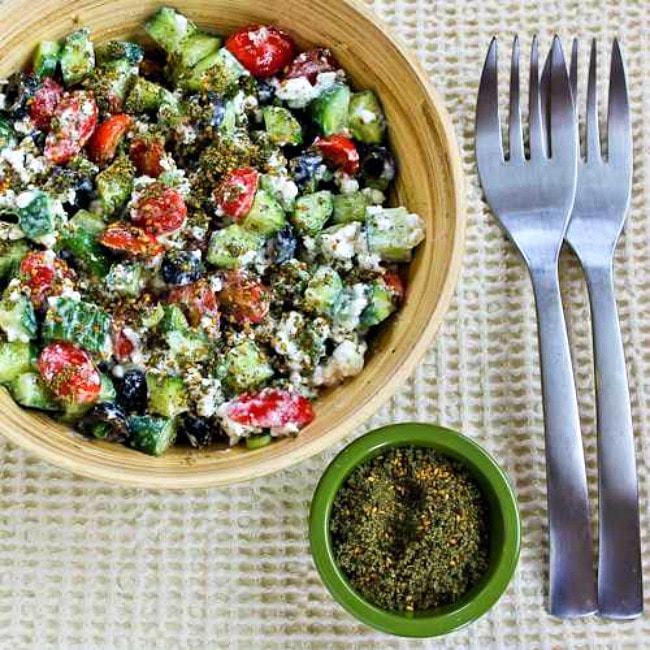 Every now and then I try a recipe and from the very first bite I know it's something that I'm going to be making over and over again, and when Jake and I tried this Cottage Cheese Salad with Za'atar, we couldn't stop exclaiming over how fantastic it was. But just as fun as the salad itself is the story of how I happened to be making this salad!
Recently I got an e-mail from a reader named Effie who told me she enjoys the blog, and she offered to send me some spices from Israel. I love Middle Eastern flavors, so I was excited when a few weeks later I got a package with lots and lots of different spices, plus recipes!
Effie's package had so many new things I'm having fun experimenting with, but since I was at least a little familiar with Za'atar, this cottage cheese salad with Za'atar Spice Mix (affiliate link) was one of the first things I tried. And I was pretty sure Za'atar would taste great on American cottage cheese, and it did!
And even if this version of cottage cheese salad is slightly different from the one Effie says is a favorite of her kids, we simply could not stop eating it. Many, many thanks to Effie, and now I am working on a package to send back to her!
What ingredients do you need for this recipe?
cucumbers, preferably small Persian cucumbers or mini-cucumbers
fresh tomatoes (see notes)
green onion
sliced olives (see notes)
cottage cheese
olive oil (a generous drizzle)
Za'atar Spice Mix (affiliate link)
What is Za'atar?
Za'atar is a middle eastern herb, but the name most often means a blend of spices that always includes thyme, powdered Sumac, sesame seeds, and salt. Authentic Za'atar often has Hyssop instead of thyme. Za'atar Spice Mix (affiliate link) is widely available, even in the U.S.
What is Cottage Cheese like in Israel?
When I searched for information about cottage cheese in Israel, I discovered it's one of the most popular dairy products sold there. Israeli cottage cottage seems to be thicker and creamier than the American version, and it's a staple in Israeli homes.
What Cottage Cheese did I use?
For both sour cream and cottage cheese, I am pretty loyal to Daisy brand, which I think is creamy and delicious, and Daisy Cottage Cheese is something that's almost always in my fridge. (For the record, this company has never given me any cottage cheese and I'm sure they don't even know that I'm alive.)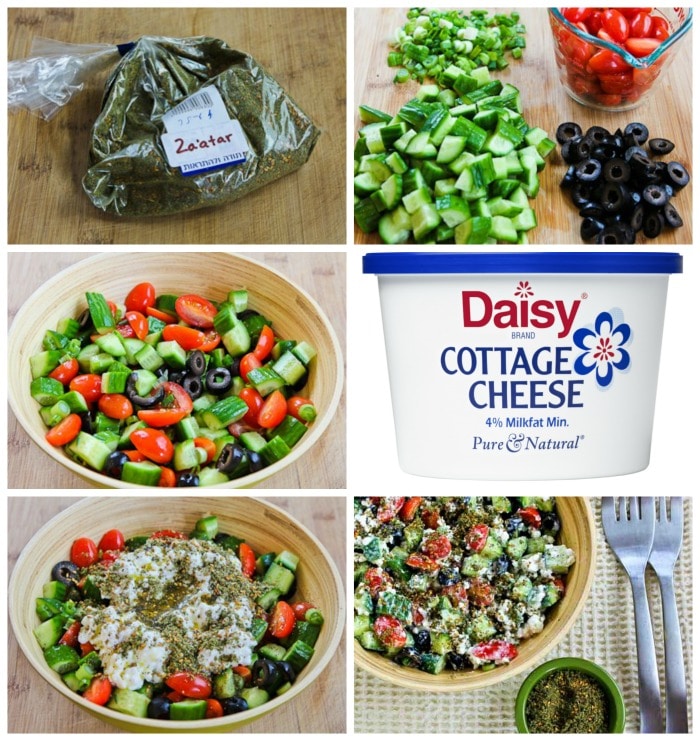 How to make Cottage Cheese Salad with Za'atar:
(Scroll down for complete recipe with nutritional information.)
The Za'atar Effie sent me was very green compared to what I had seen here, and the flavor was amazing. Za'atar contains Sumac (affiliate link), which I've loved in so many recipes.
For four servings of salad, I cut up 4 small Persian cucumbers, 1 cup cherry tomatoes, 1/4 cup sliced green onion, and 1/2 cup sliced olives.
Mix the veggies in a salad bowl that's big enough to toss the ingredients together.
I used my favorite Daisy cottage cheese.
We topped the vegetables with 1 cup cottage cheese, a generous drizzle of olive oil, and about a tablespoon of Za'atar.
Stir together, and enjoy, with more Za'atar to sprinkle on at the table for people like me who can't get enough of this flavorful spice mix!
More Tasty Recipes with Za'atar:
Whole Wheat Quick Bread with Olives and Feta ~ Kalyn's Kitchen
Fattoush ~ The Perfect Pantry
Grilled Chicken Thighs with Lemon and Za'atar ~ Kalyn's Kitchen
Avocado Toast with Feta and Za'atar ~ Mother Would Know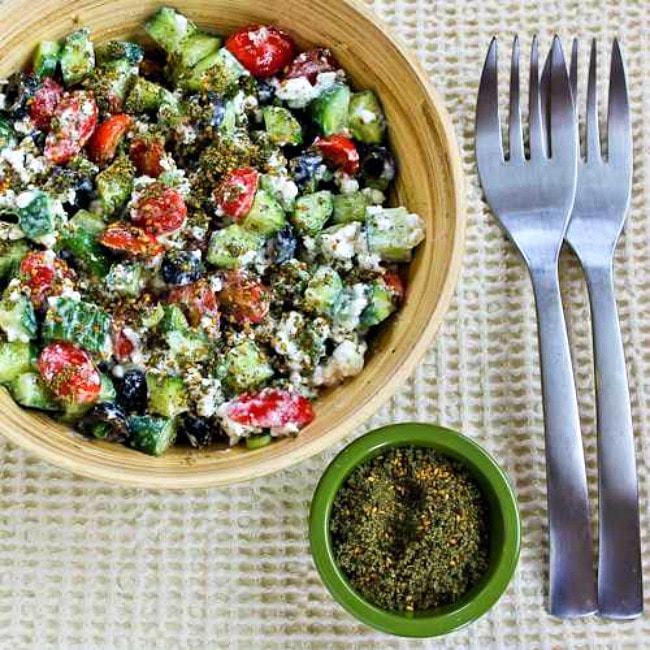 Yield: 4 servings
Effie's Cottage Cheese Salad with Za'atar
Prep Time 20 minutes
Total Time 20 minutes
This Easy Cottage Cheese Salad with Za'atar is an amazing salad you'll want to make over and over.
Ingredients
4 small Persian cucumbers, cut in fourths lengthwise and then into slices (Persian cucumbers are sometimes called mini-cucumbers in U.S. stores)
1 cup diced fresh tomatoes (see notes)
1/4 cup thinly sliced green onion
1/2 cup sliced olives (see notes)
1 cup cottage cheese
2 T olive oil (a generous drizzle)
1 T Za'atar (more or less to taste)
Instructions
Cut the Persian cucumbers into fourths lengthwise and then cut into slices. (If you have to use regular cucumbers, they may need to be fully or partially peeled.)
Dice the tomatoes, slice the green onions, and slice the olives.
Combine the vegetables in a salad bowl, large enough to toss the ingredients together.
Put the cottage cheese on top of the tossed vegetables.
Drizzle with a generous amount of olive oil, sprinkle with Za'atar to taste, and toss again.
Serve right away, with more Za'atar to be added at the table.
Notes
I used grape tomatoes cut in half. I used regular black olives, but Kalamata olives would be good.
This recipe is from a generous reader named Effie who lives in Israel.  Effie says this salad is a favorite of her kids.
Nutrition Information:
Yield:
4
Serving Size:
1
Amount Per Serving:
Calories: 169
Total Fat: 11g
Saturated Fat: 2g
Trans Fat: 0g
Unsaturated Fat: 8g
Cholesterol: 9mg
Sodium: 372mg
Carbohydrates: 11g
Fiber: 2g
Sugar: 5g
Protein: 8g
Nutrition information is automatically calculated by the Recipe Plug-In I am using. I am not a nutritionist and cannot guarantee 100% accuracy, since many variables affect those calculations.
Low-Carb Diet / Low Glycemic Diet / South Beach DietSuggestions:
This Cottage Cheese Salad is loaded with healthy low-glycemic ingredients, and it would be approved for any phase of the original South Beach Diet as well as for low-carb eating plans. South Beach would recommend reduced-fat cottage cheese and other plans will prefer full-fat dairy, so take your choice!
Find More Recipes Like This One:
Use Salad Recipes to find more recipes like this one. Use the Diet Type Index to find more recipes suitable for a specific eating plan. You might also like to Follow Kalyn's Kitchen on Pinterest to see all the good recipes I'm sharing there.
Historical Notes for this Recipe:
This recipe was first posted in 2012. It was last updated with more information in 2021.
We are a participant in the Amazon Services LLC Associates Program, an affiliate advertising program designed to provide a means for us to earn fees by linking to Amazon.com and affiliated sites. As an Amazon Associate, I earn from qualifying purchases.