Middle Eastern Tomato Salad (Video)
Middle Eastern Tomato Salad (or Salad Shirazi) is a traditional tomato salad that's found all over the middle east, and this salad is something I look forward to every summer. If you have fresh garden tomatoes and cucumbers this salad is a must-make dish!
PIN the Middle Eastern Tomato Salad recipe to make it later!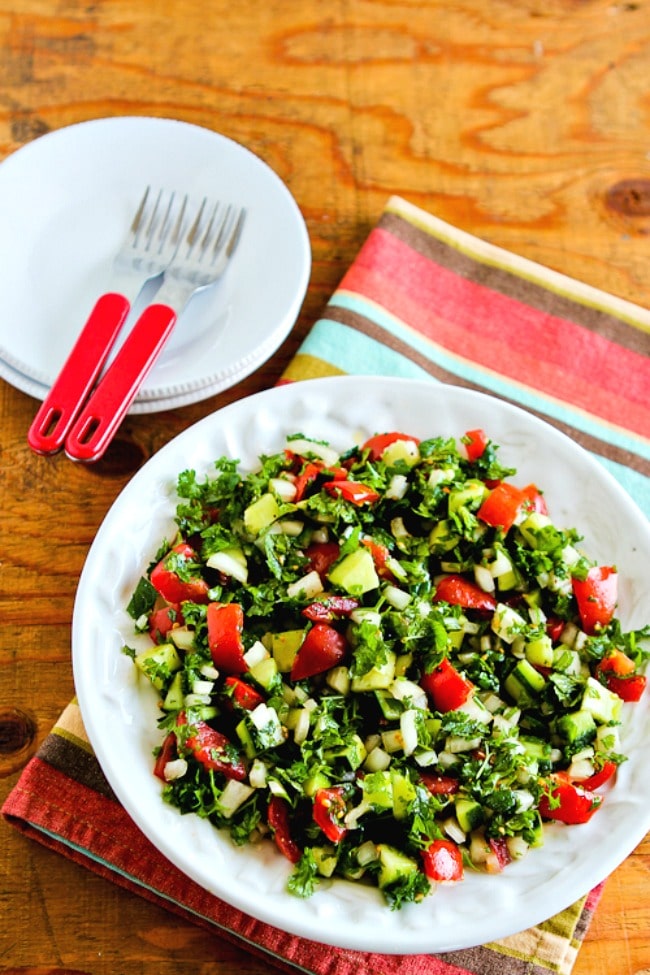 This Middle Eastern Tomato Salad (sometimes called Salad Shirazi) is an amazing salad to make with tomatoes when they're fresh and sun-ripened, and if I ever was forced to choose my top ten favorite ways to eat tomatoes, this salad would absolutely be on that list. It's actually very good made with Roma tomatoes since they have less seeds and the flesh is firm, but you can make it with any type of tomatoes that have good flavor.
And last night my brother Rand showed up to stay at my house in Utah with a big bowl of San Marzano tomatoes from his garden in California, so we'll definitely be making Middle Eastern Tomato Salad at my house today!
I learned to make the salad years ago from my friend Massoud, who came to the United States from Iran, and this combination of salad ingredients is so traditional that it's just called "salad" there. In the U.S. you might see it on a restaurant menu called Salad Shirazi.
You can vary the proportions for this type of tomato salad based on your own taste or what you have in the garden, but don't skimp on the mint and parsley, which is what makes this salad so special.
What ingredients do you need for this salad?
cucumber
tomatoes
onion
fresh parsley
fresh mint
olive oil
fresh-squeezed lemon juice, I use my fresh-frozen lemon juice
salt and fresh-ground black pepper to taste
What if you're not a fan of raw onion?
I don't think this salad is ever made without some raw onion, but if you're not a fan you can use less or use green onion (although it's not traditional.) If you soak the raw onion in ice water for a few minutes, it does make it a bit less strong, so you might want to try that technique. And if you have sweet onions, those will be great in a salad like this.
What are some other names for this salad?
Chopped tomato and cucumber salads like this are found all over the middle east, and it can be called Israeli Salad, Salad Shirazi, Persian Tomato Salad, Jerusalem Salad, Arabic Chopped Salad, and many other names.
Want more summer tomato salads?
Check out 20 Summer Tomato Salads to see my favorite salads to make when I have fresh garden tomatoes!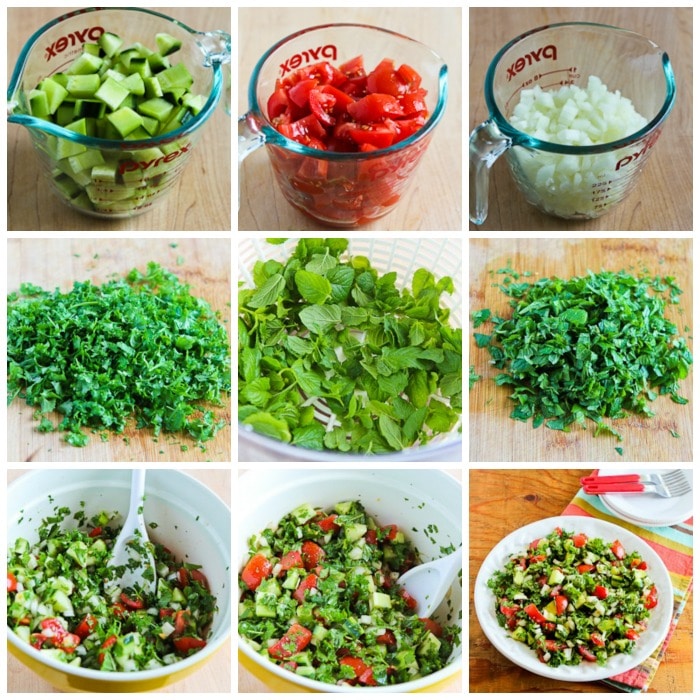 How to make Middle Eastern Tomato Salad:
(Scroll down for complete recipe with nutritional information.)
Dice up one generous cup of garden fresh cucumber. (You can salt the cucumber and let it drain in a colander, but these days I often skip that step.)
Dice an equal amount of garden-fresh tomatoes. (If the tomatoes are extra juicy, you can drain them in a colander for a few minutes.)
If I have sweet onion, I'd use equal amounts to the cucumbers and tomatoes. This time I only had regular yellow onion, so I used a bit less. You can soak the onion in cold water for a few minutes if you're not a fan of raw onion, but please don't leave it out.
You'll also need a cup of finely chopped fresh parsley. (I like curly parsley in this, but either type will work.)
I picked mint from my windowsill herb garden, so I gave it a good wash in the salad spinner.
Then finely chop the mint as well. (You can chop the herbs in a food processor if you prefer, but I just used a big chef's knife.)
Mix the tomato, cucumber, onion, parsley, and mint in a non-metal bowl.
Then mix in olive oil and lemon juice, starting with the smaller amounts listed and tasting until it seems right to you.
Season the salad with salt and fresh-ground black pepper and devour!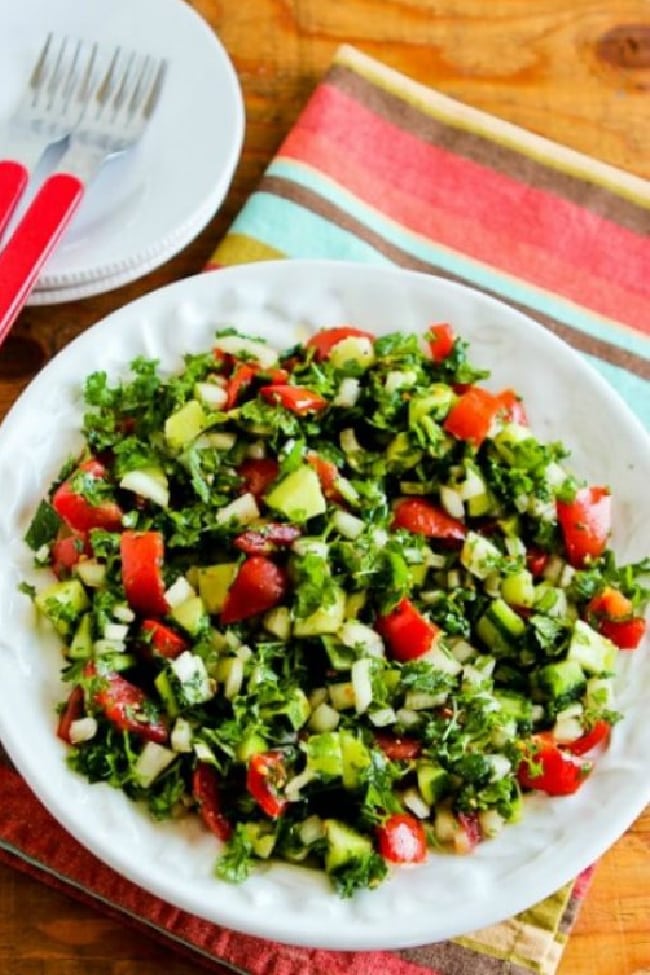 Make it a Low-Carb Meal:
For a healthy low-carb dinner, this would taste great with something like Grilled Chicken with Lemon and Capers, Easy Kabobs with Zucchini and Sausage, Grilled Cuban Flank Steak, Pan-Grilled Steak with Olive Sauce, or Air Fryer Marinated Chicken Breasts.
More Summer Tomato Salads to Savor:
Tomato Cucumber Salad with Mint and Feta ~ Kalyn's Kitchen
Marinated Tomato Salad ~ David Lebovitz
Tomato Salad with Hearts of Palm, Olives, and Feta ~ Kalyn's Kitchen
Cherry Tomato and Blue Cheese Salad ~ Aggie's Kitchen
Summer Tomato Salad with Goat Cheese, Basil Vinaigrette, and Herbs ~ Kalyn's Kitchen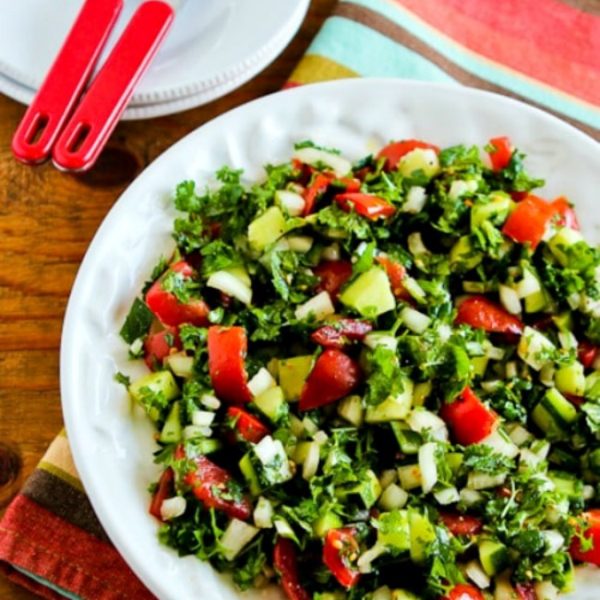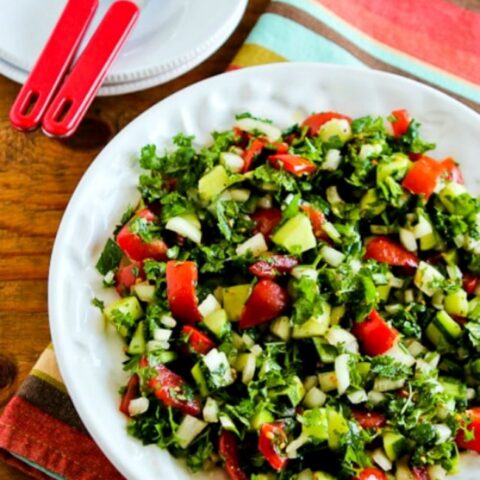 Yield: 6 servings
Middle Eastern Tomato Salad
Prep Time 20 minutes
Total Time 20 minutes
This delicious Middle Eastern Tomato Salad is a traditional tomato salad that's found all over the middle east and this is a summer side dish I'd never get tired of!
Ingredients
1 cup finely diced cucumber (remove seeds if they are large)
1 cup finely diced tomato
3/4 cup finely diced onion (see notes)
1 cup finely chopped parsley (more or less, to taste)
1 cup finely chopped mint (more or less, to taste)
3 T olive oil, (more or less to taste)
2 T fresh lemon juice (more or less to taste)
salt and fresh-ground black pepper to taste
Instructions
Chop cucumber in pieces less than 1/2 inch and put in colander.
Add a generous amount of salt and let sit while you chop other ingredients. (These days I often skip the step of salting and draining the cucumber, unless it seems watery.
Chop tomatoes in same-size pieces as the cucumbers. If the tomatoes are juicy I sometimes put them in a colander and let the juice run out.
Chop onions (Cucumbers, tomatoes, and onions should be cut in same-size pieces.)
Parsley and mint should be chopped very finely. (You can use a food processor to chop the mint and parsley if you wish.)
When all ingredients are chopped, combine in mixing bowl.
Mix in olive oil, lemon juice, salt and pepper. (Start with a a smaller amount and add more olive oil and lemon juice until it tastes right to you. I find it does not need a great deal of dressing to taste good.)
Serve immediately.
Notes
I often use sweet Vidalia onion, and when I have sweet onion like that I would use a full cup.
This recipe was given to me by my friend Massoud.
Nutrition Information:
Yield:
6
Serving Size:
1
Amount Per Serving:
Calories: 234
Total Fat: 7g
Saturated Fat: 1g
Trans Fat: 0g
Unsaturated Fat: 6g
Cholesterol: 0mg
Sodium: 120mg
Carbohydrates: 8g
Fiber: 1g
Sugar: 26g
Protein: 1g
Nutrition information is automatically calculated by the Recipe Plug-In I am using. I am not a nutritionist and cannot guarantee 100% accuracy, since many variables affect those calculations.
Low-Carb Diet / Low-Glycemic Diet / South Beach Diet Suggestions:
Middle Eastern Tomato Salad is a perfect side salad for any phase of the original South Beach Diet, but in the summer I'd be very happy just having a big bowl of this for lunch. The salad would also be approved for other low-carb eating plans. Tomatoes and onions do have some carbs, so if you're wanting an even lower-carb version use more cucumbers than other veggies.
Find More Recipes Like This One:
Use the Salad Index to find more recipes like this one. Use the Diet Type Index to find recipes suitable for a specific eating plan. You might also like to follow Kalyn's Kitchen on Pinterest, on Facebook, on Instagram, or on YouTube to see all the good recipes I'm sharing there.
Historical Notes for this Recipe:
This recipe was first posted on the blog in 2007, and I've made it every single summer since then! It was last updated with more information in 2022.
We are a participant in the Amazon Services LLC Associates Program, an affiliate advertising program designed to provide a means for us to earn fees by linking to Amazon.com and affiliated sites. As an Amazon Associate, I earn from qualifying purchases.