Pressure Cooker Pinto Bean and Ground Beef Stew
You can make this Pressure Cooker Pinto Bean and Ground Beef Stew in the Instant Pot, electric pressure cooker, stovetop pressure cooker, or even in a regular pan if on the stove if you have more time.
PIN Pressure Cooker Pinto Bean and Ground Beef Stew to make it later!
This delightful Pressure Cooker Pinto Bean and Ground Beef Stew with Cumin and Cilantro is something I had for lunch three days in a row, and I completely enjoyed it each time. If you're not a pressure cooker convert, read after the recipe to see how the stew can be made in a regular pot on the stove, but obviously it's much quicker in the pressure cooker. And I'm excited to add this great stew to the growing collection of Pressure Cooker Recipes on the blog!
By the way, if anyone looked at that photo of the Pressure Cooker Pinto Bean and Ground Beef Stew and thought about chili, there's no chili powder in this, so it's definitely not chili! Actually cilantro is the predominant flavor here, so if you're one of those poor cilantro-impaired folks, maybe you'll want to search for a different stew recipe!
(Updated October 2012. I first made this delicious pressure cooker stew back in 2009, and now my friend Barbara's fantastic new pressure cooker blog is inspiring me to get going on some new recipes for the pressure cooker!)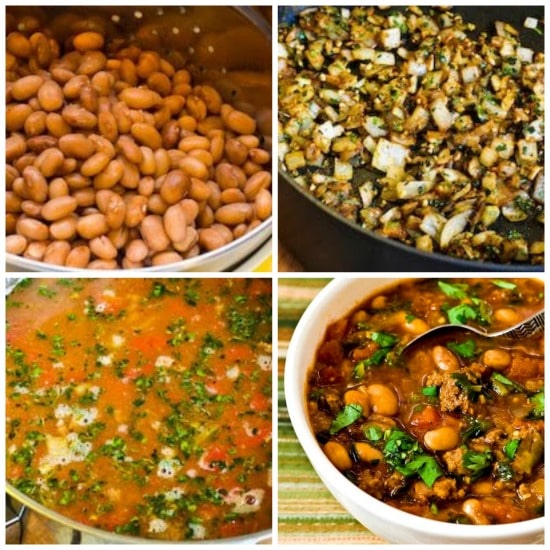 Tips for Making Pressure Cooker Pinto Bean and Ground Beef Stew:
(Scroll down for complete recipe, including nutritional information.)
One thing I love about the pressure cooker is how you can start with unsoaked beans and have a wonderful dish less than an hour later. The first photo shows the pinto beans after I pressure cooked them and drained off the liquid.
Since I was only going to pressure cook the soup a few minutes and the beans were in my pressure cooker, after I cooked the onions and garlic in a pan,
I added the dried and ground herbs and sauteed for a few minutes to release the flavor.
Here's how the stew looked in the pressure cooker before I put the lid on and pressure cooked for just 2 minutes, before letting pressure release slowly for about 15 minutes.
You could also simmer on top of stove for about 45 minutes, adding a bit more liquid. Stir in the chopped cilantro right before you serve it and enjoy!
More Soups or Stews with Cilantro:
Crockpot Black Bean Chili with Lime and Cilantro from Kalyn's Kitchen
Pumpkin Soup with Cilantro from Christine Cooks
Black Bean and Rice Soup with Cilantro and Lime from Kalyn's Kitchen
New Mexican Slow Cooker Stew from Gluten-Free Goddess
Chicken and Pinto Bean Soup with Lime and Cilantro from Kalyn's Kitchen
Weekend Food Prep:
This recipe has been added to a new category called Weekend Food Prep to help you find recipes you can prep or cook on the weekend and eat during the week!
Ingredients
1 cup dried pinto beans, unsoaked (see notes)
2 T olive oil, divided (will depend on your pan)
1 lb. ground beef
1 tsp. Spike seasoning
1 onion, chopped
1 T minced garlic
2 tsp. dried Mexican oregano
1 T ground cumin
1 T dried cilantro (optional, but recommended)
3 cups homemade chicken stock (see notes)
1 cup liquid from pressure cooking beans (or 1 cup water)
2 T tomato paste
one 14.5 oz. can petite diced tomatoes
1/2 cup sliced green onions
1/2 cup chopped fresh cilantro (or more)
2 T fresh squeezed lime juice
Instructions
Put 1 cup dried pinto beans in pressure cooker with 2 tsp. olive oil, add water to fill pressure cooker half full, lock lid, and pressure cook at high pressure 15 minutes. (Start to time after high pressure is reached.)
Turn off heat and let pressure release naturally (about 15 minutes.)
When all pressure is released, drain beans into colander, reserving 1 cup bean cooking liquid. (You can also use 2 cans pinto beans, rinsed well in a colander placed in the sink, then drained.)
While beans are cooking, heat 2 tsp. olive oil in large heavy frying pan, add ground beef and season with Spike seasoning, then saute until beef is well-browned, breaking apart with back of the turner as it cooks. When it's well browned, remove beef to a bowl.
Heat 2 tsp. more olive oil in frying pan, then add onion and saute about 5 minutes, or until onion is starting to brown.
Add minced garlic and saute 2 minutes more, then add Mexican oregano, cumin, and dried cilantro and saute about 2 minutes more.
When beans have finished cooking and been drained into a colander, add cooked ground beef to pressure cooker, followed by onion/garlic/herb mixture.
Add homemade chicken stock to frying pan and simmer a minute, scraping off any browned bits and adding that liquid to pressure cooker, along with 1 cup reserved bean cooking liquid (or water, if using canned beans.)
Add beans, tomato paste and can of tomaotes to pressure cooker.
Lock lid and pressure cook for 2 minutes at high pressure. (Start to time after high pressure is reached.) Turn off heat and let pressure release naturally, about 15 minutes.
When pressure is released, add sliced green onion, chopped fresh cilantro, and lime juice, turn heat on and cook with lid off for about 5 minutes. Serve hot, with additional chopped cilantro to add at the table if desired.
How to Cook in a regular soup pot on the stove:
For canned beans, rinse and drain as described above.
To use dried beans, you will need to soak beans overnight, drain, add fresh water to cover by a few inches and simmer until beans are soft, about 45 minutes.
Follow directions as above for browning meat, browning onions with garlic and herbs, and deglazing frying pan with chicken stock.
Combine browned meat, onion mixture, chicken stock, water, cooked beans, tomato paste, and canned tomatoes in heavy soup pot, adding 1 cup more chicken stock for cooking in open pan.
Simmer over low heat about 45 minutes, adding a bit more water if needed.
When stew seems done, add green onion, chopped cilantro, and lime juice as above and cook a few more minutes.
Nutrition Information:
Yield:
6
Serving Size:
1
Amount Per Serving:
Calories:

404
Total Fat:

20g
Saturated Fat:

6g
Trans Fat:

1g
Unsaturated Fat:

11g
Cholesterol:

71mg
Sodium:

731mg
Carbohydrates:

28g
Fiber:

7g
Sugar:

9g
Protein:

30g
Nutrition information is automatically calculated by the Recipe Plug-In I am using. I am not a nutritionist and cannot guarantee 100% accuracy, since many variables affect those calculations.
Low-Carb Diet . Low-Glycemic Diet / South Beach Diet Suggestions:
As long as you use lean ground beef, everything in this Pressure Cooker Pinto Bean and Ground Beef Stew is approved for all phases of the South Beach Diet. Beans are a limited food for Phase One, but in a stew like this with lots of other low-glycemic ingredients, you can have a regular serving. If you'd like a lower-carb version of this dish, use less beans and double the amount of ground beef, but recipes with dried beans won't work for a strict low-carb diet plan.
Find More Recipes Like This One:
Use Stew Recipes for more recipes like this one! Use the Diet Type Index to find more recipes suitable for a specific eating plan. You might also like to Follow Kalyn's Kitchen on Pinterest to see all the good recipes I'm sharing there. Click here to see more Pressure Cooker / Slow Cooker Recipes on my other site!