Pinto Bean Salad with Avocado and Tomatoes
Pinto Bean Salad with Avocado and Tomatoes is a delicious option for a hot summer day when it's too hot to cook. And this delicious salad has lime juice, red onion, and cilantro adding lots of flavor. See tips in the recipe if you're not a cilantro fan.
PIN Pinto Bean Salad with Avocado and Tomatoes to try it later!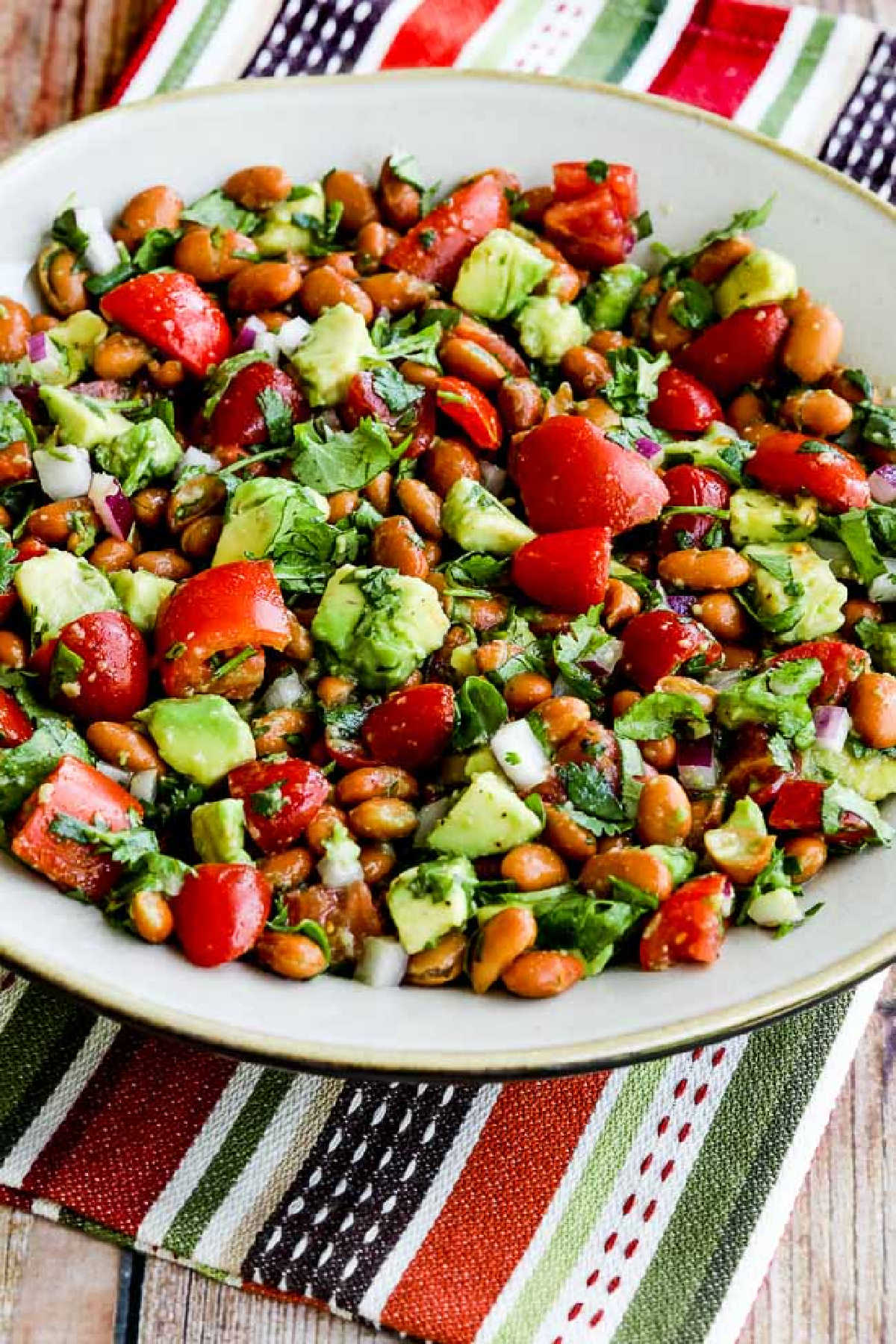 This Pinto Bean Salad with Avocado and Tomatoes was inspired by a pinto bean salad I had years ago at a party I attended with my brother Rand where guests were asked to bring Oaxacan dishes. We loved the salad I came up with back then, and now fast forward many years and I've been to Oaxaca myself!
Then a few weeks ago Rand was visiting my house and I wanted to make something that I thought he would really enjoy. He's a vegetarian who loves beans, and this recipe desperately needed better photos so it was a win-win idea, and Rand absolutely swooned over the pinto bean salad when he tried it again. And this salad has the fresh flavors that make you think about Mexico, so if you like the sound of these ingredients I hope you'll give it a try!
What ingredients do you need for this recipe?
can of pinto beans
white balsamic vinegar (affiliate link)
avocado
lime juice, I used my fresh-frozen lime juice
tomatoes or cherry tomatoes
red onion
chopped cilantro
olive oil
fresh ground black pepper and sea salt to taste
What gives the Pinto Bean Salad so much flavor?
This easy salad with summer flavors uses canned pinto beans, and it's the trick of marinating the beans in white balsamic vinegar while you prep the other ingredient that makes the salad such a wow.
Can you make this salad if you don't have summer tomatoes?
Although this salad is such a winner in the summer when you have ripe garden tomatoes, I really think it will be good any time of year if you can find flavorful cherry tomatoes!
What if you're not a cilantro fan?
If you're someone with the anti-cilantro tastebuds, just use some thinly-sliced green onion tops in place of the cilantro.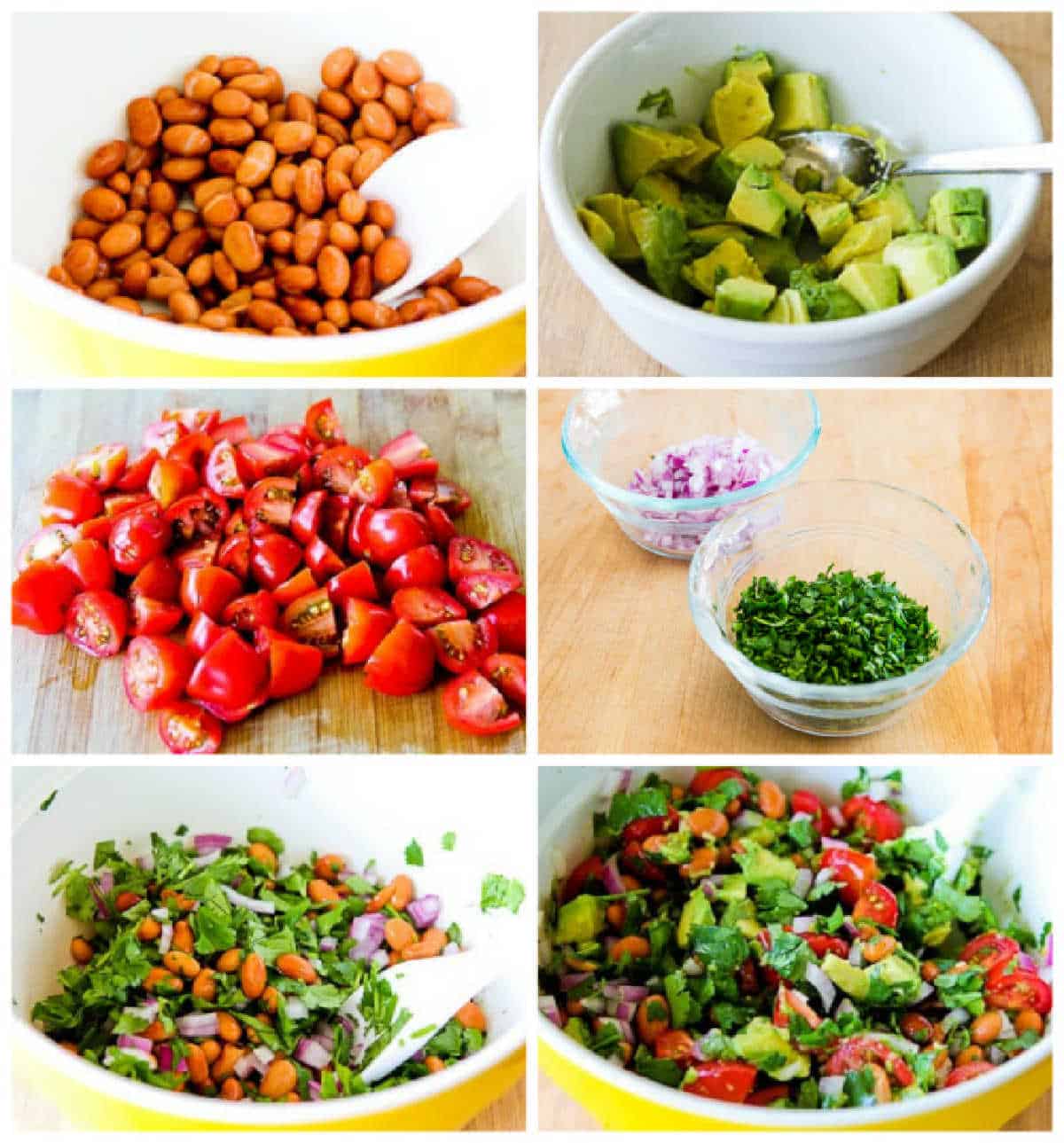 How to Make Pinto Bean Salad with Avocado and Tomatoes:
(Scroll down for complete printable recipe with nutritional information.)
Put the can of pinto beans in a colander, rinse, and let drain well, then dry with paper towels. Then toss the drained pintos with white balsamic vinegar and let them marinate while you prep the other ingredients.
Cut up an avocado (or two) and toss with lime juice.
Cut cherry tomatoes into quarters or halves, or cut up larger tomatoes if that's what you have.
Chop cilantro and red onion.
Toss the red onion and cilantro with the pinto beans.
Then gently fold in the diced tomatoes and avocado, drizzle a little olive oil over the salad, season to taste with salt and fresh-ground black pepper, and gently toss again.
You can add a little more lime juice or olive oil after you taste the salad if you'd like! Serve right away.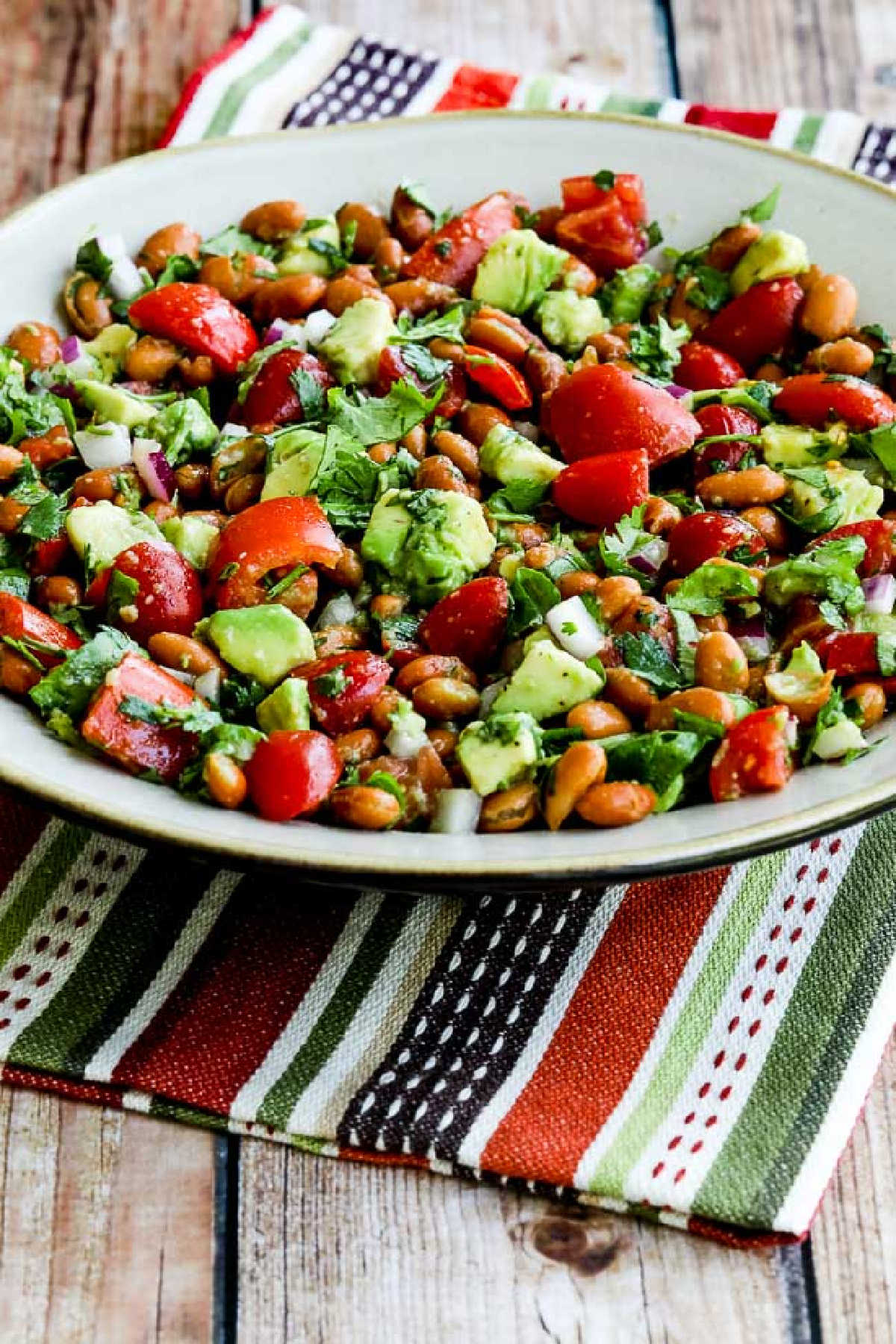 More Salads with Tomatoes and Beans:
Chickpea Salad with Tomatoes, Olives, and Herbs
Cucumber, Tomato, and Garbanzo Salad with Feta
Balela (Middle Eastern Bean Salad)
Want Tomato Salads without Beans?
If you like pinto beans you're going to love this salad! But of course I know I have some readers who won't be interested in a salad with beans, so if this is just not your jam, there are plenty of good Low-Carb and Keto recipes in the archives or check out 20 Summer Tomato Salads for some tomato salads with lower-carb ingredients!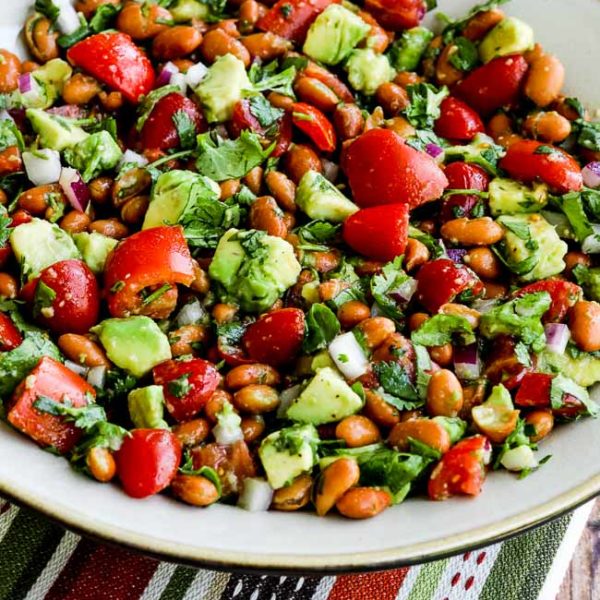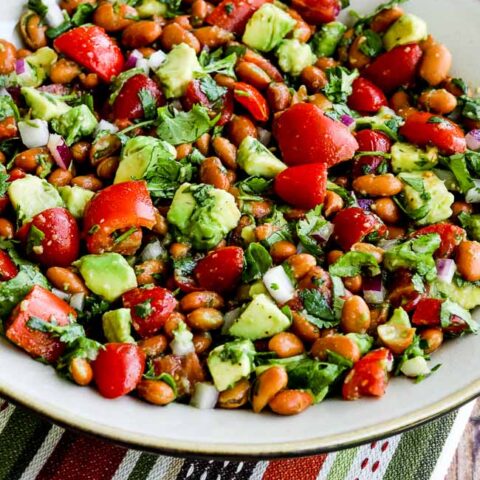 Yield: 4 servings
Pinto Bean Salad with Avocado and Tomatoes
Prep Time 30 minutes
Total Time 30 minutes
This Pinto Bean Salad with Avocado and Tomatoes also has red onion, cilantro, and lime juice, and this recipe marinates the beans so the salad is extra flavorful!
Ingredients
one 15 oz. can pinto beans
2 T white balsamic vinegar (see notes)
1 avocado, diced into pieces 1/2 inch square (see notes)
1 T fresh lime juice (or more if you're using two avocados)
1 cup chopped tomatoes or cherry tomatoes cut in half)
1/2 cup finely chopped red onion
1/2 cup finely chopped cilantro (more or less to taste)
2 T olive oil, or a bit more
fresh ground black pepper and sea salt to taste
Instructions
Pour beans into a colander placed in the sink and rinse well with cold water until no more foam appears. Let beans drain well for at least 10-15 minutes.
Then blot beans dry with paper towel, place in plastic bowl, and toss with white balsamic vinegar. Let beans marinate in the vinegar while you prep other ingredients.
Cut avocado into 1/2 inch pieces and place in small bowl. Toss with lime juice. (Remember to double the lime juice if you use two avocados.)
Chop tomatoes, or if using cherry tomatoes, cut in half or quarters.
Chop red onion and cilantro.
Mix onions and cilantro into marinating beans. Then use a large spoon to gently fold in avocado and tomato.
Drizzle olive oil over salad and season to taste with fresh ground black pepper and sea salt, and gently toss again. Taste to see if you want a little more olive oil or lime juice.
Serve immediately, at room temperature.
Notes
I recommend using White Balsamic Vinegar (affiliate link) for this recipe if you have some, or use any mild white vinegar. I often use two avocados; if so double the lime juice.
This recipe inspired by a bean salad Kalyn tried when she attended a Oaxacan-themed party with her brother Rand.
Nutrition Information:
Yield:
4
Serving Size:
1
Amount Per Serving:
Calories: 258
Total Fat: 15g
Saturated Fat: 2g
Trans Fat: 0g
Unsaturated Fat: 12g
Cholesterol: 0mg
Sodium: 440mg
Carbohydrates: 27g
Fiber: 9g
Sugar: 5g
Protein: 7g
Nutrition information is automatically calculated by the Recipe Plug-In I am using. I am not a nutritionist and cannot guarantee 100% accuracy, since many variables affect those calculations.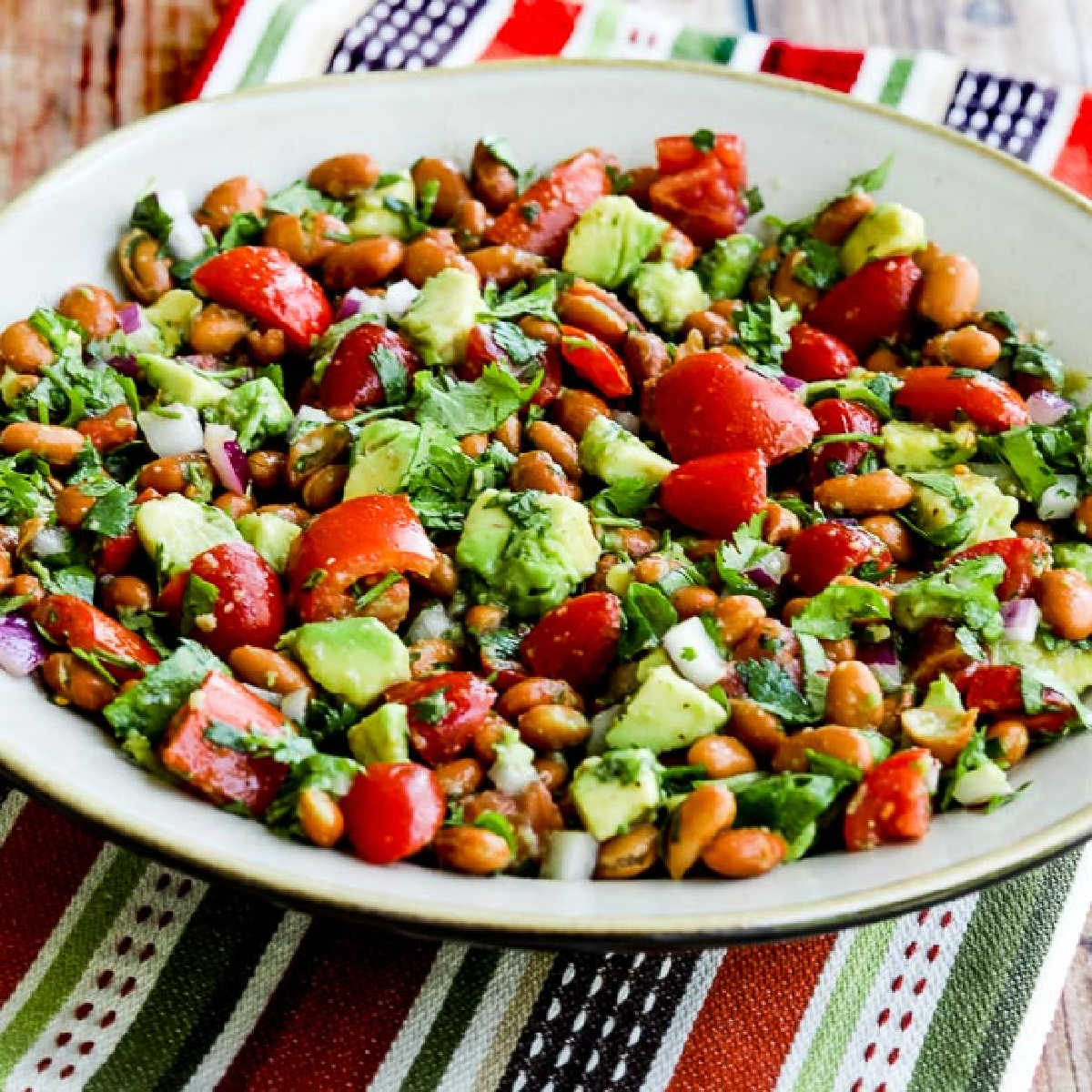 Low-Carb Diet / Low-Glycemic Diet / South Beach Diet Suggestions:
This Pinto Bean Salad with Avocado and Tomatoes is a good choice for any phase of the original South Beach Diet. For low-carb diets, you could make this salad lower in carbs by using more avocado and less beans (and who doesn't love more avocado!)
Find More Recipes Like This One:
Use Salad Recipes to find more recipes like this one. Use the Diet Type Index to find recipes suitable for a specific eating plan. You might also like to follow Kalyn's Kitchen on Pinterest, on Facebook, on Instagram, on TikTok, or on YouTube to see all the good recipes I'm sharing there.
Historical Notes for this Recipe:
This salad with pinto beans, tomatoes, and avocado was first posted in 2008, probably with a photo that would make me wince these days. The salad was updated with better photos in 2018 and it was last updated with more information in 2022.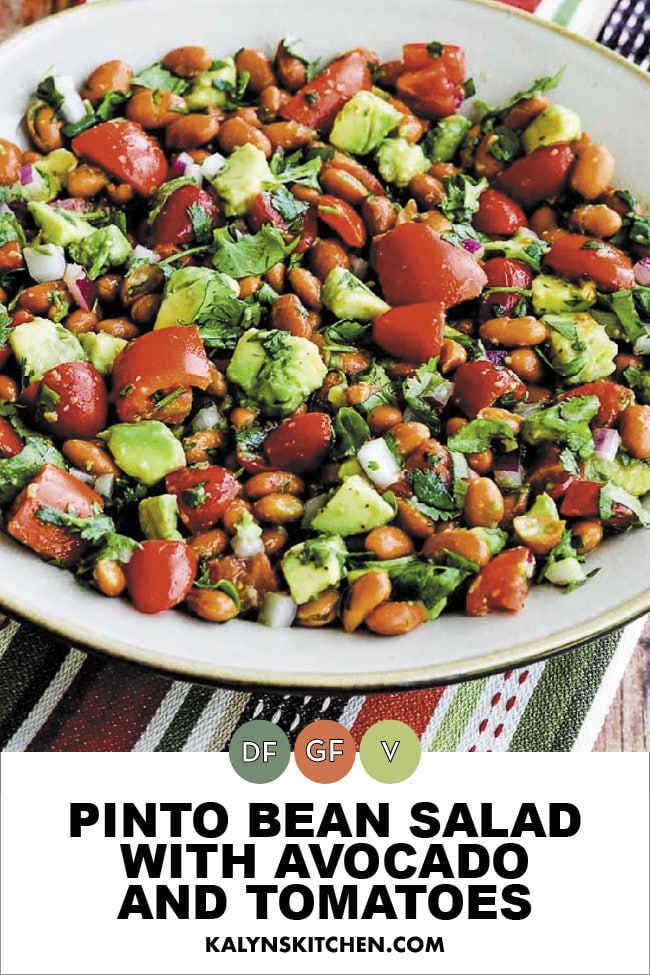 We are a participant in the Amazon Services LLC Associates Program, an affiliate advertising program designed to provide a means for us to earn fees by linking to Amazon.com and affiliated sites. As an Amazon Associate, I earn from qualifying purchases.