Low-Carb No Bake Cherry Cheesecake Dessert (Video)
When you need a treat, this Low-Carb No Bake Cherry Cheesecake Dessert is delicious and easy to make.
Click here to PIN Low-Carb No Bake Cherry Cheesecake Dessert!
Watch the Video to see if you might like to make Low-Carb No Bake Cherry Cheesecake Dessert!
It's hard to believe that I'm just a few months shy of writing this blog for 12 years, and a lot has changed in those 12 years! For one thing I'm certainly a much better photographer than I used to be, so for years (and years and years) I've been updating favorite recipes from the past with new photos.
This Low-Carb No Bake Cherry Cheesecake Dessert was buried back in the archives, in a post that originally had two cheesecake recipes that I posted for a blogging event, back in the day when blogging was a lot more gentle and less competitive! I really liked both those recipes and I've been thinking about updating them for quite a while now, but the original recipes contained artificial sweetener in both the cheesecake and the cherry topping, and that's something I am much more cautious about using now.
But it's partly the canned no-sugar-added cherry pie topping that makes this easy cheesecake so good, and when I couldn't find one without artificial sweetener I ended up compromising by using natural no-calorie sweetener for the cheesecake part and using a cherry topping with artificial sweetener.
If you're completely against artificial sweetener, I recommend topping it with some fresh berries instead of the cherry pie filling. Berries are one of the lowest carb fruits, and no matter which topping you use, this will still be pretty low in carbs.
One thing that hasn't changed in all those years is my strong belief that everyone gets to make their own food choices. So if you do happen to be anti-artificial sweetener, definitely use whatever ingredients fit your personal beliefs, but no "foodie police" comments please. If you'd like to know more about low-carb sweeteners, The Complete Guide to Low-Carb Sweeteners from my friend Libby is a good read.
Kara and I loved this when we tested the recipe, and it was also a hit with her kids; hope you will try it when you need a treat for a special occasion!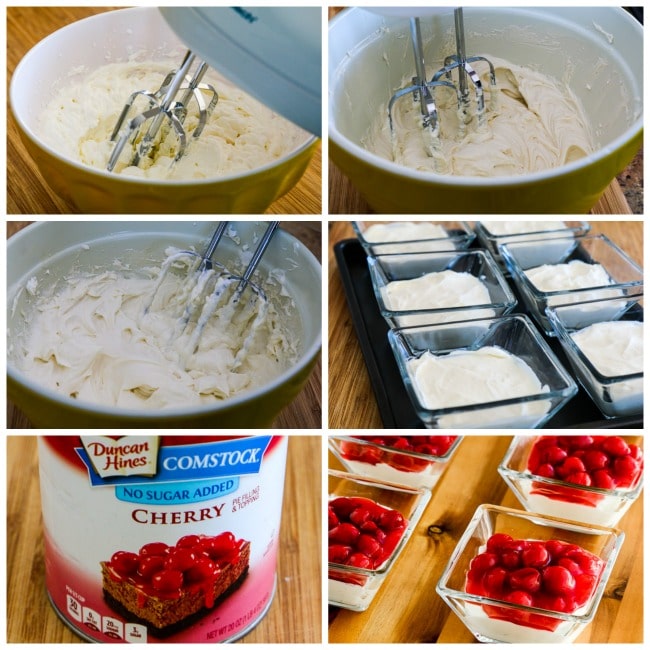 How to Make Low-Carb No Bake Cherry Cheesecake Dessert:
(Scroll down for complete printable recipe.)
Take the cream cheese out of the fridge and let it soften a few hours if you can.
Put the heavy cream into a bowl and beat with a hand beater (affiliate link) until it forms stiff peaks.
In a separate bowl combine the softened cream cheese, Monkfruit Sweetener (or sweetener of your choice) and vanilla.
Beat together with the hand beater until it's soft and ingredients are well combined.
Then add the whipped cream to the bowl with the cream cheese mixture and use the beater on low to mix them together.
Divide the mixture between 6 dishes and put in the fridge to chill for at least one hour.
When the cheesecake has become firm and you're ready to eat it, top each with some No Sugar Added Cherry Pie Filling (affiliate link) or fresh berries and serve.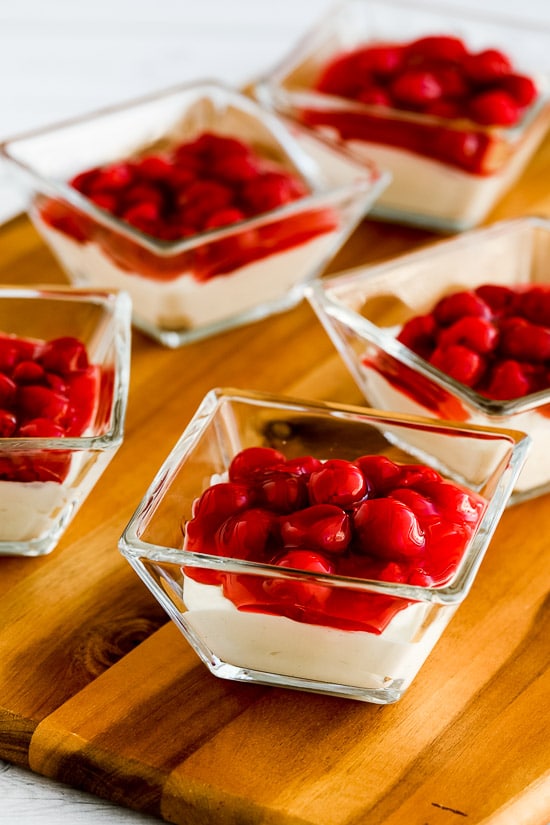 I'm sure you can tell that I don't make desserts all that often, but this would be nice for a special meal or a dinner where you're having guest; enjoy!
More Low-Carb or Low-Sugar Cheesecake:
Death by Chocolate Low-Carb Keto Cheesecake ~ All Day I Dream About Food
Low-Sugar (or Sugar-Free) Layered Pumpkin Cheesecake ~ Kalyn's Kitchen
Low-Carb Chocolate Truffle Cheesecake ~ Low-Carb Maven
Low-Sugar Pumpkin Cheesecake Pie ~ Kalyn's Kitchen
Low-Carb Cappucino Cheesecake Mousse ~ Sugar-Free Mom
Fantastic Low-Carb Cheesecake with Cherry Topping ~ Kalyn's Kitchen
Ingredients
Ingredients:
12 ounces cream cheese, allow to soften at room temperature at least 1 hour
1 cup heavy cream
6 T Monk Fruit Sweetener or other no-calorie sweetener of your choice (see notes)
1 tsp. vanilla extract or slightly more if you like a strong vanilla flavor
Topping Options:
1 can No Sugar Added Cherry Pie Filling (see notes)
Instructions
Take cream cheese out of the fridge, unwrap, and place in a bowl on the counter for at least an hour to soften.
Put the heavy cream into a different bowl and beat with hand beater (affiliate link) until it forms soft peaks.
When the cream cheese has softened, use the same beater to combine it with the Monkfruit Sweetener (affiliate link) and vanilla.
Beat whipped cream into the cream cheese mixture, using low speed of electric mixer.
Transfer mixture to 6 individual small ramekins or glass dishes and chill at least one hour.
When you're ready to serve top each serving with No Sugar Added Cherry Pie Filling (affiliate link) or fresh berries.
I only found 20 oz. cans of pie filling which was about 1/3 cup per cheesecake, but a smaller can would have been plenty and would have reduced the carb count.
Notes
I prefer Monkfruit Sweetener (affiliate link) for this recipe, but use any sweetener you like. Sweetener is calculated as zero net carbs for nutritional information for the cheesecake.
The No-Sugar Added Cherry Pie Filling was used in calculating nutritional information, but if you prefer use fresh berries which will probably be slightly less carbs.
This recipe given to me by a teacher at school back in 2006, slightly adapted from Dr Atkins Quick and Easy New Diet Cookbook.
Nutrition Information:
Yield:
6
Serving Size:
1
Amount Per Serving:
Calories:

361
Total Fat:

34g
Saturated Fat:

21g
Unsaturated Fat:

10g
Cholesterol:

102mg
Sodium:

191mg
Carbohydrates:

10g
Fiber:

0g
Sugar:

5g
Protein:

5g
Nutrition information is automatically calculated by the Recipe Plug-In I am using. I am not a nutritionist and cannot guarantee 100% accuracy, since many variables affect those calculations.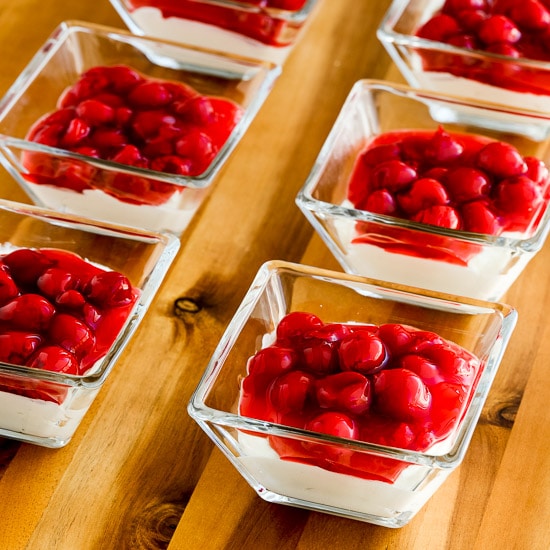 Low-Carb Diet / Low-Glycemic Diet / South Beach Diet Suggestions:
If you use no-calories sweeteners and a no-sugar added pie filling like I did, this recipe will have about 10 carbs per serving, which is pretty low for a dessert like this. I'd consider this suitable as an occasional treat for most low-carb or low-glycemic eating plan, including the South Beach Diet (although heavy cream isn't officially approved for South Beach).
Find More Recipes Like This One:
Use Dessert Recipes to find more recipes like this one. Use the Recipes by Diet Type photo index pages to find more recipes suitable for a specific eating plan. Or Follow Kalyn's Kitchen on Pinterest to see all the good recipes I'm sharing there.