Leftover Corned Beef Low-Carb Reuben Bake (Video)
If you don't end up with leftover corned beef after St. Patrick's Day, get some at the deli to make this Leftover Corned Beef Reuben Bake. This comfort-food casserole has all the flavors that make reuben sandwiches so good and this low-carb recipe is also Keto, gluten-free, and low-glycemic. Use the Diet-Type Index to find more recipes like this one.
Click here to PIN Leftover Corned Beef Low-Carb Reuben Bake!
Watch the video to see if you might like to make
Leftover Corned Beef Low-Carb Reuben Bake!
I've certainly tried to encourage you to celebrate St. Patrick's Day, don't you agree?  I love St. Patrick's Day, and whether you make my tried-and-true Slow Cooker Corned Beef or use the Instant Pot for Pressure Cooker Corned Beef with Creamy Horseradish Sauce, I really hope you'll cook some corned beef for the holiday. And of course I've already recommended Roasted Cabbage with Lemon as the perfect side dish for corned beef.
And if you're lucky enough to have leftovers after Saturday, I hope you'll make this amazing Leftover Corned Beef Low-Carb Reuben Bake. But even if you don't make corned beef (or don't have any leftovers!) you can some at the deli to make this low-carb casserole that has mashed cauliflower, cabbage, corned beef, swiss cheese, and Thousand Island dressing.  If you're a fan of the Reuben Sandwich, you'll recognize some of those ingredients and realize how this casserole got its name.
This is a recipe I came up with several years ago after I saw a Reuben Bake from My Recipes (probably on Pinterest!)  I realized I could easily switch out the potatoes for cheesy cauliflower (and use low-sugar Thousand Island dressing) and make this into a delicious low carb dish. It took me a couple of tries to get the recipe and photos how I wanted them, but when Kara and I tested this final version we gobbled it up. And I'm hoping I don't sound like I'm completely lacking in modesty if I say this is a complete winner for a way to use leftover corned beef; enjoy!
Chop up a largish head of cauiflower and cook 10-11 minutes in boiling salted water.  Drain at least 5 minutes to remove as much water as you can, then use an immersion blender or hand beater to puree the cauliflower with the sour cream.  Stir in grated Swiss cheese and green onions.
Slice up a medium-sized head of cabbage, shred the corned beef apart and then chop, and measure out the Thousand Island dressing.  Heat olive oil and saute the cabbage (seasoned with salt, pepper, and a little caraway seed.) When cabbage is starting to wilt, add the corned beef and cook 1-2 minutes more.  Let cool for a few minutes and then stir in the Thousand Island Dressing.  (Try hard not to eat too much of this delicious mixture before the casserole is assembled!)
I used a deep casserole dish so you could see the layers, but any glass or crockery casserole dish that's not too small will work. Make a layer with half the mashed cauliflower in the bottom of the dish.  Put the cabbage/corned beef mixture over that and top with some grated Swiss Cheese.
Then make another layer of mashed cauliflower, spreading it around. Top with another layer of grated Swiss Cheese.  Bake at 375F/190C about 45 minutes, or until it's bubbling hot and the top is starting to brown.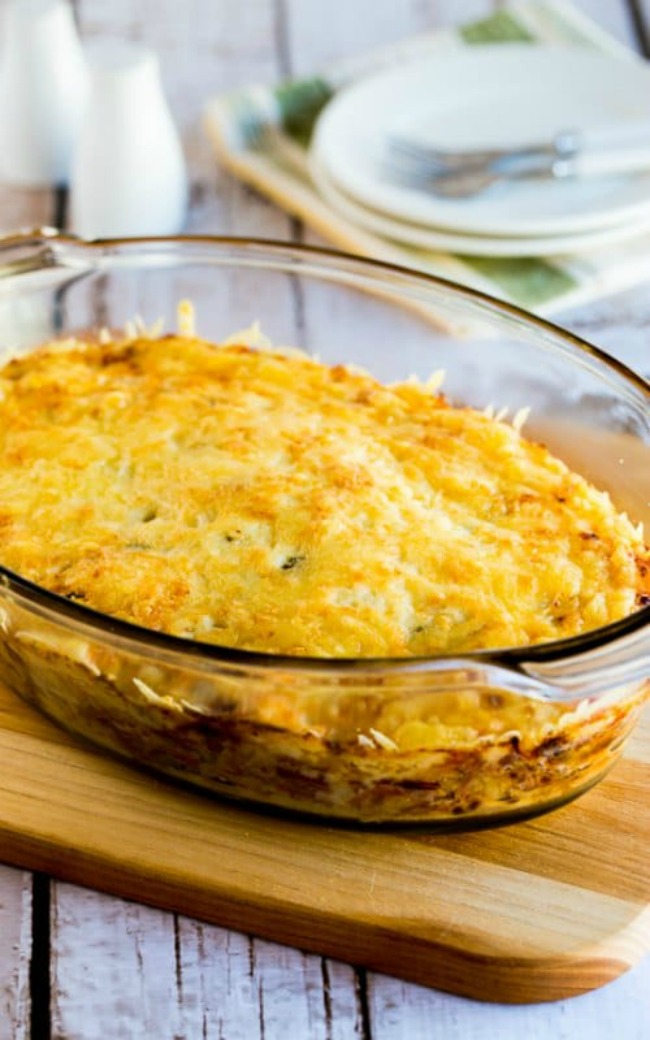 Serve hot. I promise this will be a hit with anyone who likes corned beef, even if they don't care about low-carb eating.
More Ideas for Cooking Corned Beef:
The BEST Instant Pot Corned Beef Recipes ~ Slow Cooker or Pressure Cooker
The BEST Slow Cooker Corned Beef Recipes ~ Slow Cooker or Pressure Cooker
More Tasty Low-Carb Ideas with Corned Beef:
The BEST Low-Carb Corned Beef Recipes ~ Kalyn's Kitchen
Low-Carb Fried Cabbage with Corned Beef ~ Kalyn's Kitchen
Leftover Corned Beef Soup with Sauerkraut and Tomatoes ~ Kalyn's Kitchen
Weekend Food Prep:
This recipe has been added to a new category called Weekend Food Prep  to help you find recipes you can prep or cook on the weekend and eat during the week!
Leftover Corned Beef Low-Carb Reuben Bake
Ingredients:
Directions:
Low-Carb Diet / Low-Glycemic Diet / Low-Carb Diet Suggestions:
For low-carb diets, it's important to look for Thousand Island Dressing that doesn't contain a lot of sugar to keep this a low-carb or Keto casserole. (I used Litehouse Thousand Island Dressing with 3 carbs per tablespoon.) Corned beef isn't really recommended for the South Beach Diet due to the amount of fat, so this is a once-in-a-while treat for South Beach Dieters but I'd certainly make it for St. Patrick's Day leftovers if you have some. South Beach would also recommend using light sour cream and reduced-fat swiss cheese if you can find it.
Find More Recipes Like This One:
Use the Recipes by Diet Type photo index pages to find more recipes suitable for a specific eating plan. You might also like to Follow Kalyn's Kitchen on Pinterest to see all the good recipes I'm sharing there.
Nutritional Information?
If you want nutritional information for a recipe, I recommend entering the recipe into this nutrition analyzer, which will calculate it for you. Or if you're a member of the free site Yummly, you can use the Yum button on my site to save the recipe and see the nutritional information there.