Kalyn's Kitchen Picks: Uncle Ben's Brown Rice
Uncle Ben's Whole Grain Brown Rice is definitely my favorite if I'm using brown rice!
Every so often I add to my list of Kalyn's Kitchen Picks, the blog feature where I talk about products I use myself that I'd buy over and over again. This week I'm talking about Uncle Ben's Brown Rice which is definitely my favorite brown rice. I don't cook with rice that often, but when I do I always like brown rice and the FDA added brown rice to the list of foods that can officially categorized as whole grains.
Uncle Ben's uses long-grain brown rice which separates nicely into grains when it's cooked and is never sticky or clumpy. This is the brown rice for people who think they only like white rice!
Brown rice can go bad rather quickly compared to white rice, and I buy the big bags, so I keep the rice in a plastic jar in the freezer. (I cut the label off the bag and tape it to the jar, because I'm into labeling things like that!)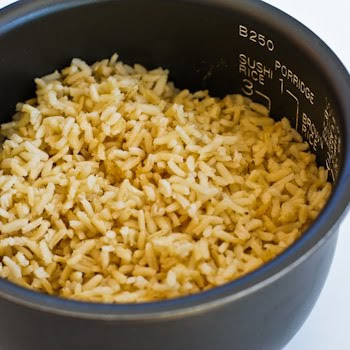 I use my beloved Zojirushi Rice Cooker (affiliate link) to cook my rice, but if this ultra-deluxe rice cooker isn't in your budget, any type of rice cooker will do. I've also had good results just cooking the rice according to package directions.
The latest recipe that made me think about Uncle Ben's Brown Rice is these Stuffed Green Peppers with Brown Rice, Italian Sausage, and Parmesan.
More Tasty Dishes to Make with Brown Rice:
Leftover Turkey Casserole
Stuffed Zucchini with Ground Beef
Lentil Soup with Ground Beef and Brown Rice
African Inspired Crockpot Soup with Peanut Butter
About Kalyn's Kitchen Picks:
I've been buying Uncle Ben's white and brown rice for years, and they have no idea I'm writing this post about their rice. The food and kitchen products I feature for Kalyn's Kitchen Picks are things I have purchased myself, and I will never feature a product unless it's something I would happily buy myself. You can see the complete list of things I've featured at Kalyn's Kitchen Picks.
We are a participant in the Amazon Services LLC Associates Program, an affiliate advertising program designed to provide a means for us to earn fees by linking to Amazon.com and affiliated sites. As an Amazon Associate, I earn from qualifying purchases.