Kalyn's Kitchen Picks: Kirkland Protein Bars
Finding a protein bar that's really low in carbs and sugar can be a challenge, but I love these Kirkland Protein Bars from Costco!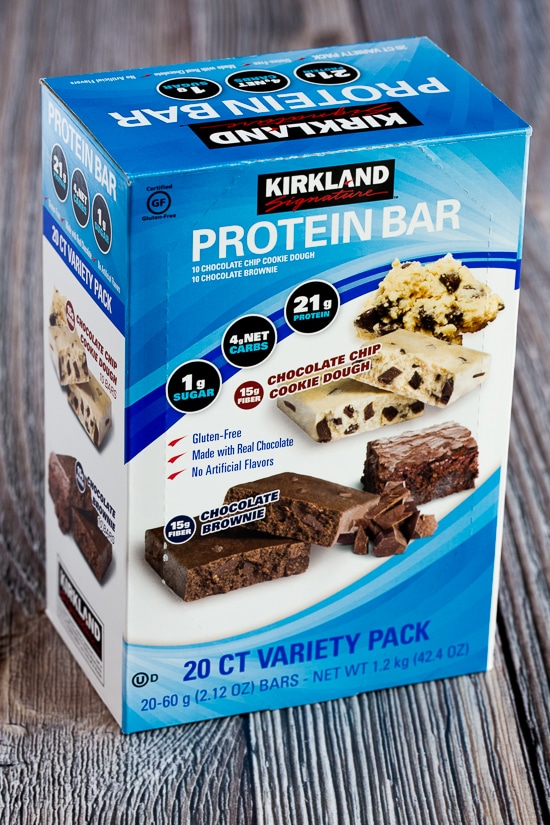 It's been quite a while since I've posted one of my
Kalyn's Kitchen Picks
, and if you're a new reader you might not have even heard of this once-in-a-while blog feature. For those who are new around here, Kalyn's Kitchen Picks the way I spotlight products I love. And you can always be sure that my picks are things I purchase myself and buy over and over.
Lately I've been finding quite a few low-carb products that end up being winners, so I'll be featuring some of them over the next little while! And this week I'm in sunny Palm Springs hanging out with some girlfriends, so obviously there's not much blog cooking going on and it seemed like a good time to tell you about these these tasty protein bars.
Not that many products make the cut and become one of my picks, and even when I do like a product I don't feature it on the site until I've been buying it for a while. But with apologies to people who don't live near a Costco, I am currently smitten with these Kirkland Protein Bars!
The nutritional information is impressive for someone who's trying to follow a carb-conscious eating plan:
–21 grams of protein
–4 grams net carbs
–1 gram sugar
Let's talk a bit about net carbs, in case you're not familiar with that. The protein bars have 22 or 23 carbs, depending on which on you pick, but there are 15 grams of fiber and 4 grams of Erythritol in the bar, which is how they get a total of only 4 net carbs. You can read here about
advantages and disadvantages of Erythritol as a sweetener
, and obviously if you don't want that you're not going to like this product, but I have been eating these for a while now and haven't had any issues.
The bars do have a lot of fiber, so be sure to drink plenty of water if you're eating them. I usually eat half at a time, with a big bottle of water, and that works well for me. And although I am always trying to get more protein, I use these mostly as a low-carb treat, when I need something that's a bit sweet. The texture might take some getting used to (it's like taffy, but stiffer), but that helps me savor them and not eat them too quickly, so I've come to regard it as a plus. And for the record, I like the chocolate chip cookie dough ones best, although both types are good!
Are You a Fan of Protein Bars?
If you try Kirkland Protein Bars, let me know how you like them. (And if you've found another brand of low-carb protein bars that you enjoy, let us know about that in the comments!)
Just in Case You're Wondering:
I purchased the Kirkland Protein Bars myself and Costco has no idea whatsoever that I'm writing about their product. And so readers will know that my opinions are completely unbiased, I don't accept review products from the many companies who offer to send them to me or accept compensation for writing about products.
More Personal Picks from Kalyn
You can see the complete list of featured products I love at Kalyn's Kitchen Picks.
We are a participant in the Amazon Services LLC Associates Program, an affiliate advertising program designed to provide a means for us to earn fees by linking to Amazon.com and affiliated sites. As an Amazon Associate, I earn from qualifying purchases.