Curried Sauteed Cauliflower
Curried Sauteed Cauliflower is called Gobi Taktakin in India where it's a popular street food, and this fun way to cook cauliflower is a great low-carb side dish.
PIN Curried Sauteed Cauliflower to try it later!
Back in the early days of my blog I did a series of recipes adapted from Mark Bittman's book The Best Recipes in the World (affiliate link). This international cookbook has dishes that Bittman traveled all over the world to sample, great job if you can get it, right? I think I liked every recipe I made from the book; I just wish I could try them all in the original countries.
This is a recipe where the chopped cauliflower, onion, and spices are quickly stir-fried over high heat, and I like the way the cauliflower still has a little crunch when it's done. Mark Bittman says that cumin seeds are optional in the recipe, but they're so traditional in Indian cooking and they add so much flavor that I'd probably opt for a recipe like Curry Roasted Cauliflower if you only have ground cumin.
What ingredients do you need for this recipe?
What is Curry Powder?
This recipe uses curry powder (affiliate link) which is a blend of spices used in Indian food. Most Indian cooks would blend their own spices, but if you're intimidated at cooking Indian food, using the pre-mixed curry powder blend makes it easier. There are many good commercial brands but I love both the sweet curry powder and hot curry powder from Penzeys, and I've used those for years. I use a combination of sweet curry powder and hot curry powder when I make this, but use whatever curry powder you have.
What if you don't like cilantro?
The recipe as Bittman wrote it has chopped cilantro mixed in and also sprinkled on top as a garnish, but if you're a cilantro hater I think mint or flat parsley would be good in this. And please don't skip the fresh lime squeezed over as you eat it!
How did this Indian dish get the name Gobi Taktakin?
This dish of chopped cauliflower cooked with red onions, cumin seeds, and curry powder is called Gobi Taktakin in India, and Bittman says the name comes from the "tak-tak" sound made by knives of the street vendors when they chop up the cauliflower in the pan as it cooks.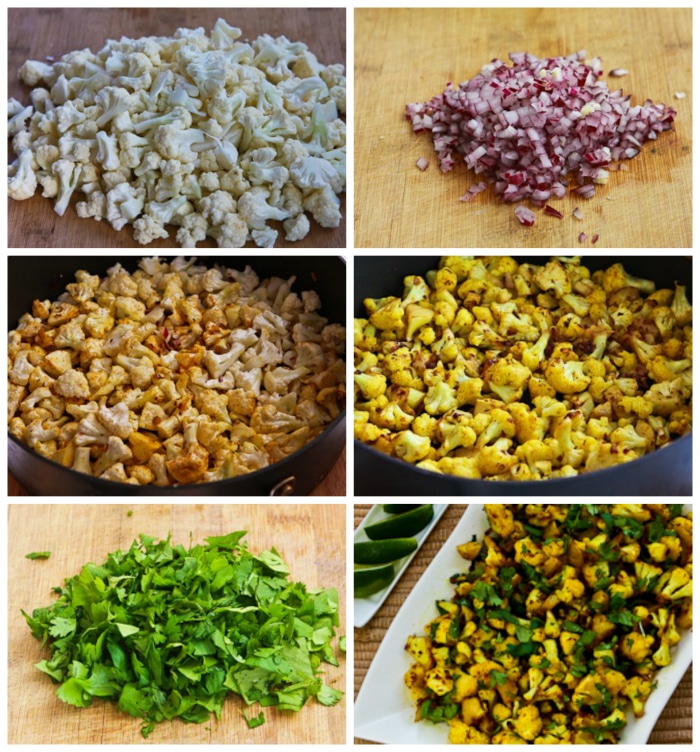 How to Make Curried Sauteed Cauliflower:
(Scroll down for complete recipe with nutritional information.)
Chop up the cauliflower into small pieces. (In India I'm guessing the pieces are even smaller than the ones I made.)
Finely chop enough red onion to make 1/2 cup.
Heat the oil, sizzle the cumin seeds for 30 seconds, then add the cauliflower, red onion, and curry powders, and start to cook over medium high heat.
Continue cooking about 6-8 minutes, stirring a few times (but not too often so the onion and cauliflower will get slightly browned.)
It's done when the cauliflower is cooked through but still slightly crisp.
When cauliflower is done, turn off the heat and mix in most of the chopped cilantro (or other herb of your choice), saving some to sprinkle on top.
Make it a Low-Carb Meal:
I'd eat this with something like Herb-Marinated Air Fryer Chicken Thighs or Janet's Mustard Chicken for a low-carb meal.
More Tasty Recipes with Cauliflower:
Spicy Cauliflower Rice
Easy Cheesy Baked Keto Cauliflower
Greek Cauliflower Rice Bake
Yield: 4 servings
Curried Sauteed Cauliflower
Prep Time 10 minutes
Cook Time 8 minutes
Total Time 18 minutes
Curried Sauteed Cauliflower is called Gobi Taktakin in India, where it's a delicious and popular dish that's sold on the street.
Ingredients
1/2 large head cauliflower, chopped into very small pieces
2 T peanut oil (see notes)
1 tsp. cumin seed (more or less to taste)
1/2 cup finely chopped red onion
1 tsp. sweet curry (or more to taste)
1/2 tsp. hot curry (or more to taste)
salt and fresh-ground black pepper to taste
1/4 cup chopped fresh cilantro, or more (see notes)
1 fresh lime, cut to squeeze over when eating
Instructions
Use a large frying pan which will hold all the cauliflower in a single layer.
Preheat the pan for 30 seconds over medium-high heat, then add oil and heat about 1 minute.
Add cumin seeds and saute 30 seconds.
Then add onion, cauliflower, curry powders, salt and pepper and cook 6-8 minutes, stirring only occasionally so the onion carmelizes and cauliflower gets slightly browned. (It's done when the cauliflower is cooked through but still slightly crisp.)
Add most of chopped cilantro (or other herb) and stir, then put on serving dish.
Top with the rest of the chopped cilantro.
Serve with cut limes to squeeze over.
Notes
I used Penzeys sweet and hot curry. You can use any neutral-flavored oil if you don't have Peanut Oil (affiliate link). Use mint or parsley if you're not a cilantro fan.
Recipe adapted from Mark Bittman's The Best Recipes in the World (affiliate link).
Nutrition Information:
Yield:
4
Serving Size:
1
Amount Per Serving:
Calories: 107
Total Fat: 8g
Saturated Fat: 1g
Trans Fat: 0g
Unsaturated Fat: 6g
Cholesterol: 1mg
Sodium: 164mg
Carbohydrates: 10g
Fiber: 4g
Sugar: 4g
Protein: 3g
Nutrition information is automatically calculated by the Recipe Plug-In I am using. I am not a nutritionist and cannot guarantee 100% accuracy, since many variables affect those calculations.
Low-Carb Diet / Low-Glycemic Diet / South Beach Diet Suggestions:
Curried Sauteed Cauliflower would be a great side dish for any phase of the South Beach Diet, or any other type of low-carb eating plan.
Find More Recipes Like This One:
Use Side Dishes to find more recipes like this one.Use the Diet Type Index to find recipes suitable for a specific eating plan. You can also Follow Kalyn's Kitchen on Pinterest to see all the good recipes I'm sharing there.
Historical Notes for this Recipe:
This recipe was posted in 2005, when I was obsessed with Mark Bittman's book! It was updated with better photos in 2014 and was last updated with more information in 2021.
We are a participant in the Amazon Services LLC Associates Program, an affiliate advertising program designed to provide a means for us to earn fees by linking to Amazon.com and affiliated sites. As an Amazon Associate, I earn from qualifying purchases.