Grilled Flat Iron Steak with Chimichurri Sauce
Grilled Flat Iron Steak with Chimichurri Sauce is nice for a new twist on steak cooked on the grill and we loved this for a tasty dinner! And if you haven't tried steak with Chimichurri Sauce, you have to try this herb-loaded sauce for beef!
PIN Flat Iron Steak with Chimichurri Sauce to try it later!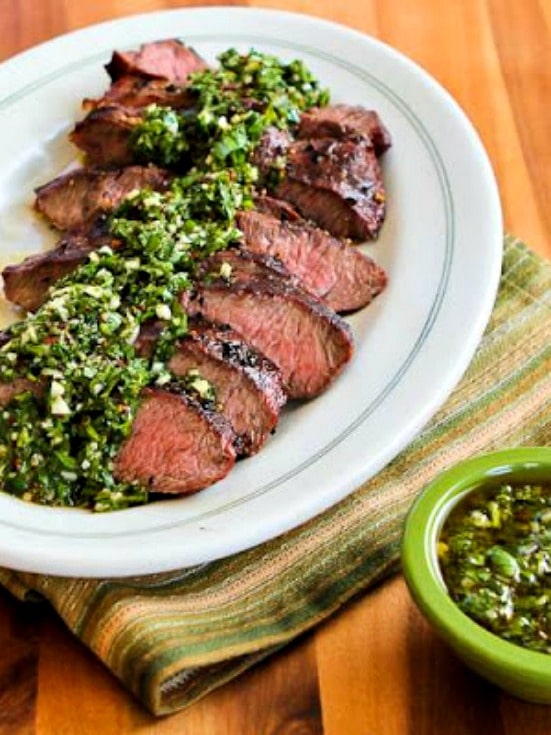 Grilled Flat Iron Steak with Chimichurri Sauce is something that would be great to make on a weekend when you feel like cooking on the grill. I discovered this cut of meat back when it wasn't as well know or expensive as it is now, but it's still a pretty good buy compared to most steak that's suitable for grilling.
It was my butcher who recommended I try the cut of beef called Flat Iron Steak, telling me he was sure I'd like it. At first I thought this was just another name for flank steak, but I got interested when the butcher told me this cut didn't need to be marinated. I got even more interested when he told me it was perfect for grilling. And I have been making this dish with Flat Iron steak for years now!
What ingredients do you need for this recipe?
What is Flat Iron Steak?
The Flat Iron Steak is a long thin piece of meat, sometimes called a top blade steak because it comes from the top of the blade chuck roast. You can see more about Flat Iron Steak and how it got the name at Gourmet Sleuth. Under the label on the piece of meat I bought (before this cut was more well known) it said, "You have just purchased a great new steak! The Flat Iron is cut from sections of larger roasts using a new cutting method. It is so tender, other than the tenderloin, you won't find a more tender steak."
What is Chimichurri Sauce?
Chimichurri Sauce is a South American condiment for beef that's based on fresh herbs, garlic, and lemon juice or vinegar, and it's sometimes called Argentinian Pesto. You can make it to taste, so use the herbs you prefer for this tasty sauce. We started with a generous amount of chopped cilantro and chopped flat-leaf parsley. Then Jake chopped up several tablespoons of finely-minced fresh garlic. This sauce is good on any kind of grilled meat, but it's most well known for serving on beef.
What if You Don't have an outdoor grill?
If you don't have an outdoor grill, this can be cooked on a stove-top grill pan with ridges (affiliate link) or a George Foreman Grill (affiliate link) with good results.
Want more tasty ideas for steak on the grill?
If you love a good piece of steak cooked on the grill, check out Amazing Low-Carb and Keto Beef Steak on the Grill for great ideas from around the web!
How to Make Grilled Flat Iron Steak with Chimichurri Sauce:
(Scroll down for complete recipe, including nutritional information.)
You can see from these nicely chopped herbs and garlic that Jake has great chopping skills, but you could also use a food processor.)
We mixed the sauce together to let flavors blend while we cooked the meat.
I used my homemade Montreal Steak Seasoning to season the meat, but you can use any steak rub you have on hand.
Let the steak come to room temperature while you pre-heat the grill.
Cooking time will depend on the thickness of the meat, and how well done you like it, but I cooked mine not quite 12 minutes for medium rare.
Be sure to let the meat rest for a few minutes before you cut it.
Slice Flat Iron Steak against the grain and serve the sliced meat with Chimichurri Sauce.
Make it a Meal:
For a tasty low-carb meal, you can serve Grilled Flatiron Steak with Chimichurri Sauce with Grilled Zucchini, Marinated Fresh Mozzarella with Herbs, Sugar Snap Pea Salad, Spinach Salad with Bacon and Feta, or Cucumber Salad with Balsamic Dressing.
More Beef for Dinner:
Low-Carb Marinated Beef Kabobs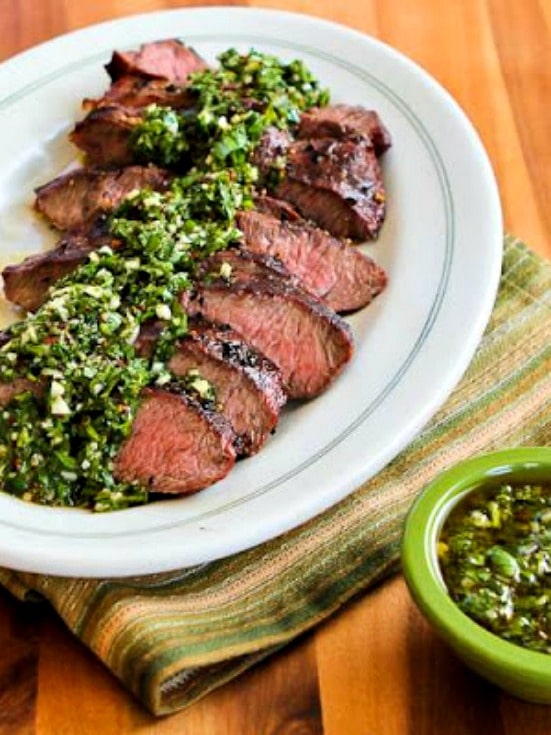 Yield: 4 servings
Grilled Flat Iron Steak with Chimichurri Sauce
Prep Time 25 minutes
Cook Time 12 minutes
Total Time 37 minutes
Grilled Flatiron Steak with Chimichurri Sauce is wonderful for a special meal cooked on the grill.
Ingredients
1 1/2 lb. piece Flat Iron Steak
1 T Steak Rub
Chimichurri Sauce Ingredients:
1/2 cup finely chopped cilantro leaves (about 1 cup before chopping)
1/2 cup finely chopped flat leaf parsley leaves (about 1 cup before chopping)
2 T minced garlic
3 T fresh lemon juice
2 tsp. red wine vinegar
1 tsp. Aleppo pepper flakes (see notes)
1 tsp. ground cumin
1/2 cup olive oil
Instructions
Take the steak out of the refrigerator at least 30 minutes before cooking, rub with steak rub, and let it come to room temperature.
Wash cilantro leaves and parsley leaves and dry with paper towel or spin dry in salad spinner.
Finely chop the cilantro, parsley, and garlic, either by hand or in a food processor with steel blade.
Put ingredients into a bowl and add lemon juice, red wine vinegar, Aleppo Pepper (affiliate link) and cumin and stir to combine.
Then stir in olive oil until mixture is well blended, and let sit at room temperature at least 15 minutes before serving.
To cook steak, preheat gas or charcoal grill to medium-high heat. (You can only hold your hand there for 2-3 seconds at that temperature.)
Put steak on grill at an angle. After about 3-4 minutes, or when you see nice grill marks starting, rotate 45 degrees and cook 3-4 minutes more on first side.
Turn steak over and cook on the second side until the meat is done to your liking. (=
I cooked my steak just under 12 minutes total for medium rare, but cooking time will depend on the heat of your grill, the temperature of the meat, and even the weather.
I recommend using an instant-read meat thermometer (affiliate link) for best results on beef and cook to 130F for medium rare, which is the recommended doneness for this cut of meat.
When meat is done to your liking, remove from grill and let rest for 5 minutes, then cut into thin slices across the grain.
Serve hot, with Chimichurri sauce spooned over or on the side.
Notes
If you don't have Aleppo Pepper (affiliate link), just use a smaller amount of cayenne pepper.
Recipe created by Kalyn. The grilling instructions came from the meat package and the Chimichurri Sauce was inspired by many other recipes around the web. 
Nutrition Information:
Yield:
4
Serving Size:
1
Amount Per Serving:
Calories: 645
Total Fat: 50g
Saturated Fat: 13g
Trans Fat: 1g
Unsaturated Fat: 33g
Cholesterol: 145mg
Sodium: 145mg
Carbohydrates: 4g
Fiber: 1g
Sugar: 1g
Protein: 44g
Nutrition information is automatically calculated by the Recipe Plug-In I am using. I am not a nutritionist and cannot guarantee 100% accuracy, since many variables affect those calculations.
Low-Carb Diet / Low-Glycemic Diet / South Beach Diet Suggestions:
Grilled Flatiron Steak with Chimichurri Sauce is a perfect main dish for low-carb or Keto diets, or for any phase of the original South Beach Diet. For the South Beach Diet, they recommend choosing meat with not more than 10% fat; other diets wouldn't care about that.
Find More Recipes Like This One:
Use Grilling Recipes to find more recipes like this one. Use the Diet Type Index to find more recipes suitable for a specific eating plan. You might also like to follow Kalyn's Kitchen on Pinterest, on Facebook, on Instagram, or on YouTube to see all the good recipes I'm sharing there.
Historical Notes for this Recipe:
This recipe was first posted in 2007, and since then I have made it many times! It was updated with better photos in 2013 and updated again with more information in 2022.
We are a participant in the Amazon Services LLC Associates Program, an affiliate advertising program designed to provide a means for us to earn fees by linking to Amazon.com and affiliated sites. As an Amazon Associate, I earn from qualifying purchases.