Low-Carb Green Chile and Cheese Egg Muffins (Video)
These Low-Carb Green Chile and Cheese Egg Muffins are a great make-ahead breakfast, and even when the vegetable crisper is empty I usually have ingredients for these in the house. Use Breakfast Recipes to find more recipes like this one.
Click here to PIN Low-Carb Green Chile and Cheese Egg Muffins!
Watch the video to see if you'd like to make
Low-Carb Green Chile and Cheese Egg Muffins!
These Green Chile and Cheese Egg Muffins use ingredients I almost always have in the house so of course I make them over and over! There have been a lot of different Grab-and-Go Egg Muffins on the menu since I first made a recipe like this clear back in 2006, but these are definitely one of my personal faves.
Partly it's because I just love green chiles and cheese, but another reason these are such a repeater at my house is that even when my fridge or veggie crisper is a bit bare, I nearly always have the canned green chiles, grated cheese, and eggs to make these. (And we've been talking about Five Ingredients or Less Recipes lately, and this is another favorite that fits in that category.)
And these days I like them spicy! I used to use only half a 4 oz. can of diced green chiles in this recipe, and now I make them spicier with a full can, and these days I buy whole green chiles in a can and cut them up myself. The photo for this favorite egg muffin variation were looking a bit shabby, so recently when I made them I took some new photos; hope you enjoy trying this favorite breakfast of mine!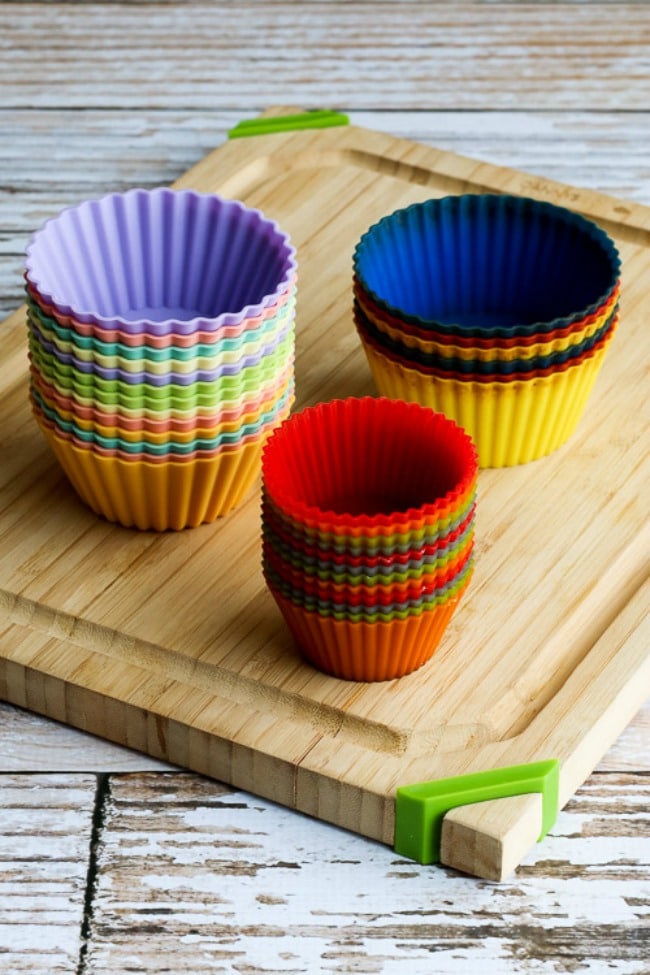 The other thing that's changed is that I've switched to a bigger size for the silicone baking cups I always use for egg muffins like this. The original recipe used the small size baking cups you see in the front and now I prefer the middle size in the photo above. (links are affiliate links) I'm adjusting the recipe for that size cup, but if you have the small size, just use the printer friendly link for that size. (If you want to use bigger cups than I did, just fill muffin cups about 2/3 full and cook them slightly longer.)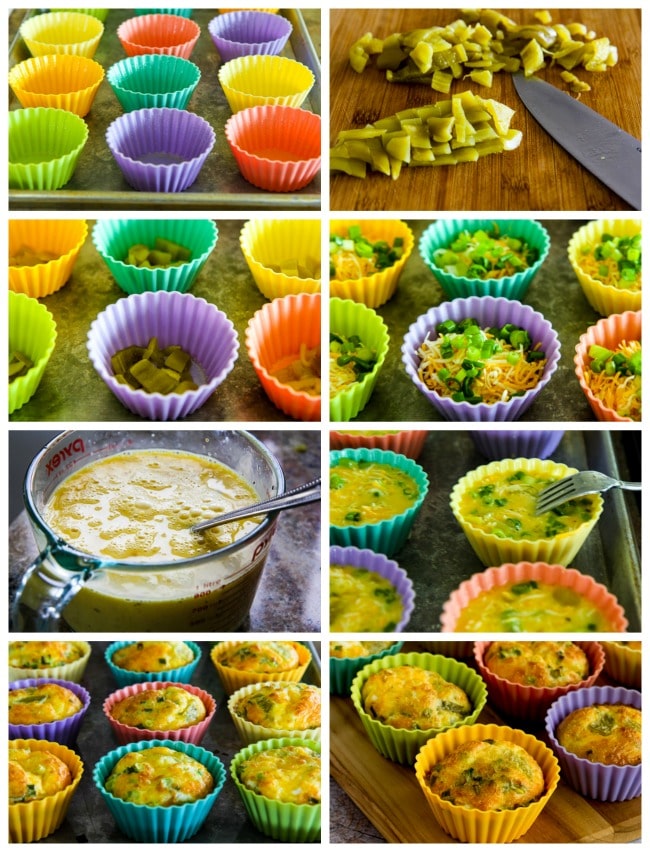 How to Make Low-Carb Green Chile and Cheese Egg Muffins:
(Scroll down for complete printable recipe.)
Preheat oven and spray the silicone muffin cups with non-stick spray.
Drain the green chiles (and cut up if you're using the whole chiles like I did.)
Then put a generous pinch of low-fat cheese blend and a little green onion (optional) in each muffin cup.
I beat the eggs in a large glass 4-cup measuring cup, which makes it easy to fill the silicone cups. Add Spike Seasoning (affiliate link), salt, and pepper to the eggs.
After I pour in the eggs, I like to use a fork and stir to get all the ingredients mixed.
Bake for about 35 minutes for the larger size muffins, or until they're cooked through and the top is lightly browned.
Serve hot.
Egg muffins will stay good in the fridge for at least a week and can be easily reheated in a microwave or toaster oven.
More Ideas for Egg Muffins from Kalyn:
Low-Carb Egg Muffins with Ham, Cheese, and Green Bell Pepper
Cottage Cheese and Egg Breakfast Muffins with Ham and Cheddar (these muffins have some flour and almond meal)
Cottage Cheese and Egg Breakfast Muffins with Mushrooms and Feta (these muffins have some flour and almond meal)
Low-Carb Gluten-Free Breakfast Muffins with Zucchini and Feta
Weekend Food Prep:
This recipe has been added to a new category called Weekend Food Prep to help you find recipes you can prep or cook on the weekend and eat during the week!
Ingredients
15 eggs
2 cans (4 oz. size) diced or whole green chiles, drained
3  cups Mexican Blend Cheese
2 tsp. Spike Seasoning (see notes)
salt and fresh ground black pepper to taste
3/4 cup sliced green onion (optional)
Instructions
Preheat oven to 375F/190C.
Spray silicone baking cups with nonstick spray.
Drain green chiles and cut them up if you're using whole chiles.
In each muffin cup put grated cheese, some diced green chile, and some sliced green onion if using.
Beat eggs until egg whites and yolks are well combined. Add Spike Seasoning and mix into eggs.
Pour egg mixture over cheese so each muffin cup is full. (This usually takes two pourings as the egg mixture settles over the cheese.)
I like to take a fork and gently "stir" in each muffin cup to get the cheese evenly distributed in the egg.
Bake 375 for about 35 minutes, or until all muffins are puffed up and the top is starting to brown.  (I usually start checking them and rotate the pan after 25 minutes.)
Egg muffins will keep in the fridge for at least a week.
To reheat, put on small plate and microwave for 1-2 minutes.  (Don't microwave too long or they get rubbery!)
Notes
I recommend silicone baking cups for this type of egg muffin. For this recipe I used medium size baking cups. Spike Seasoning (affiliate link) is optional but recommended; use another seasoning blend that's good with eggs if you don't have Spike.
This recipe created by Kalyn.
Nutrition Information:
Yield:
12
Serving Size:
1
Amount Per Serving:
Calories:

194
Total Fat:

14g
Saturated Fat:

7g
Unsaturated Fat:

6g
Cholesterol:

259mg
Sodium:

486mg
Carbohydrates:

2g
Fiber:

0g
Sugar:

1g
Protein:

15g
Nutrition information is automatically calculated by the Recipe Plug-In I am using. I am not a nutritionist and cannot guarantee 100% accuracy, since many variables affect those calculations.
Low-Carb Diet / Low-Glycemic Diet / South Beach Diet Suggestions:
Egg muffins like this are a great breakfast for low-carb eating plans, and they're also perfect for the South Beach Diet. You can see other ideas for Egg Muffins, including some vegetarian ones in my post about Egg Muffins Revisited Again.
Find More Recipes Like This One:
Use the Recipes by Diet Type photo index pages to find more recipes suitable for a specific eating plan. You might also like to Follow Kalyn's Kitchen on Pinterest to see all the good recipes I'm sharing there.