Green Bean and Tomato Salad (Video)
Thinly-sliced fresh basil added at the end makes this Green Bean and Tomato Salad such a delightful summer treat!
PIN Green Bean and Tomato Salad to make it later!
Watch the video to see if you'd like to make
Green Bean, Tomato, Onion, and Basil Summer Salad!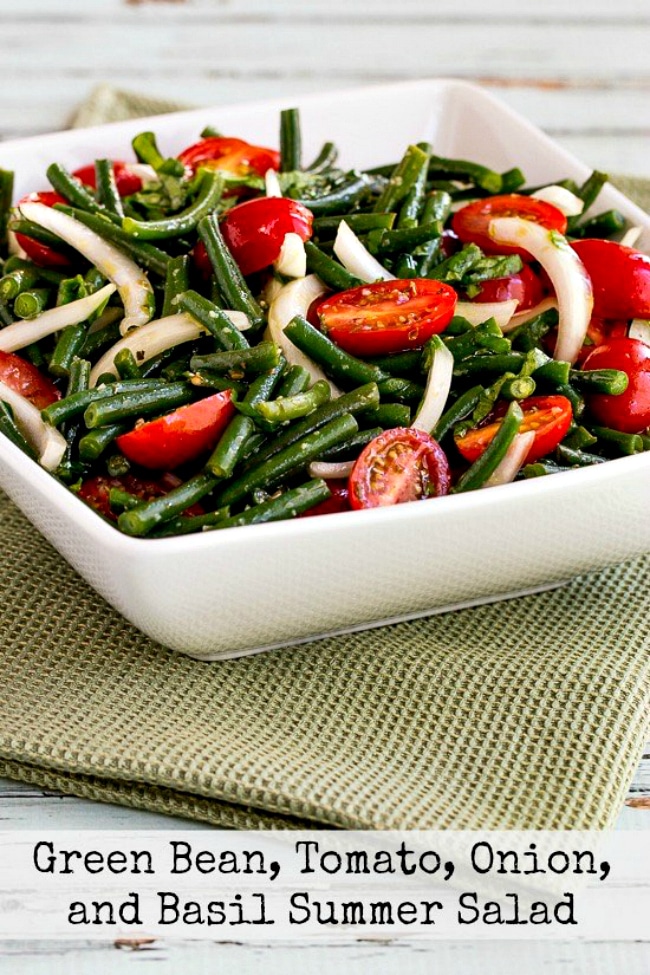 Ever since I discovered those wonderful thin French green beans at Costco a few years back, I've been loving fresh green beans, and when I started growing my own green beans I liked them even more. Now I'm excited that my new garden is producing green beans, although we eat the garden beans immediately so they don't make it into a recipe that often.
But this amazing Green Bean and Tomato Salad was so completely delicious made with beans from Costco, that the same day we tried out this recipe I added green beans to my shopping list again for the coming week. This salad was inspired by a green bean salad I spotted in Eating Well Vegetables (affiliate link), a lovely cookbook I also found at Costco, although in the end the salad we came up with was only a distant relative of the inspiring salad in the book.
Three things bumped this salad up into WOW status for us, the use of slivers of sweet onion for a boost of flavor, the thinly sliced fresh basil added at the end, and a very flavorful dressing with lemon, garlic, and dried oregano. But we loved absolutely EVERYTHING about this salad! Sorry to yell, but I wanted to get your attention because if you like green beans at all (and especially if you're growing green beans and looking for ways to use them), this salad is a must-make!
How to Make Green Bean and Tomato Salad:
(Scroll down for complete recipe with nutritional information.)
I like fresh beans best when they still have a bit of crunch, so we steamed the beans for this recipe for just about 5 minutes.
Then we immediately put them in ice water to keep them crisp.
Drain the beans very well.
Cut up the cherry tomatoes, and cut the sweet onion into slivers. (We used Vidalia onions, but any type of sweet onion will be good.)
Whisk together the olive oil, minced garlic, lemon juice, dried oregano, and a little salt to make the tasty dressing.
Wash basil leaves, spin dry in a salad spinner (affiliate link) or dry with paper towels and then cut into thin strips. I used my beloved Herb Scissors (affiliate link) to cut the basil.
Toss together the beans, tomatoes, and onions, then toss with dressing and gently stir in the sliced basil.
Season the salad with salt and a little fresh ground pepper as desired and serve.
Make it a Meal:
Something like Very Greek Grilled Chicken or Rosemary Mustard Grilled Chicken would be delicious with this salad for a low-carb meal.
More Amazing Salads for Summer:
Summer Tomato Salad with Goat Cheese, Basil Vinaigrette, and Herbs ~ Kalyn's Kitchen
Easy Summer Salad with Blueberries ~ Family Food on the Table
Easy Summer Lunch Salad ~ Kalyn's Kitchen
Thai Summer Salad ~ Recipe Girl
Green Bean, Tomato, and Feta Salad Oreganato ~ Kalyn's Kitchen
Summer Strawberry Salad with Grilled Chicken ~ The Noshery
Want More Summer Tomato Salads?
Check out Ten Favorite Summer Tomato Salads (plus Honorable Mentions) for more amazing salad ideas for summer tomatoes!
Ingredients
Ingredients:
1 lb. thin French-style green beans (see notes)
1/2 small sweet onion, cut into thin slivers (see notes)
2 cups cherry tomatoes, cut in half
generous amount thinly-sliced fresh basil (see notes)
salt and fresh-ground black pepper to taste
Dressing Ingredients:
3 T extra-virgin olive oil (see notes)
2 T fresh-squeezed lemon juice (see notes)
2 tsp. finely minced fresh garlic
1/2 tsp. dried oregano
1/2 tsp. sea salt
Instructions
Start water boiling in a vegetable steamer or pot with a steaming rack (affiliate link) while you trim the beans on both ends and cut them into pieces about 2 inches long.
(I do this by gathering a handful of beans that are standing up straight and letting them fall down on to the cutting board, so the ends are even. Trim that end and then turn them over and do the same thing with the other end.)
When the water starts to boil, steam beans for 5 minutes, then drain and immediately put them in a bowl of ice water. (Some beans are tougher than others, so I might test one for doneness after 5 minutes to see what you think.)
Let beans cool in the ice water about one minute, then drain immediately into a colander placed in the sink.
While beans are cooking, cut cherry tomatoes into halves and cut the onion into thin slivers.
When beans are draining, whisk together the olive oil, lemon juice, garlic, oregano, and salt to make the dressing.
Wash fresh basil leaves and spin dry in a salad spinner (affiliate link) or dry with paper towels, then cut the basil into thin strips. (I used my beloved Herb Scissors to cut the basil.)
Remove drained beans from the colander into a bowl large enough to toss ingredients together.
Add the cherry tomatoes and onions and toss ingredients together.
Toss with desired amount of dressing and then gently mix in the sliced basil.
Season salad to taste with salt and fresh-ground black pepper and serve.
Notes
We used Vidalia onion for this recipe. I used my fresh-frozen lemon juice for this recipe. Any fresh garden green beans can be used. We used about 1/3 cup sliced basil, but next time I'd use more if I had plenty of basil in the garden. Use an olive oil with good flavor for this.

This is best when it's freshly made, but it wasn't bad at all when it had been in the fridge overnight.

This recipe inspired by a green bean salad in Eating Well Vegetables (affiliate link).
Nutrition Information:
Yield:
6
Serving Size:
1
Amount Per Serving: Calories: 108Total Fat: 7gSaturated Fat: 1gTrans Fat: 0gUnsaturated Fat: 6gCholesterol: 0mgSodium: 297mgCarbohydrates: 11gFiber: 3gSugar: 6gProtein: 2g

Nutrition information is automatically calculated by the Recipe Plug-In I am using. I am not a nutritionist and cannot guarantee 100% accuracy, since many variables affect those calculations.
Low-Carb Diet / Low-Glycemic Diet / South Beach Diet Suggestions:
This salad is not only South Beach Diet Phase One and low in carbs, but it's also gluten-free, dairy-free, vegan, Paleo, and Whole 30. I'd say that makes this a delicious healthy salad for any type of diet, wouldn't you agree?
Find More Recipes Like This One:
Use the Salads Index to find more recipes like this one. Use the Recipes by Diet Type photo index pages to find more recipes suitable for a specific eating plan. You might also like to Follow Kalyn's Kitchen on Pinterest to see all the good recipes I'm sharing there.