Crunchy Low-Carb Chopped Salad (and Announcing Weekend Food Prep)
This Crunchy Low-Carb Chopped Salad is perfect to make for Weekend Food Prep and then you can eat it all through the week! Check out Weekend Food Prep to see more ideas to cook or prep on the weekend.
Click here to PIN Crunchy Low-Carb Chopped Salad!
I'm not sure what originally inspired me to try a chopped salad minus lettuce and full of raw cruciferous vegetables, but this Crunchy Low-Carb Chopped Salad turned into a staple in my fridge. It's perfect for those times you're grilling or pan-frying fish or meat and need something quick to go with it, and I love a big bowl of this for a lunch salad as well. I love to make this salad on the weekend and keep the cut-up veggies in the fridge to make it easy to grab a healthy salad. And nothing keeps me on track with my eating than having something healthy like this Crunchy Low-Carb Chopped Salad in the fridge to start out the week!
And I'm updating the recipe for this keep-in-the-fridge salad of mine to introduce the new recipe category called Weekend Food Prep! If you follow me on Instagram, Twitter, or Facebook I've been hinting that the new category was coming, but I wanted to get a good selection of recipes there before I officially announced it. What you'll find in the Weekend Food Prep category are recipes that you can cook or prep on the weekend and then reheat and eat or assemble and eat during the week. I'm slowly going through my huge recipe index and tagging all the recipes that make a lot of servings and are suitable for reheating leftovers later in the week, as well as recipes like this one where you prep a large amount of something for using later in the week.
It's a huge job to look at each monthly archive page and pick the recipes that are suitable for Weekend Food Prep, and it will be months before I'm done with the whole category, so be patient. And if there's a recipe on my site that you make on the weekend and eat during the week and I've haven't come to yet, leave a comment on that recipe letting me know and I'll add it to the new category! And if you haven't previously focused on weekend cooking that much, I hope you'll like the idea!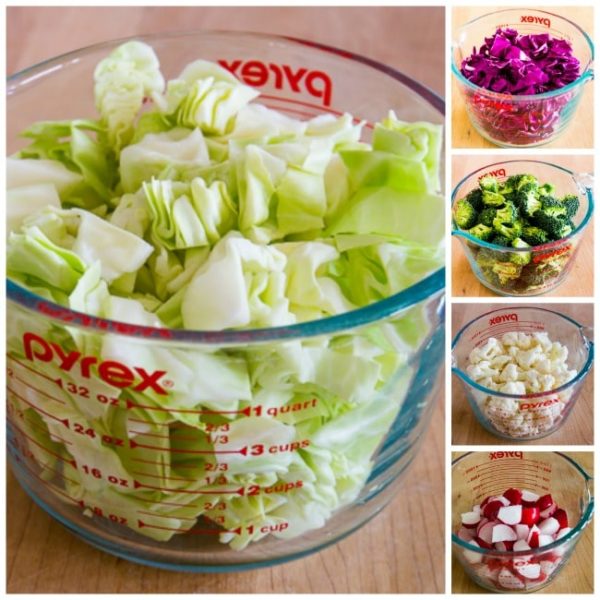 Of course you can add any veggies you want to a keep-in-the-fridge salad mix like this, but my salad always uses lots of cabbage. The other veggies I almost always include are red cabbage, broccoli, cauliflower, and radishes! I focus on low-carb veggies most of the time, but carrots are good in this too if you don't mind a few more carbs.
I combine all the vegetables and store the salad mix in a huge plastic container with a snap-lock lid to keep it fresh in the fridge. Then when I want a tasty salad I just take out the desired amount and toss it with one of my favorite dressings and I've got a healthy salad for lunch or a side-salad for dinner!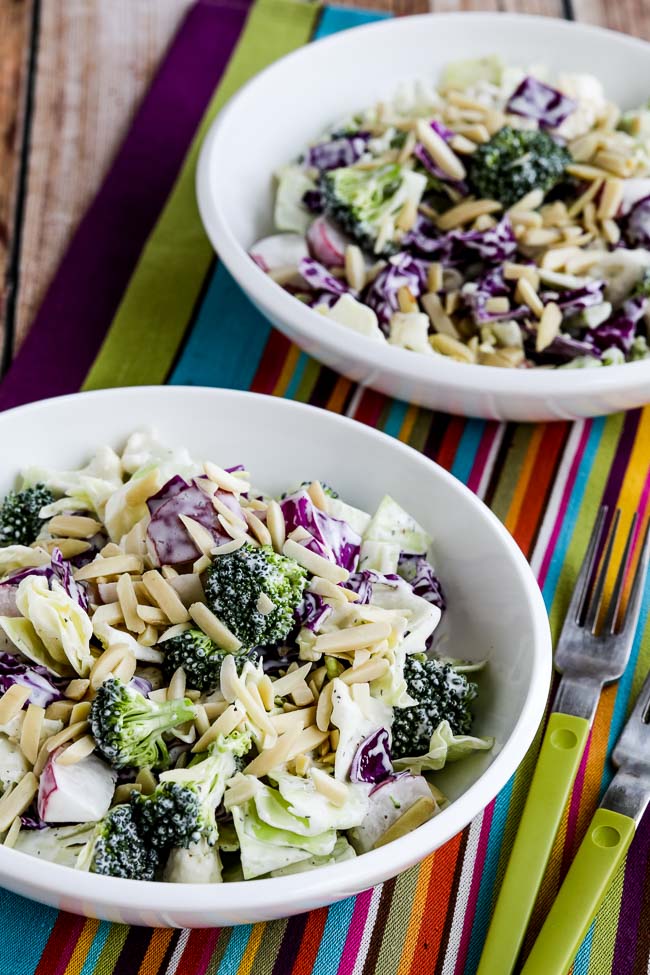 When I prepare some of the Crunchy Low-Carb Chopped Salad to eat I add things like almonds, grated cheese, peanuts, or chopped hard-boiled egg to the salad to keep it interesting!
More Salad Recipes for Weekend Food Prep:
Broccoli and Radish Salad with Gorgonzola
Low-Carb Loaded Cauliflower Mock Potato Salad
Sweet and Sour Broccoli Salad
Low-Carb Spicy Cilantro-Peanut Slaw
Low-Carb Marinated Cauliflower Antipasto Salad
Low-Carb Caesar Salad with Kale, Romaine, and Shaved Parmesan
Kalyn's Perfect Taco Salad
Crunchy Low-Carb Chopped Salad
This salad is the perfect idea for Weekend Food Prep; cut up the veggies on the weekend and you'll have Crunchy Low-Carb Chopped Salad to eat all week!
Ingredients:
Vegetables:
4 cups chopped green cabbage
2-3 cups chopped red cabbage
3-4 cups chopped broccoli florets
3-4 cups chopped cauliflower florets
2 bunches radishes, washed, ends trimmed and cut in half
Other veggies you can use that keep well in the fridge include carrots, celery, jicama, and turnips. Use any combination of veggies that you prefer, and if this makes more than you will eat in a week you can definitely cut the recipe in half.
Salad Dressings and Toppings:
My favorite dressing to go on this is simply good old American ranch dressing made with buttermilk and a packaged mix, but I also enjoy other dressings such a Blue Cheese, Green Goddess or Caesar with this salad mix.
I like to add low-carb toppings like slivered almonds, peanuts, sunflower seeds, walnuts, grated cheese, crumbled Feta, crumbled blue cheese, or chopped hard-boiled eggs to keep the salad interesting. There are endless options for toppings, so get creative!
Directions:
Wash veggies in a salad spinner if needed and chop into bite-sized pieces.
Store the salad mix in the fridge in a large container with a snap-tight lid. (Some people use a Ziploc bag for salad as well, but I've had better luck with a container like the one in the photo.)
When you can a salad take out the desired amount, toss with dressing, add toppings as desired, and enjoy!
Notes:
This combination of salad veggies is something Kalyn has been making for years for a keep-in-the-fridge salad to eat during the week.
All images and text ©
Low-Carb Diet / Low-Glycemic Diet / South Beach Diet Suggestions:
This Crunchy Low-Carb Chopped Salad is perfect salad for any low-glycemic or low-carb diet, including any phase of the South Beach Diet.
Find More Recipes Like This One:
Use the Diet Type Index to find recipes suitable for a specific eating plan. You can also Follow Kalyn's Kitchen on Pinterest to see all the good recipes I'm sharing there.
Nutritional Information?
If you want nutritional information for a recipe, you can sign up for a free membership with Yummly and use the Yum button on my site to save the recipe and see the nutritional information. Another option is entering the recipe into this Recipe Nutrition Analyzer, which will calculate it for you.