Chicken Barley Soup
It may not be that creative, but Chicken Barley Soup is still one of my all-time favorites when I need some cold-weather comfort food. Barley is loaded with fiber, and this soup is kid-friendly too and the recipe is dairy-free and South Beach Diet Phase Two. Use Soup Recipes to find more recipes like this one.
Click here to PIN tasty Chicken Barley Soup!
It's getting cold in Utah, which always puts me the mood for soup. I love soup with barley, and there's a very similar recipe using leftover turkey on the blog, as well as a recipe for Mushroom Barley Soup with Ham and Leeks that's similar too. This recipe may be my favorite barley soup though, because you can start with a couple of chicken breasts, an onion, some carrots, some celery, and some barley and a little over an hour later you have a delicious soup.
Don't be tempted to increase the amount of barley. If you haven't cooked with barley that much, you'll be surprised how much it increases. Barley has a delightfully nutty flavor that I think combines perfectly with chicken.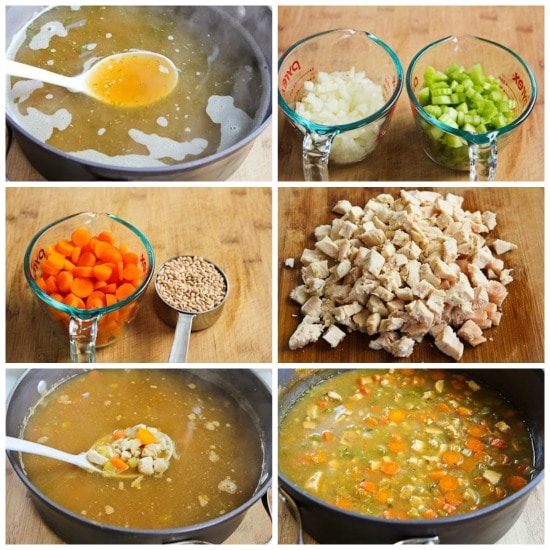 I simmered two chicken breasts in water with a little chicken soup base to get the chicken, but use leftover diced chicken if you have some. While the chicken cooks, combine the chicken stock, water, vegetable bouillon, dried thyme, Poultry Seasoning (affiliate link), and dried parsley and let it simmer while you prep other ingredients. Chop up an onion and a cup of finely chopped celery and add it to the simmering soup pot.
Then slice the carrots and add them to the soup with 1/2 cup of pearl barley and continue simmering. When it is cool enough to handle, chop up the chicken (or use 2 cups diced leftover chicken if you prefer.)
When the barley is nearly tender, add the chicken and continue cooking until the barley is as tender as you'd like it. I cooked the soup at a very low simmer for about an hour and 15 minutes total. Don't add the chicken too soon or it will string apart in the soup. Season with salt and fresh ground black pepper to taste and serve hot.
More Tasty Soups with Barley:
Comforting Ground Beef and Barley Soup from Kalyn's Kitchen
Beef and Barley Stew with Mushrooms from Simply Recipes
Barley Minestrone with Canadian Bacon, Savoy Cabbage, and Rosemary from Kalyn's Kitchen
Slow Cooker Beef Barley Soup from Andrea Meyers
Weekend Food Prep:
This recipe has been added to a new category called Weekend Food Prep to help you find recipes you can prep or cook on the weekend and eat during the week!
Chicken Barley Soup
Chicken Barley Soup is one of my all-time favorites when I need some cold-weather comfort food.
Ingredients:
2 cups diced cooked chicken (or 2 boneless-skinless chicken breasts)
8 cups chicken stock, homemade or canned
1 quart water
1 generous T Better Than Bouillon organic vegetable soup base (optional, but recommended for best flavor, other types of veggie stock cubes can be used)
1 tsp. dried thyme (or use frozen thyme leaves if you have them)
1 tsp. poultry seasoning
1 T dried parsley
1 onion, chopped small
1 cup chopped celery
1 cup sliced or diced carrots (or more if you really like carrots)
1/2 cup pearl barley
fresh ground black pepper to taste, salt if desired
Directions:
If you don't have leftover chicken,  put two chicken breasts in a small saucepan with some water and a little bit of Better than Bouillon Roasted Chicken Base (affiliate link) and simmer over very low heat about 20 minutes, or until the chicken is barely done. Let chicken cool, then dice into small pieces.
In a large stock pot, combine chicken stock, water, vegetable soup base, dried thyme (or frozen thyme leaves), poultry seasoning (affiliate link), and dried parsley. Simmer 15 minutes while you chop veggies and chicken.
After 15 minutes, add chopped onion, chopped celery, sliced carrots, and barley. Start to simmer, and when the barley is nearly done (about 45 minutes) add the diced chicken.  You may want to add a cup or so of water if the soup reduces too much.
When the barley is done to your liking, season the soup with fresh ground black pepper and salt to taste, and serve hot. (Be sure to taste before adding salt if using canned chicken stock, which can be rather salty.)
Notes:
Recipe created by Kalyn.
All images and text ©
Low-Carb Diet / Low-Glycemic Diet / South Beach Diet Suggestions:
This Chicken Barley Soup is a great meal for phase two or three of the South Beach Diet. You could make the same soup with brown rice, or wild rice, which would still be great for South Beach and also gluten-free. This soup isn't suitable for low-carb diets.
Find More Recipes Like This One:
Use the Recipes by Diet Type photo index pages to find more recipes suitable for a specific eating plan. You might also like to Follow Kalyn's Kitchen on Pinterest to see all the good recipes I'm sharing there.
Nutritional Information?
If you want nutritional information for a recipe, I recommend entering the recipe into this nutrition analyzer, which will calculate it for you. Or if you're a member of Yummly, you can use the Yum button on my site to save the recipe and see the nutritional information there.