Sesame Tofu
This extra-easy recipe for baked Sesame Tofu is delicious for a meatless dinner and this tasty baked tofu also makes great leftovers!
PIN easy Sesame Tofu to try it later!
I had such good success when I tried a recipe for stir-fried tofu, I vowed I would cook it again soon, so this extra-easy recipe for Sesame Tofu is my second tofu adventure. And although the recipe has more soy sauce than sesame oil, it's the sesame oil that gives it the distinctive flavor, which is why it's called Sesame Tofu! The recipe is adapted from a basic recipe for baking tofu in Mark Bittman's How to Cook Everything Vegetarian (affiliate link), and once again I was thrilled with how this turned out.
If you're a tofu novice (like me!) this has to be the easiest possible way to cook tofu, and with only three main ingredients, this is definitely perfect for the recipe category where I file recipes with five ingredients or less.
What ingredients do you need for this recipe?
What kind of tofu did I use?
For this simple recipe where the tofu isn't pressed it's important to use extra firm tofu. You can read more about different types of tofu if you're not familiar with it.
How do you serve baked tofu?
Baked tofu will keep in the fridge for several days, and it's a great addition to salads, stir-fries, or sauteed vegetables. Mark Bittman also recommends serving the baked tofu with some type of sauce, which would certainly be tasty. However, I brushed the tofu with the soy-sesame mixture several times while it cooked, and I thought this was delicious just as is. I've been eating it as a snack, and it will probably disappear before I have a chance to try using it in a stir-fry or with veggies.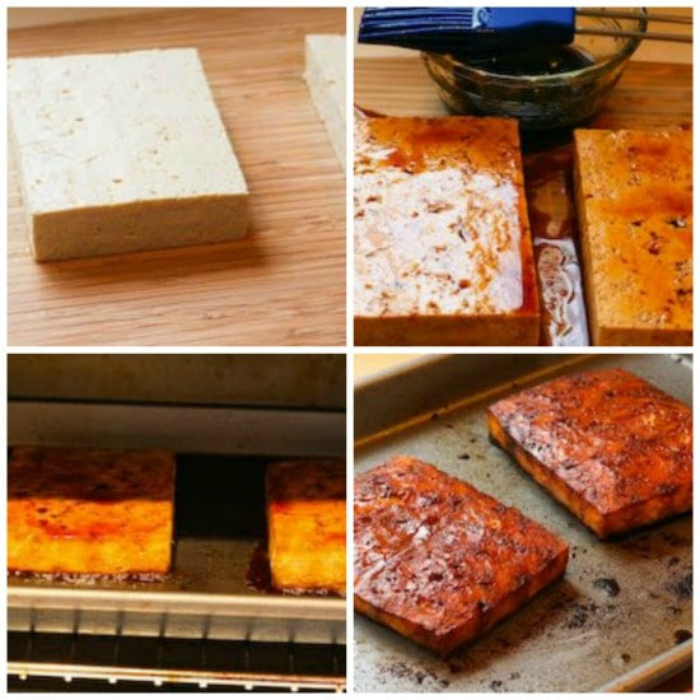 How to make easy Sesame Tofu:
(Scroll down for complete recipe with nutritional information.)
Start with a package of extra firm tofu, cut it in half crosswise to make two tofu "steaks" and blot dry with paper towels on both sides. (Next time I would cut one more time to make 4 pieces, since the glazed edges are so tasty.)
Mix together soy sauce and sesame oil, then brush the tofu liberally with this mixture. Be sure to brush both sides, and let it absorb into the tofu a little before you put it on the baking sheet.
I baked the tofu in my toaster oven to keep the house cool.
Brush it with the soy-sesame mixture about every 15 minutes, until all the mixture is used.
It's done when the tofu is firm and nicely glazed and browned. For me that was just slightly over an hour, but cooking time will depend partly on how well you have drained the tofu.
I couldn't resist sprinkling on a few black sesame seeds and thinly sliced green onions for the photos, but they're definitely not essential.
Make it a Meal:
This would be fabulous served with Asparagus with Tahini-Peanut Dipping Sauce, Spicy Cucumber Salad, or Air Fryer Asian Green Beans for a vegetarian meal. This tofu would be a great addition to Sesame Noodles with Spicy Peanut Sauce.
More Delicious Ideas for Cooking Tofu:
Stir-Fried Tofu with Ginger and Soy Sauce ~ Kalyn's Kitchen
Cabbage Bowl with Tofu and Peanut Sauce ~ Kalyn's Kitchen
Baked Tofu with Trio of Dipping Sauces from One Hot Stove
Tofu Tacos ~ Kalyn's Kitchen
Yield: 4 servings
Sesame Tofu
Prep Time 20 minutes
Cook Time 1 hour 10 minutes
Total Time 1 hour 30 minutes
This easy baked Sesame Tofu is delicious and this also makes great leftovers!
Ingredients
1 block (14 oz.) extra firm tofu
3 T Tamari (see notes)
1/2 tsp. sesame oil
olive oil, for spraying baking sheet
optional: sliced green onions and /or black sesame seeds for garnish
Instructions
Cut tofu in half crosswise. (I would also cut each piece in half again to make four pieces, not shown in these photos.)
Blot each piece on both sides with papers towels, pressing down to remove as much liquid as you can. (You don't have to do this as carefully as when cooking tofu with a quicker method, but the wetter the tofu the longer you'll have to bake it.)
Turn oven on and set to 350 F.
Whisk together the sesame oil and Tamari in a small bowl, then use pastry brush to brush both sides of the tofu pieces generously with the mixture.
Let tofu marinate in the soy-sesame mixture for 5-10 minutes while the oven heats.
Spray a non-stick baking sheet with olive oil or non-stick spray and place tofu slices on sheet.
Bake about one hour, not turning, but brushing with the soy-sesame mixture several times, until the glaze is all gone.
It's done when the tofu feels firm to the touch, and looks glazed and nicely browned.
I cooked my tofu about 70 minutes, using a toaster oven so in a larger oven it might cook a bit more quickly.
Nutrition Information:
Yield:
4
Serving Size:
1
Amount Per Serving:
Calories: 179
Total Fat: 13g
Saturated Fat: 2g
Trans Fat: 0g
Unsaturated Fat: 11g
Cholesterol: 0mg
Sodium: 760mg
Carbohydrates: 4g
Fiber: 2g
Sugar: 1g
Protein: 14g
Nutrition information is automatically calculated by the Recipe Plug-In I am using. I am not a nutritionist and cannot guarantee 100% accuracy, since many variables affect those calculations.
Low-Carb Diet / Low-Glycemic Diet / South Beach Diet Suggestions:
This tasty Sesame Tofu is a great dish for any low-glycemic or low-carb diet, including Keto or any phase of the original South Beach Diet.
Find More Recipes Like This One:
Use Meatless Recipes or Oven Dinners to find more recipes like this one. Use the Diet Type Index to find recipes suitable for a specific eating plan. You can also Follow Kalyn's Kitchen on Pinterest to see all the good recipes I'm sharing there.
Historical Notes for this Recipe:
This recipe was first posted in 2008. It was last updated with more information in 2021.
We are a participant in the Amazon Services LLC Associates Program, an affiliate advertising program designed to provide a means for us to earn fees by linking to Amazon.com and affiliated sites. As an Amazon Associate, I earn from qualifying purchases.