Baked Mini-Frittatas with Mushrooms, Cottage Cheese, and Feta (Video)
Baked Mini-Frittatas with Mushrooms, Cottage Cheese, and Feta are great for a meatless breakfast idea, and these tasty mini-frittatas are perfect to make on the weekend and reheat during the week! Use Breakfast Recipes to find more meatless recipes like this one.
Click here to PIN Baked Mini-Frittatas with Mushrooms, Cottage Cheese, and Feta!
Watch the video to see if you might like to make
Baked Mini Frittata with Mushrooms, Cottage Cheese, and Feta!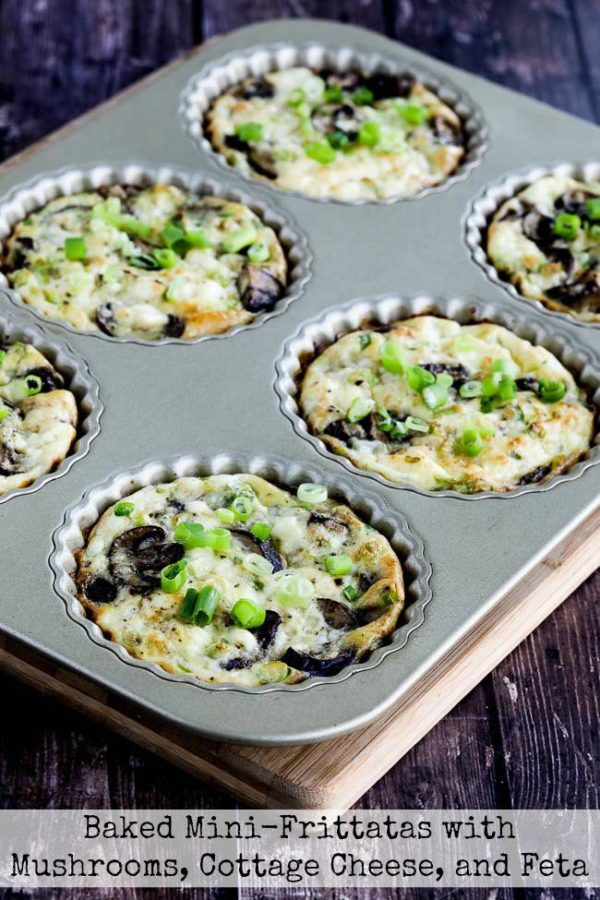 If you've been reading this blog for a while, you probably noticed how I love to make little breakfast tarts or mini-frittatas with the Williams Sonoma Tart Pan I got from my sister Laurel. And when I decided to update the photos for these Baked Mini-Frittatas with Mushrooms, Cottage Cheese, and Feta, I couldn't resist using the tart pan to make them a bit fancier.
But these are just a slightly bigger version of the Egg Muffins that have been so popular on the blog, and if you don't want to buy a tart pan you can make them in my favorite silicone muffin cups (affiliate link), and just cook a few minutes longer for the thicker version. This is something I'd eat with a fork, maybe with a dollop of sour cream, and these mini-frittatas have lots of mushrooms and cheese for a baked egg dish that's a fairly dense in texture and high in protein.
And if you like the idea of mushrooms and Feta cheese (one of my favorite combinations in a baked egg dish!) you might also like the recipe for Low-Carb Mushroom and Feta Breakfast Casserole! That's delicious breakfast with mushrooms! (And for those who might be wondering, Williams Sonoma has never paid me or given me free merchandise to rave over their tart pan, although my friend Bobbianne is the manager of Williams Sonoma in Salt Lake!)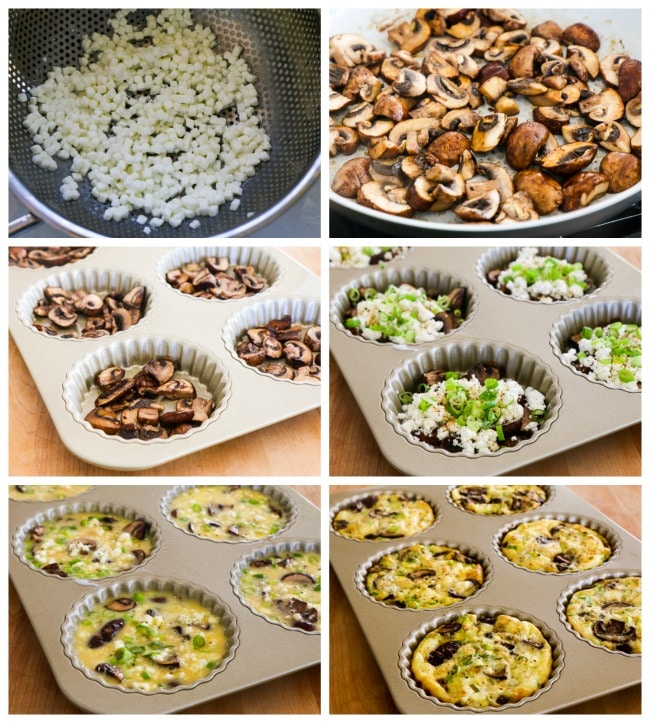 How to Make Baked Mini-Frittatas with Mushrooms, Cottage Cheese, and Feta:
(Scroll down for complete printable recipe.)
Preheat the oven to 375F/190C. Spray tart pan or silicone muffin cups with non-stick spray or mist with olive oil.
Rinse the cottage cheese in a fine-mesh strainer and let it drain while you cook the mushrooms until they're slightly browned and all the water has evaporated.
Put mushrooms in the tart pans or silicone baking cups.
Then put the drained cottage cheese, crumbled Feta, and sliced green onions on top of the mushrooms.
Beat the eggs with the pepper and Spike Seasoning (affiliate link) and pour over the mushrooms. (I like to stir gently with a fork so everything is well-combined.)
Baked about 25 minutes, or until firm and lightly browned.
Serve Baked Mini-Frittatas with Mushrooms, Cottage Cheese, and Feta hot, with a little sour cream on top if desired.
These mini-frittatas can be refrigerated and quickly reheated in the microwave; don't microwave too long or the eggs will be rubbery!
More Recipes for Baked Eggs:
Low-Carb Baked Mini-Frittatas with Broccoli and Three Cheeses ~ Kalyn's Kitchen
Greek Baked Eggs with Leeks, Kalamata Olives, and Goat Cheese ~ Cookin' Canuck
Roasted Green Pepper and Tomato Breakfast Casserole ~ Kalyn's Kitchen
Baked Eggs over Maple-Roasted Vegetables ~ Big Bear's Wife
Baked Eggs with Mushrooms and Parmesan ~ Kalyn's Kitchen
Poblano and Mushroom Baked Eggs ~ All Roads Lead to the Kitchen
Weekend Food Prep:
This recipe has been added to a new category called Weekend Food Prep to help you find recipes you can prep or cook on the weekend and eat during the week!
Ingredients
12 oz. mushrooms washed and sliced (I used brown Cremini mushrooms, also called Baby Bellas)
2 tsp. olive oil (or more, depending on your pan)
1/2 cup  cottage cheese, rinsed and drained well
3/4 cup crumbled Feta Cheese
3 T thinly-sliced green onions
6 eggs, beaten
1/2 tsp. Spike Seasoning (or use any type of all-purpose seasoning blend that's good with eggs)
fresh-ground black pepper to taste
Instructions
Preheat the oven to 375F/190C. Spray Williams Sonoma Tart Pan or 6 Jumbo Muffin Cups (affiliate link) with non-stick spray. (Or use any type of extra-large muffin cup or small ramekins, but the silicone cups will keep the egg mixture from sticking more than other types of dishes.)
Put the cottage cheese into a fine colander and rinse with cold water until only the curds remain. Let the cottage cheese drain while you cook the mushrooms.
Wash the mushrooms in a colander and blot dry with paper towels. Slice mushrooms into thick slices.
Heat the olive oil in a large non-stick frying pan over medium-high heat and cook mushrooms until they release all their liquid and it has evaporated and the mushrooms are lightly browned, about 6-8 minutes. Put the mushrooms into the bottom of the tart pan wells or baking cups.
Crumble the feta cheese and thinly slice the green onions. Layer the cottage cheese, feta, and green onions on top of the mushrooms.
Beat the eggs with Spike Seasoning and black pepper, and divide eggs among the tart pan wells or muffin cups. Take a fork and gently "stir" the mixture so all the other ingredients are coated with egg.
Bake the mini-frittatas about 25 minutes, or until they are set and lightly browned on top.
Serve hot, with a dollop of low-fat sour cream if desired.
Notes
This recipe created by Kalyn
Nutrition Information:
Yield:
6
Serving Size:
1

Amount Per Serving:

Calories: 170 Total Fat: 11g Saturated Fat: 5g Unsaturated Fat: 5g Cholesterol: 206mg Sodium: 437mg Carbohydrates: 5g Fiber: 1g Sugar: 3g Protein: 12g

Nutrition information is automatically calculated by the Recipe Plug-In I am using. I am not a nutritionist and cannot guarantee 100% accuracy, since many variables affect those calculations.
Low-Carb Diet / Low-Glycemic Diet / South Beach Diet Suggestions:
These Baked Mini-Frittatas with Mushrooms, Cottage Cheese, and Feta are loaded with high protein low-carb ingredients and would be approved for low-carb and Keto diets and all phases of the South Beach Diet. They do have a generous amount of cheese, so if you're following South Beach and actively trying to lose weight, I'd limit the serving size to one mini-frittata for a meal.
Find More Recipes Like This One:
Use the Diet Type Index to find more recipes suitable for a specific eating plan. You can also Follow Kalyn's Kitchen on Pinterest to see all the good recipes I'm sharing there.