Artichoke Antipasto Salad with Basil Vinaigrette (Video)
This Artichoke Antipasto Salad with Basil Vinaigrette has artichoke hearts, roasted red peppers, olives, and red onions, and this tasty salad is ridiculously easy to make!
PIN Artichoke Antipasto Salad to try it later!
Watch the video to see if you might like to make Artichoke Antipasto Salad with Basil Vinaigrette!
It's Mother's Day this week, and I'm missing my mom but also feeling thankful that I had The World's Greatest Parents. I had a mom who didn't love to cook that much (maybe because she was making dinner for 12 people every night, can you imagine what that would be like?)
But Mom did have a few foods she really got excited about making, and one of them was artichokes! I thought about her this week when I updated my post about How to Cook Artichokes in the Instant Pot or Stovetop Pressure Cooker. And I decided it would be fun to feature a couple of favorite artichoke recipes this week in memory of my mom.
I'm not sure she ever made anything this fancy but I bet my mother would have really loved this Artichoke Antipasto Salad with Basil Vinaigrette. If you're making a lunch or dinner for Mother's Day I think this would be a hit with most moms. In fact, if you like artichokes, roasted red peppers, olives, and basil, I bet this will end up being a salad you'll make all summer long for parties and family gatherings. The recipe was inspired by my love of artichoke hearts, plus Basil Vinaigrette, something I always love to make when basil plants show up in the store.
And if you're making brunch on Mother's Day, there's a good round-up of 20 Favorite Low-Carb Breakfast Casseroles back in the archives!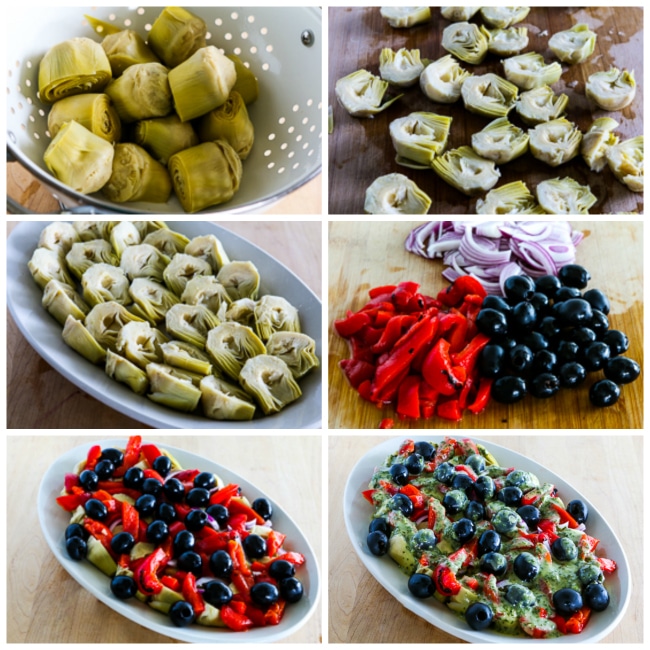 How to Make Artichoke Antipasto Salad with Basil Vinaigrette:
(Scroll down for complete recipe with nutritional information.)
I used to use the big 33 oz. jars of artichoke hearts in water from Costco for this salad, but lately my Costco only has the marinated ones packed in oil. Either kind will work here.
Drain the artichoke hearts well and then cut in half (if needed) and arrange them on a platter.
Drain a jar of roasted red peppers and a can of olives.
Cut up the red peppers into strips and cut about 1/4 of a red onion into slivers. (You can skip the onion if you prefer.)
Layer the onion, red pepper strips, and olives over the artichoke hearts and drizzle with Basil Vinaigrette; that's all there is to this amazing salad! Serve the salad and wait for raves; this will disappear quickly at a summer pot-luck!
I think there are lots of other antipasto ingredients that could be good in this salad. If you try an experiment that works, please leave a comment and let us know what you added!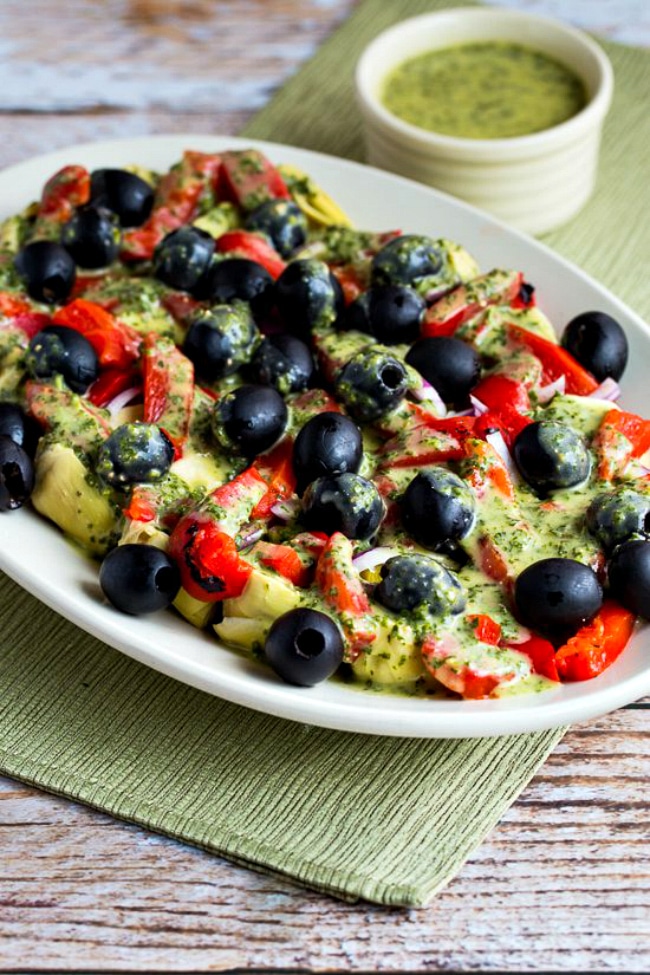 More Recipes Using Basil Vinaigrette:
Hearts of Palm Salad with Tomatoes, Olives, Feta, and Basil Vinaigrette ~ Kalyn's Kitchen
Tomato, Basil, and Mozzarella Salad with Basil Vinaigrette ~ The Perfect Pantry
Summer Tomato Salad with Goat Cheese, Basil Vinaigrette, and Fresh Herbs ~ Kalyn's Kitchen
Zucchini and Walnut Arugula Salad with Basil Vinaigrette ~ Aggie's Kitchen
Tomato, Olive, and Fresh Mozzarella Salad with Basil Vinaigrette ~ Kalyn's Kitchen
Ingredients
Salad Ingredients:
one 33 oz. jar large artichoke hearts (see notes)
one 12 oz. jar roasted red peppers
one 6 oz can (drained weight) black olives
1/4 red onion, cut into very thin slivers (optional)
Basil Vinaigrette Ingredients:
3 T finely chopped or pureed fresh basil
6 T Newman's Own Olive Oil and Vinegar Dressing (see notes)
Instructions
Drain artichoke hearts into a large colander placed in the sink.
Combine the finely chopped basil and vinaigrette dressing to make basil vinaigrette. (You can read more here about making basil vinaigrette.)
When the artichoke hearts are well drained, remove them from the colander and drain the roasted red peppers into the same colander.
Cut artichoke hearts into halves and arrange them so they cover all the surface of a large platter.
When roasted red peppers are well drained, remove them from the colander and drain the olives into the same colander.  Pat the red peppers with a paper towels to dry the surface; then cut the red peppers into strips.
Cut the red onion into thin slicers.
Arrange the onions and the roasted red peppers over the artichoke hearts, then add the drained olives on top.
Drizzle desired amount of basil vinaigrette over the salad and serve.
This salad can sit out for an hour or two on a buffet table. It was also delicious as leftovers, eaten cold from the fridge!
Nutrition Information:
Yield:
8
Serving Size:
1
Amount Per Serving:
Calories:

110
Total Fat:

10g
Saturated Fat:

1g
Trans Fat:

0g
Unsaturated Fat:

3g
Cholesterol:

0mg
Sodium:

223mg
Carbohydrates:

5g
Fiber:

1g
Sugar:

2g
Protein:

1g
Nutrition information is automatically calculated by the Recipe Plug-In I am using. I am not a nutritionist and cannot guarantee 100% accuracy, since many variables affect those calculations.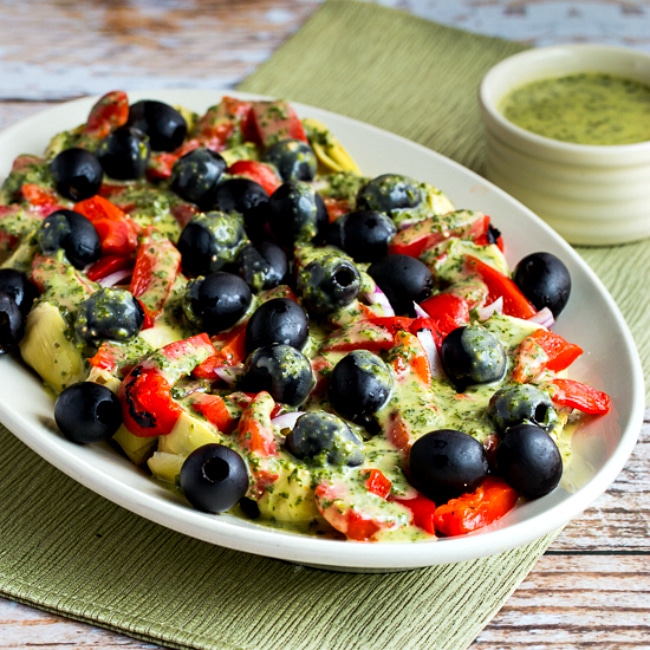 Low-Carb Diet / Low-Glycemic Diet / South Beach Diet Suggestions:
As long as you choose a low-sugar vinaigrette for the dressing and don't overdo it on the artichokes, everything in this salad is a low-carb and South Beach Diet friendly ingredient. Artichokes do have some carbs, but they're high in fiber! (Check the label for less than 2 grams of sugar per serving in the dressing, or no sugar at all for Paleo.)
Find More Recipes Like This One:
Use Salad Recipes to find more tasty salads like this one. Use the Recipes by Diet Type photo index pages to find more recipes suitable for a specific eating plan. You might also like to Follow Kalyn's Kitchen on Pinterest to see all the good recipes I'm sharing there.