Almond and Parmesan Baked Fish
Almond and Parmesan Baked Fish is an easy low-carb dinner idea that's so delicious with my Double Dill Homemade Tartar Sauce. And if you have family members who aren't fans of fish, this Parmesan crusted fish just might win them over!
PIN Almond and Parmesan Baked Fish to make it later!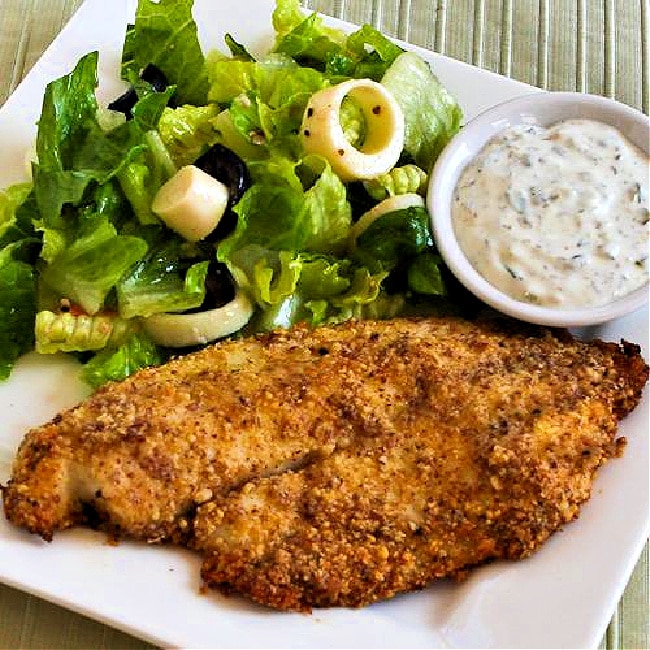 This tasty Almond and Parmesan Baked Fish is a recipe that produces some of the the best-tasting fish I've ever cooked. It was also one of the earliest fish recipes on the blog, without a single photo for many years! And when I made it with my nephew Jake to take photos for the blog, he was skeptical about whether he was going to like it, but when we ate the parmesan crusted fish with the homemade tartar sauce, Jake was completely amazed at how good it was.
This recipe is for fish that's dipped in melted butter, then coated with a mixture of almond flour and Parmesan cheese and baked until it's cooked through and starting to brown. Serve right away with tartar sauce and enjoy!
What ingredients do you need for this recipe?
white fish filets, thawed if frozen
melted butter
Almond Flour (affiliate link)
finely grated Parmesan cheese
Garlic Powder (affiliate link)
pepper
fish rub, preferably Szeged Fish Rub (affiliate link)
Is this recipe gluten-free?
The almond meal and finely grated Parmesan makes a crispy coating on the fish that's gluten-free and and low in carbs besides being delicious, and I'm betting this recipe will be a hit with just about anyone who tries it.
What kind of white fish can you use?
Years ago I used to make this Almond and Parmesan Baked Fish with Tilapia, but now I'd prefer another firm white fish like Snapper, Catfish, Barramundi, Cod, or Haddock.
What kind of fish rub do I use for this recipe?
I highly recommend Szeged Fish Rub (affiliate link). I've used this for years and like it so much I buy it in six-packs from Amazon.com and give it away to friends. And I featured it as one of my Kalyn's Kitchen Picks, along with a collection of recipes where I've used this tasty fish rub!
Want more Baked Fish Dinners?
Check out Low-Carb and Keto Baked Fish Dinners for lots more amazing ideas for cooking fish in the oven.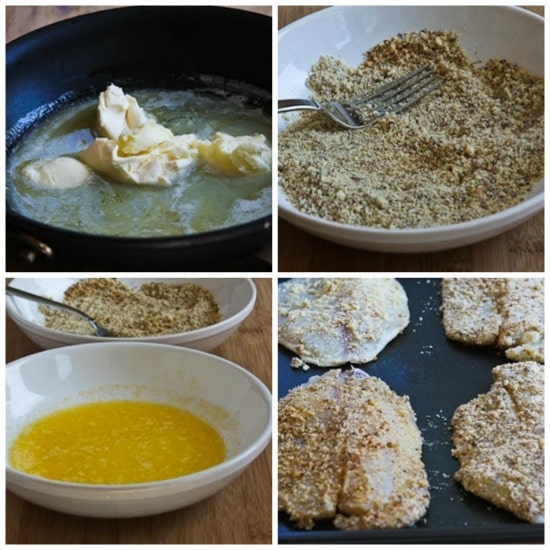 How to make Almond and Parmesan Baked Fish:
(Scroll down for complete printable recipe with nutritional information.)
I used melted butter to dip the fish in so the coating would stick.
In a shallow bowl mix together the almond meal, finely grated Parmesan, garlic powder, pepper, and fish rub.
Put the butter in one bowl and the almond/parmesan mixture in another bowl; then dip the fish first in the butter and then in the almond meal mixture.
I sprinkle the almond mixture over and press it on with a fork.
Costco had huge pieces of fish so that one in the back left corner didn't get too much coating, but it still tasted good.
Bake 20 minutes or until the fish is barely firm to the touch and the coating is browned and crispy on the edges.
Serve hot, with Double Dill Homemade Tartar Sauce.
More Tasty Dinners with Fish:
Yield: 4 servings
Almond and Parmesan Baked Fish
Prep Time 15 minutes
Cook Time 20 minutes
Total Time 35 minutes
This Low-Carb Almond and Parmesan Baked Fish is easy and delicious.
Ingredients
4 white fish filets, thawed if frozen (see notes)
1/4 cup melted butter
1/3 cup almond flour
2 T finely grated Parmesan cheese
1/2 tsp. garlic powder
1/4 tsp. pepper
1 tsp. Szeged fish rub (optional, but recommended; see notes)
Instructions
Preheat oven to 425F/220C.
Spray baking dish with non-stick spray.
Melt butter over low heat.
In a flat bowl big enough to hold the fish, mix almond flour or almond meal, Parmesan, garlic powder, lemon pepper or pepper, and Fish Rub.
Dip each fish filet in butter, turning to coat both sides, then into almond mixture.
Try to get as much of the almond mixture to stick to the fish as you can. (I pressed it down with a fork.)
Bake 20 minutes, or until fish is firm to the touch and coating is turning golden brown.
The baking time will depend on the thickness of the fish, so watch it carefully.
Serve hot with Double Dill Homemade Tartar Sauce!
Notes
This recipe will work best with pieces that are at least 1/2 inch thick.
I'd probably use Almond Flour (affiliate link) for this recipe because I keep it in the freezer but coarser-ground almond meal with also work. I use Szeged Fish Rub (affiliate link) for all my recipes made with fish!
We ate this my Double Dill Homemade Tartar Sauce, but it would be tasty with any type of tartar sauce.
Recipe created by Kalyn.
Nutrition Information:
Yield:
4
Serving Size:
1
Amount Per Serving:
Calories: 341
Total Fat: 18g
Saturated Fat: 8g
Unsaturated Fat: 8g
Cholesterol: 182mg
Sodium: 317mg
Carbohydrates: 3g
Fiber: 1g
Sugar: 0g
Protein: 41g
Nutrition information is automatically calculated by the Recipe Plug-In I am using. I am not a nutritionist and cannot guarantee 100% accuracy, since many variables affect those calculations.
Low-Carb Diet / Low-Glycemic Diet / South Beach Diet Suggestions:
Almond and Parmesan Baked Fish is good for low-carb or low-glycemic eating plans. The South Beach diet doesn't recommend butter, but in this recipe you're only eating the small amount of butter that sticks to the fish, and I would eat this for any phase of the original South Beach Diet. You can use a yogurt spread or trans-fat free margarine if you're following the letter of the law for South Beach, but butter will give better flavor.
Find More Recipes Like This One:
Use Oven Dinners to find more recipes like this one. Use the Diet Type Index to find recipes suitable for a specific eating plan. You might also like to Follow Kalyn's Kitchen on Pinterest to see all the good recipes I'm sharing there.
Historical Notes for this Recipe:
This recipe was posted in 2005, and it hung out in the archives of the blog without photos for several years! The recipe was updated with new photos in 2013, and it was last updated with more information in 2021.
We are a participant in the Amazon Services LLC Associates Program, an affiliate advertising program designed to provide a means for us to earn fees by linking to Amazon.com and affiliated sites. As an Amazon Associate, I earn from qualifying purchases.