90 Healthy No-Heat Lunches for Taking to Work
Here are 90 Healthy No-Heat Lunches for taking to work or just for grabbing a super quick lunch when you work at home! And most of these healthy no heat lunch ideas are low-carb and gluten-free.
PIN 90 Healthy No-Heat Lunches for Taking to Work to find them later!
When I taught elementary school and also worked on this blog, I was grateful for leftovers to take to school and warm up for lunch. But without a place to heat food at the workplace, healthy lunches are more challenging. Years ago I had a request on the Kalyn's Kitchen Facebook page to share ideas for healthy brown bag lunches that don't need to be heated, and I worked hard on this collection of 90 No-Heat Lunches that ended up being a big hit on the blog.
Now fast forward quite a few years and I'm focused more on low-carb eating, and my blog has also changed since this was first posted. So I'm updating this collection of healthy lunches with more low-carb options, although there are still plenty of ideas for readers who follow other diets as well.
How can you tell if the no-heat lunch ideas fit your way of eating?
I am tagging this post with low-carb, Keto, gluten-free, dairy-free, South Beach Diet, and vegetarian because there are ideas here that fit all those diets! My site has diet-type tags above the recipe title on every post, so if a recipe in this round-up sounds good to you but you're not sure it will fit your diet, just click the link to go to that post and you can see what diets I feel it's suitable for!
What kinds of no-heat lunches will you find here:
I focused on no-heat lunches I think will keep in the fridge for at least a day or two, but check individual recipes for more information. Some dishes contain ingredients (like fresh tomatoes or avocados) that I'd cut up in the morning and add when I eat the lunch. And some salads might be best if you refrigerate the dressing and salad separately and combine at lunchtime.
There are a few dishes (like the tostadas) would definitely need to be packed separately and then assembled when you eat them. But all these are tasty ideas that I hope can make your brown-bag lunches a lot more interesting!
Historical Information for this post:
90 Healthy No-Heat Lunches for Taking to Work was first posted in 2012. The post was updated in 2020 with new photos and lots more low-carb lunch ideas, and it was updated again with more information in 2022.
Salads with Tomatoes for a No-Heat Lunch:
Tomato-Cucumber Salad with Peperoncini (shown above)
Tomatoes Cucumber Avocado Salad
Heart of Palm Salad with Tomato, and Avocado
Effie's Cottage Cheese Salad with Za'atar
Tomato, Cucumber, and Radish Salad
Chopped Greek Salad with Peppers
Tomato Salad with Hearts of Palm, Olives, and Feta
Cucumber, Tomato, and Garbanzo Salad with Feta
Tomato, Olive, and Fresh Mozzarella Salad
Pitas, Tostadas, and Wraps for a No-Heat Lunch:
Easy Guacamole Tostadas (shown above)
Spicy Shredded Chicken Lettuce Wrap Tacos (the spicy chicken is good hot or cold)
Egg Salad in Pita with Green Olives, Green Onions and Dijon
Turkey Pita Sandwiches with Cranberry Salsa
Middle Eastern Tostadas with Hummus and Feta
Seven Layer Dip Tostadas (a little more complicated to pack, but delicious)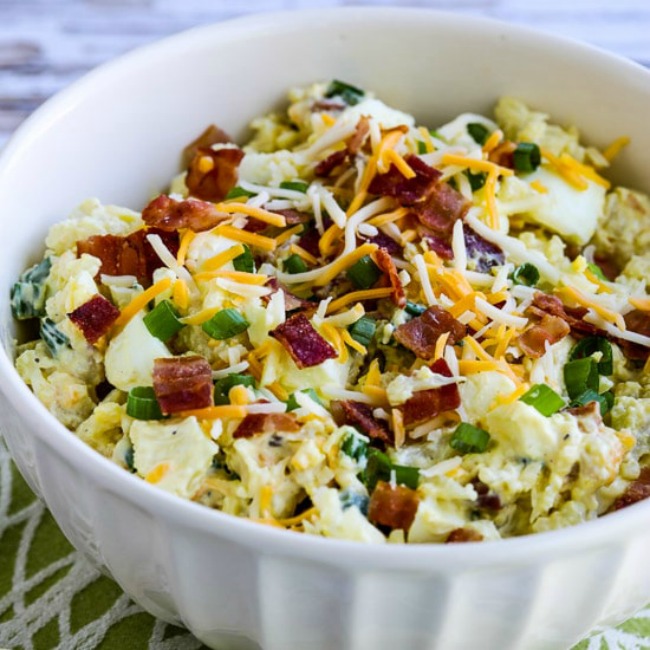 Salads with Eggs and Cheese for a No-Heat Lunch:
Loaded Cauliflower Mock Potato Salad (shown above)
Marinated Cauliflower Antipasto Salad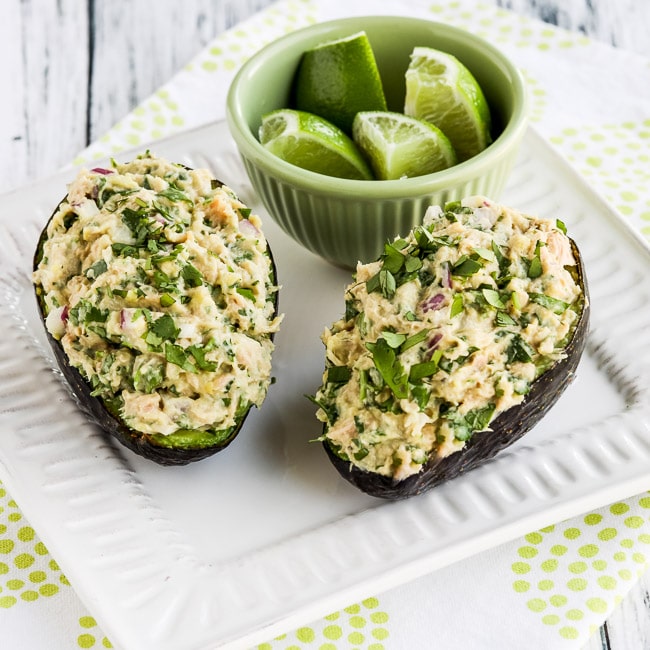 Snack Foods and Appetizers, for a No-Heat Lunch:
Tuna-Stuffed Avocado (shown above)
Shrimp with Low Sugar Cocktail Sauce
Air Fryer Shrimp (this is delicious cold)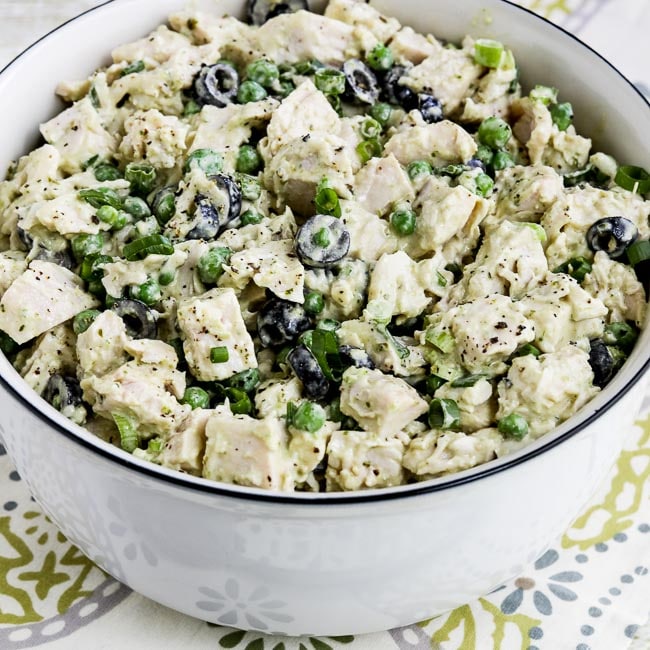 Salads with Chicken or Fish for a No-Heat Lunch:
Chicken Pesto Salad (shown above)
Chicken and Avocado Salad with Lime and Cilantro
Greek Peperoncini Chicken Salad
Chicken Salad with Green Olives
Chopped Salad with Chicken, Peppers, Olives, and Feta
Chicken Salad with Hearts of Palm
Salads with Beans or Lentils for a No-Heat Lunch:
Black-Eyed Pea Salad (shown above)
Pinto Bean Salad with Tuna, Tomatoes, and Peperoncini
Black Bean Salad with Black-Eyed Peas
Balela Middle Eastern Bean Salad
Salads with Greens for a No-Heat Lunch:
Baby Arugula Salad with Chicken, Mozzarella, and Tomatoes (shown above)
Caesar Salad with Kale, Romaine, and Shaved Parmesan
Mediterranean Salad with Spinach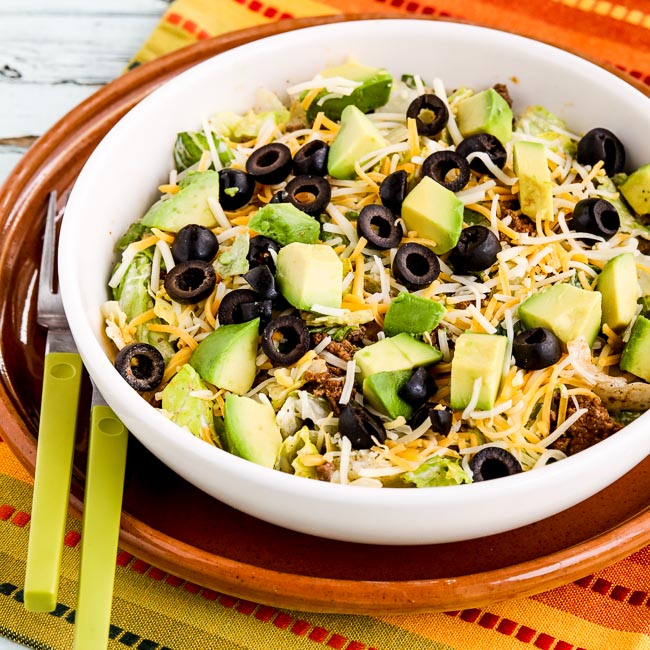 Salads with Lettuce or Cabbage for a No-Heat Lunch
Perfect Low-Carb Taco Salad (shown above)
Peperoncini Chopped Salad with Romaine, Peppers, and Feta
Red Cabbage and Chicken Asian Salad
Chicken Cabbage Salad with Mustard
Salads with Grain or Quinoa for a No-Heat Lunch:
Brown Rice Salad with Basil Vinaigrette (shown above)
Lentil and Barley Greek-Style Salad
Black Bean, Rice, and Cilantro Salad
Salads with Vegetables or Fruit for a No-Heat Lunch:
Marinated Zucchini Salad (shown above)
Broccoli Salad with Feta and Almonds
Artichoke Antipasto Salad with Basil Vinaigrette
Marinated Cauliflower Antipasto Salad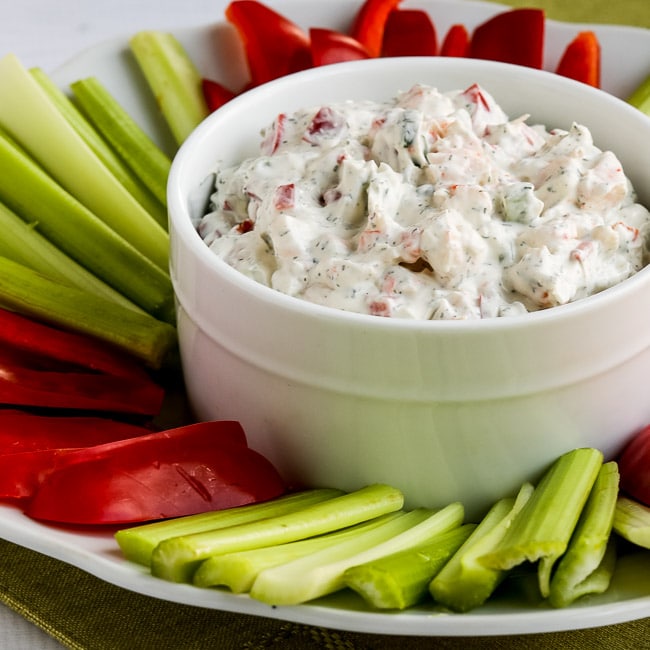 Dips for a No-Heat Lunch:
Sheila's Low-Carb Shrimp Dip (shown above)
Grandma Denny's Homemade Ranch Dip
Parsley Hummus

We are a participant in the Amazon Services LLC Associates Program, an affiliate advertising program designed to provide a means for us to earn fees by linking to Amazon.com and affiliated sites. As an Amazon Associate, I earn from qualifying purchases.